First ferry from Cyprus to Greece after 21 years sails from DP World Limassol Terminal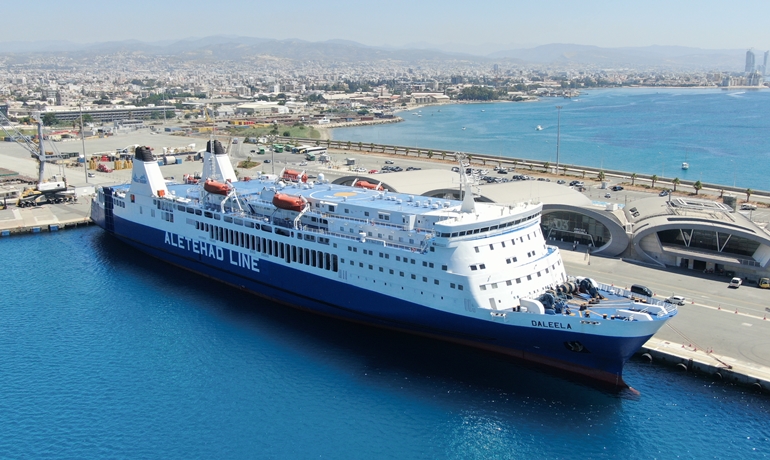 First ferry from Cyprus to Greece after 21 years sails from DP World Limassol Terminal
DALEELA sailed from DP World Limassol port on Sunday, 19 June 2022, on its first round-trip to Greece, officially launching a ferry link, which aims to boost Cyprus' connectivity with mainland Europe.
President of the Republic of Cyprus, Nicos Anastasiades, the Deputy Minister of Shipping Vassilis Demetriades, the Minister of Transport, Works and Communications Yiannis Karousos, the Limassol Mayor Nikos Nicolaides, among other officials, were in attendance at the inauguration ceremony at DP World Limassol Terminal.
The ferry link, which has been reinstated after 21 years, will carry out 22 return trips from Limassol (Cyprus) to Piraeus (Greece) between June and September 2022 and will be departing from and arriving at the state-of-the-art Cruise Terminal operated by DP World Limassol. This service will further strengthen DP World's Ro-Ro footprint in Europe and provide seamless services from one of the largest and busiest ports of the Mediterranean.
DP World Limassol's CEO, Mr Nawaf Abdulla said the company fully backs the government's new initiative, which will boost Cyprus' maritime tourism sector. "We are very proud that Limassol port and DP World Limassol Terminal has been chosen as the ferry link's homeport. It is a testament to the efforts that DP World Limassol and the government have been making to improve the port's competitiveness and attractiveness," he added.
"I would like to take this opportunity to congratulate everyone who worked hard to make this endeavour a reality, establishing a sea link between the two countries after 21 years. We firmly believe that the new service will be extremely beneficial for the country, as it will not only provide Cypriots with competitive connectivity to Greece, but it will also help promote maritime tourism between Cyprus and Europe", Mr Abdulla pointed out.
Mr Rashid Abdulla, CEO of DP World Europe added, "This sea link will not only benefit Cyprus and Greece, but all of mainland Europe, as we continue to expand DP World's European links to better service our customers and partners' growth objectives. We are delighted to add this service into our vast European network, and to offer our customers and partners economies of scale, greater geographic range, more transports solutions and an increased number of connections."
Earlier reporting https://www.shippax.com/en/news/scandro-holdings-ltd-to-operate-revived-limassol-piraeus-ro-pax-service-from-june-with-chartered-ferry-daleela-.aspx
---