Extended service with a new major linkspan at Stockholm Norvik Port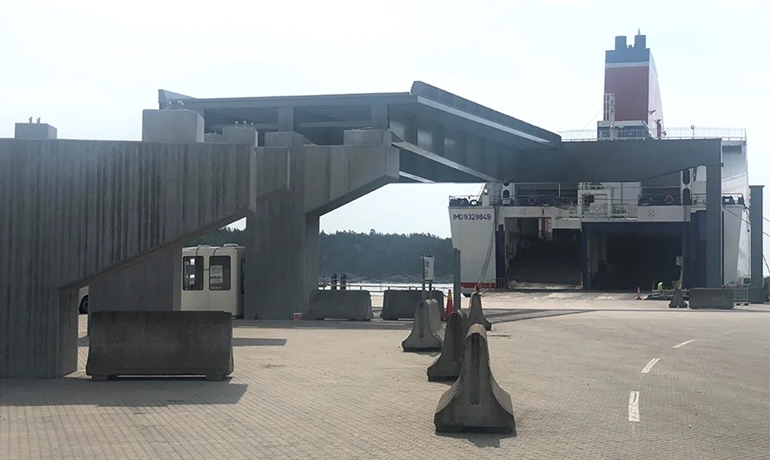 Stockholm Norvik new linkspan © Ports of Stockholm
Extended service with a new major linkspan at Stockholm Norvik Port
RoRo traffic via Sweden's new port Stockholm Norvik is steadily increasing. The port is now equipped with a new linkspan that significantly improves the loading and unloading capacity of the RoRo terminal.
Ports of Stockholm is investing in the RoRo segment and is building a large-sized new linkspan for rolling goods in Stockholm Norvik Port. It will give customers greater flexibility and a significantly improved loading and unloading capacity. Steel parts for the 146-metre long and 10-metre wide linkspan were transported by sea from Rauma in Finland. The linkspan is planned to be operational in July 2022.
"Thanks to Stena Line's new route to Hanko in Finland and the increasing number of calls via Stockholm Norvik Port, we are expanding our service and offer more efficient handling. With a new linkspan in place for RoRo traffic, we enable increased productivity and meet customer needs," says Johan Wallén, Marketing and Sales Manager at Ports of Stockholm.

The RoRo terminal at Stockholm Norvik Port already has two ramps, 29- metre wide and 16-metre long. All three ramps are dimensioned to be able to handle vessels larger than those currently calling at Ports of Stockholm.
"As one of Sweden's largest freight ports, we are building for the future and securing the important supply of goods to the Stockholm region, Sweden's by far largest consumer area. The steady increase of RoRo gods since the opening of Stockholm Norvik Port confirms how valuable the newly built port is for sustainable transports in the Greater Stockholm region," says Nicklas Ebersson, Marketing Manager Cargo at Ports of Stockholm.
---