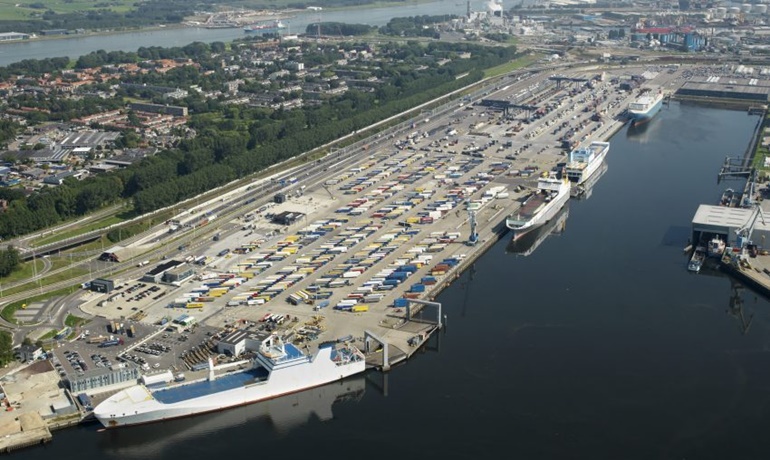 CLdN/C.RO Port's recently expanded (65ha) RoRo terminal in Rotterdam © CLdN
CLdN And DFDS Enter Into A Space Charter Agreement (SCA) To Increase Frequency And Capacity On The Rotterdam - Humber Route
Reacting to customer demand to provide more capacity, higher frequency and earlier arrivals into the UK, CLdN announced the introduction of an additional six sailings per week each way on the Rotterdam - Humber service, increasing the offering to twelve sailings per week in each direction.
The increased capacity, catering for customer demand and made possible by a mutual SCA with DFDS, will provide for a 05:00 hrs arrival into C.Ro's Killingholme port on the Humber. This will allow for a faster rotation of cargoes and equipment, with a design to keep goods flowing more efficiently post 1st January 2022, when more stringent customs procedures enter in full force.
CLdN and DFDS will each provide one additional vessel to facilitate the SCA, on a rotation Rozenburg / Vlaardingen / Killingholme from Sunday through Friday, which will complement CLdN's established six sailings in each direction Rozenburg / Killingholme. In Rotterdam, CLdN customers will have the possibility to load and discharge cargo in either Rozenburg and/or Vlaardingen. CLdN and DFDS will continue operating all sailings independently including all related commercial activities.
This additional service will be introduced with effect from 10th January 2022.
---
Most read
Press Releases
Dec 03 2021
Construction begins of Silversea Cruises SILVER NOVA
---
Dec 03 2021
Contract awarded for piers upgrade for new Islay ...
---
Dec 03 2021
Zinus technology selected for two more norwegian ...
---
See all press releases
Products