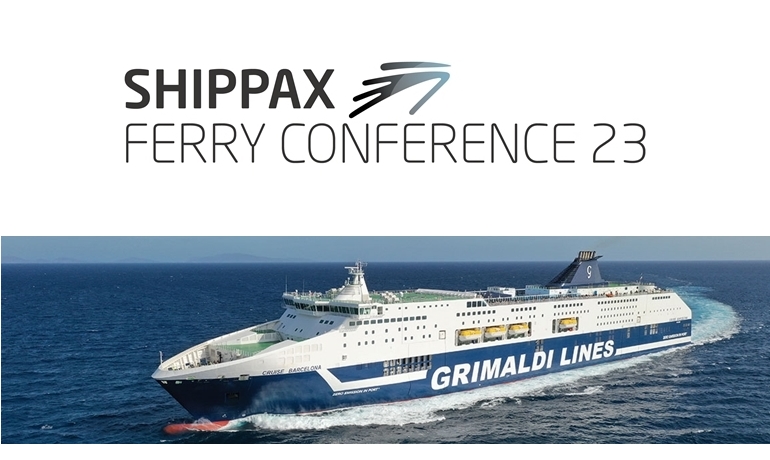 Secure your seat at SFC23 (Upd. 1 Dec)
We are almost sold out on outside cabins, so it is time to book if you want to be part of this 20th anniversary conference with more than 200 companies expected to be present.

+400 delegates from all over the world
+200 companies
Two full days of programme, by industry experts, for industry experts
Best possible networking
Value-for-money-all events, meals and cabins included
A proper exhibition area
FUN
For maximum exposure – book an exhibition area and/or sponsorship early to ensure a favourable place.
Who will you meet?
Below are all of the more than 220 companies that attended the Shippax Ferry Conference this year on board SILJA SYMPHONY:
3mar, ABB Marine & Ports, Abelle Consulting , ACTEMIUM, Adriatic Fast Ferries, Aeronet Global Communications, AFERRY, Allstars Engineering, Alta Shipping Brokers, Anda-Olsen, Aros Marine, ASTA TREJD dooel, Attica Group, Austal, Avenir LNG, Balearia, Barry Rogliano Salles/BRS, Berg Propulsion, Beurteaux Marine Interiors, Blücher, Bolidt Synthetic Products & Systems, Brax Shipping, Brunvoll Volda, BSA Shipping Agencies ANS, Bureau Veritas, Business Finland / Finland Trade Center, C&More, Carrier, Carus, Cavotec, CCH Design, Cemre Shipyard, Center of Maritime Technologies, C-Job Naval Architects, Clarksons, Coastal Liner Services Agency, Color Line, Condor Ferries, Corsica Ferries, Corvus Energy, DAMEN, Danfoss, Danish Export Association, Deltamarin, Destination Gotland, DFDS, DFI Dauerflora International, DMS, DNV, Dodekanisos Seaways, DP World, Echandia, Eckerö Group, E-Dea, EHRENBERG SØRENSEN Kommunikation, Elkon, eMarine Engineering Nordic, Enrico Scolaro Shipbrokers, FerryGateway Association, Ferryhopper, Finnlines, Fjord Line, Flensburger Schiffbau, Foreship, Fosen Yard, Frese, FRS, Fugro Norway, G.Eknes Industrier, GCE Blue Maritime Cluster, GE Power Conversion, Georg Fischer Piping Systems, Gislaved Folie, Glamox, Glasgow School of Art, Godby Shipping, Gordion, Gotland Tech Development, Grandi Navi Veloci/GNV, Grimaldi Group, GTF-Finland, HADAG Seetouristik und Fährdienst AG, Helsinki Shipyard, Hogia Ferry Systems, Incat, Interferry, Jadrolinija, Johnson Controls Marine, JSC Western Baltija Shipbuilding, KfW IPEX-Bank, Knud E Hansen, Kockumation, Koncept, Kongsberg, LG Electronics, Liferaft Systems Australia, Lloyd's Register, LMG Marin, Logos Payment Solutions, Loipart, LTH-Baas, Lubtec, Maatsuyker, MacGregor, Macholl & Specht, Macna, Malta Shipbrokers International, Marahrens, Marelco, Marine & Energy Consulting, Marioff , Mercy Ships, Meyer Turku, MikMek, Mineralka, Mintie Corporation of Scandinavia, MLSea, Moby , Naos Ship and Boat Design, NAP, NAPA, Naval Interior Team, naValue, Navitaship, Neue Pellwormer Dampfschiffahrts , Nevron, Nordic HSC/ Poseidon Konsult, Nordvik Shipping, Norled, North Sea Offshore, Norwegian Electric Systems, Norwegian Seafarers Union, Ntrakker/Nowhere Networks, Orcan Energy, Oresund Drydocks, OSK-ShipTech, P&O Ferries, Paf Casino, Parimar Shipbrokers, Pfleiderer Deutschland, Port of Gdynia, Port of Hanko, Port of Helsinki, Port of Hirtshals, Port of Igoumenitsa, Port of Karlshamn, Port of Kristiansand, Port of Naantali, Port of Turku, Ports of Stockholm, Pressreader, Pyro Thermal Energy Solutions, RAB Microfluidics, Rauma Marine Constructions, Rederi AB Eckerö, Rederi AB Gotland, Redwise Maritime Services, Refit & Maintenance, REGENT Craft, Remontowa Shipbuilding, RINA, Safety Group, Scandlines, Scanel International, Scanmarine, Schottel, Sea Lines, Sea Machines, Seachange New Zealand, SEAM, Sefine Shipyard, Shift Clean Energy, Shippax, Shipshape Consulting, Sika Services, Simsonship Shipbrokers, Sita, Smyril Line, SODAFLEXX, Solvay Chemicals, Spear Power Systems, Specto Remote , Speedcast, SRC Group, Star Information Systems, Steen Friis Design, Steerprop, Stena Line, Stena RoRo, Surikat, Tallink Grupp, Tallink Latvia, Tallink Silja Line, Teknotherm Marine, Telenor Maritime, Telenor Satellite, Tersan Shipyard, The Isle of Man Steam Packet Company, The SMS Group, Ticknovate, TLS - Boca Systems, TOS People & Ship Delivery, Trident BMC, TS Laevad , UES International, UME Shipping, Valmet, VDR - German Shipowners' Association, Ventrafiken, Vetrotech Saint-Gobain, Vida by Erzia, Viking Line, Wabtec - Stemmann, Wallenius Marine, Wasaline/NLC Ferry, WE Tech Solutions, Western Baltic Engineering, Wärtsilä, Yara Marine Technologies, Zinus, ZITRON

"On behalf of the Grimaldi Group, I look forward to warmly welcoming you onboard CRUISE BARCELONA for the Shippax Ferry Conference 2023 next April. On that occasion, we will be delighted to celebrate with you the 20th anniversary of this renowned international event. We wish you all will enjoy a successful conference and a superlative experience across the Mediterranean Sea!"
Emanuele Grimaldi
Managing Director
Grimaldi Group

"We congratulate Shippax on the occasion of the 20th anniversary of the Shippax Conference and are honoured to have been part of this annual event and tradition for 19 years already. In these rapidly changing times we live in, it is even more important than ever to continue with valuable events and traditions that bring together the key players in our industry to think together, plan together and lay the foundations for a better tomorrow together. We look forward to another highly professional and interesting conference on board CRUISE BARCELONA in 2023."
Paavo Nõgene
CEO
Tallink Grupp

"The Shippax conference being on-board a vessel, creating close and exclusive meeting points throughout the value chain, all wrapped up in an informal environment, is beyond doubt multilaterally strengthening our Ferry business."
Roger Vimme
Sales Director & Head of Ferry
Telenor Maritime

"I and my colleagues at EHRENBERG SØRENSEN Kommunikation look forward to joining the Shippax Conference again. This is the place where we learn about the development of the industry and meet the most important decision makers."
Magnus Ehrenberg
Founder & President
EHRENBERG SØRENSEN Kommunikation

"Shippax is the annual key-event for us at Stena RoRo, which we have attended every year since its start.
The fact that the major key players are well represented and that we all enjoy two days together onboard a ferry makes this conference special and attractive to us"
Per Westling
Managing Director
Stena RoRo
WHERE? Grimaldi Lines' CRUISE BARCELONA
ROUTE? Barcelona-Civitavecchia-Barcelona
WHEN? 24-26 April 2023
THEME
"The Energy Challenge"
-in an uncertain world
MAIN PROGRAMME SESSIONS
Keynote speakers
Panel debates
Ferry industry performance and megatrends
New ships and projects
Inspirations for the ferry industry
The road to carbon neutrality
Interferry
Shippax Awards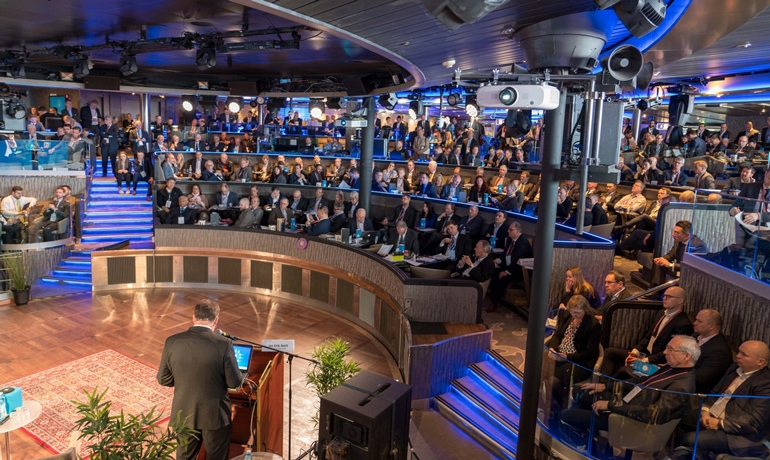 See photos from the 2022 conference https://www.shippaxferryconference.com/en/last-conference/about-conference-2022/photos-2022.aspx
Early confirmed speakers:
Moderators:
Frederik Erdmann
Correspondent for Shippax since 1996 and professionally involved with shipping since 1999
Rickard Ternblom
Management consultant and advisor, former Fjord Line CEO and a true ferry enthusiast
Speakers:
Jim Andersson - Director of Vessels Caledonian Maritime Assets Limited
Torben Carlsen - CEO DFDS Group
Roberto Chiesa - Head of Business Development Marine GF Piping systems
Mike Corrigan - CEO Interferry
Anne-Marie Eklund Löwinder - Leading expert on information and IT security
Dr. Emanuele Grimaldi - Managing Director Grimaldi Group
Ingemar Gustavsson - Business Unit Manager ACTEMIUM
Kevin Hobbs - CEO Caledonian Maritime Assets Limited
Mike Howie - Regional Sales Manager Trelleborg Marine and Infrastructure
Marcus Högblom - Vice President of Global Sales ABB Marine & Ports
Alan Lam - Contributing correspondent and analyst Shippax
Christophe Mathieu - CEO Brittany Ferries
Pierre Mattei - CEO and Owner of Corsica Ferries group
Axel Meynköhn - CEO Wyker Dampfschiffs-Reederei Föhr-Amrum GmbH
John Roger Nesje - Sales Director SEAM
Bruce Peter - Professor of Design History at the Glasgow School of Art
Pino Spadafora - Senior Director Marine Commercial RINA
Alan Stewart - Director SMC Design
Peter Ståhlberg - Managing Director Wasaline
Roger Trinterud - Sales Director passenger segment Kongsberg Maritime
Pierre-Antoine Villanova - CEO Corsica Linea
Roger Vimme - Sales Director & Head of Ferry Telenor Maritime
Johan Wallén - Chief Commercial Officer Ports of Stockholm
Wärtsilä - Speaker to be announced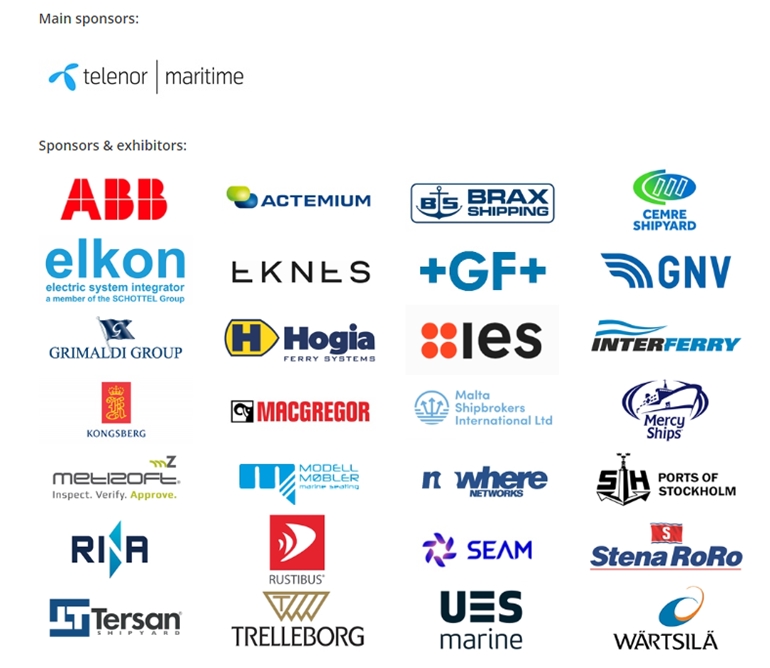 ---