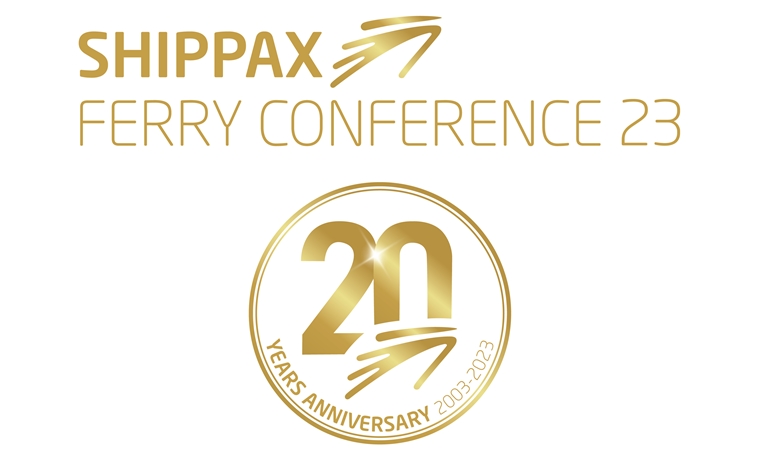 FEW SEATS LEFT! (Upd. 9 Mar)
We are very proud that due to high demand we now have few seats left and will become fully booked soon. All in all, there will be 460 delegates from all over the world attending the conference this year.

460 delegates from all over the world
+220 companies
Two full days of programme, by industry experts, for industry experts
Best possible networking
Value-for-money-all events, meals and cabins included
A proper exhibition area
FUN
Become sponsor and/or exhibitor
We still have some sponsorships and exhibition stands left. Take this opportunity to expose your company and products for the key stakeholders of the ferry industry. The exhibition area is perfectly placed in the middle of the conference deck in one large dedicated room.
Timetable
• Barcelona 24 April, Check-in opens: 14.00. Embarkation: 16.00. Departure 21.30
• Civitavecchia 25 April, arrival 18.00
• Civitavecchia 25 April, departure 22.00
• Barcelona 26 April, arrival 18.00
Companies booked as of 9 March (+220 unique, each typically attended on average by two delegates)
Aalto University, ABB Marine & Ports, Abelle Consulting, Accomar Marine Interior, ACTEMIUM, ADELTE, AFERRY, Amelsec, Anda-Olsen, Anuvu, Aros Marine, Artemis Technologies, ASSA ABLOY Global Solutions, Attica Group, Austal, BALEARIA, Ballard, Banchero Costa & C., Berg Propulsion, Beurteaux, BLRT Repair Yards, Bluestone, Bluetech, Blücher Metal, BoCS Consulting, Bore, Brax Shipping, Brittany Ferries, BRS, Brunvoll Volda, Brødrene Aa, Bureau Veritas, Caledonian Maritime Assets, Carrier, Carus, Caterpillar, Cavotec, CCH Design, Cemre Shipyard, China Merchants Cruise Research Institute (Shanghai) Co., Ltd, China Merchants Industry Holdings Co., Ltd, China Merchants Jinling Shipyard (Nanjing) Co., Ltd., China Merchants Jinling Shipyard (Weihai) Co., Ltd., Cita Design, Clarksons Norway, Coastal Liner Services Agency, Color Line, Condor Ferries, Consilium, Corsica Ferries, Corsica Linea, Corvus Energy, DAMEN, Dampa, Daspos, David MacBrayne, Deltamarin, DFDS, DNV, Echandia Marine, E-Dea, EHRENBERG SØRENSEN Kommunikation, Elkon, Elmo Leather, Elomatic Consulting & Engineering, EMCS Industries, Enrico Scolaro Shipbrokers, Ferry Systems International, FerryGateway Association, Fire Island Ferries, Fjord Line AS, Flensburger Schiffbau-Gesellschaft, Fosen Yard, FPG AIM, FRS, Fugro Norway, GCE Blue Maritime Cluster, GE Power Conversion, Georg Eknes Industrier, Georg Fischer Piping Systems, Gislaved Folie, Glamox, Gordion, Gotland Tech Development, Grandi Navi Veloci, Grimaldi Group, HADAG Seetouristik und Fährdienst, Hammarship, HFW, Hogia Ferry Systems, Holland Norway Lines, Houlder, Hydro Extrusions, iES Italia, Incat, Incat/Maatsyker, INTERFERRY, Ioanna Gkouvatsou, Isle of Man Steam Packet, J.M Voith SE & Co.KG I VTA, Jadrolinja, Kenya Ports Authority, KfW IPEX-Bank, Kihnu Veeteed, KiwiRail, KNUD E. HANSEN, Kohne Norway / Marine, Kongsberg Maritime, Krohne Italia Marine Division, Liferaft Systems Australia, Lloyd's Register, LMG Marin, Loipart, LTH-Baas, MacGregor, Macholl & Specht, Malta Shipbrokers International, MAN Energy Solutions, Maranics, Marine Charging Point, Marioff Corporation, Maxicaster, Mercy Ships, Metizoft, Meyer Turku, MikMek, Mineralka - Fipro, Minoan Lines, Modell Møbler, Naos Ship and Boat design, NAPA, naValue, Navitaship, NIT Naval Interior Team, Nordic HSC/ Poseidon Consulting, Nortal, North Sea Offshore, Norwegian Electric Systems, Norwegian Seafarers Union, Ntrakker / Nowhere Networks, Oresund DryDocks, OSK-ShipTech, OSM Maritime, P&O Ferries, Paf Casino, Parimar Brokers, Pfleiderer Deutschland, Playseas, Pocadel, Port of Gdynia Authority, Port of Hanko, Port of Helsinki, Port of Trelleborg, Port of Turku, Porto Santo Line, Ports of Stockholm, Portsmouth Port, PressReader, Rauma Marine Constructions, Red Funnel, Rederi Ab Eckerö, Rederi AB Gotland, REGENT Craft, Remontowa Shipbuilding, Revenue Technology Services, RINA, Rostock Port, Rustibus Worldwide, R&M MIT Services GmbH, Saint-Gobain, Scanel International, ScanMarine, Schottel, Seajets, SEAM, Sejin Technical Industries, Shanghai Merchant Ship Design and Research Institute, Shell Marine, SHIFT Clean Energy, Shippax, Shipshape Consulting, Shore Link, SMC Design, Spear Power Systems, Speedcast, Steen Friis Design, Steerprop, Stena Line, Stena RoRo, Tallink Grupp, Tampnet, Tanger Med Port Authority, Telenor Maritime, Tersan Shipyard, TLS - Boca System, TOS Ship Delivery, Trasmed, Trelleborg Marine and Infrastructure, Trident BMC, TS Laevad, TT-Line GmbH & Co, TT-Line/Spirit of Tasmania, UES Marine, Ulusoy Sealines, UME Shipping, Unity Line, Valmet Automation, Verband Deutscher Reeder, VesselsValue, Viking Life-Saving Equipment, Voith Turbo, Wallenius SOL, Wasaline, WE Tech Solutions, Western Baltic Engineering/Shipbuilding, Wightlink, Wyker Dampfschiffs-Reederei Foehr-Amrum, Wärtsilä, Yara Marine Technologies, Zinus

"On behalf of the Grimaldi Group, I look forward to warmly welcoming you onboard CRUISE BARCELONA for the Shippax Ferry Conference 2023 next April. On that occasion, we will be delighted to celebrate with you the 20th anniversary of this renowned international event. We wish you all will enjoy a successful conference and a superlative experience across the Mediterranean Sea!"
Emanuele Grimaldi
Managing Director
Grimaldi Group
WHERE? Grimaldi Lines' CRUISE BARCELONA
ROUTE? Barcelona-Civitavecchia-Barcelona
WHEN? 24-26 April 2023
THEME
"The Energy Challenge
-in an uncertain world"
MAIN PROGRAMME SESSIONS
Keynote speakers
Panel debates
Ferry industry performance and megatrends
New ships and projects
Inspirations for the ferry industry
The road to carbon neutrality
Interferry
Shippax Awards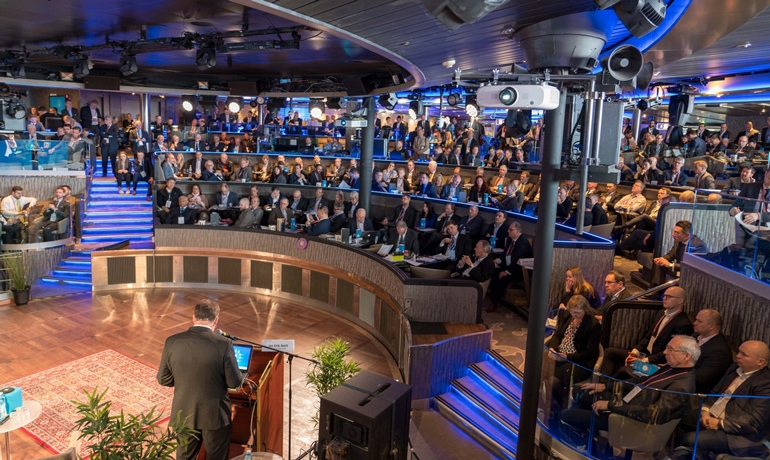 See photos from the 2022 conference https://www.shippaxferryconference.com/en/last-conference/about-conference-2022/photos-2022.aspx
Speakers:
Moderators:
Frederik Erdmann
Correspondent for Shippax since 1996 and professionally involved with shipping since 1999
Alan Lam
Co-moderator, correspondent and analyst Shippax
Speakers:
Tor Øyvin Aa - CEO Brødrene Aa
Jim Andersson - Director of Vessels Caledonian Maritime Assets Limited
Dario Bocchetti - Energy Saving Manager Grimaldi Group
Christer Bruzelius - Senior Partner & Project Owner Gotland Tech Development AB / Rederi AB Gotland
Torben Carlsen - CEO DFDS Group
Roberto Chiesa - Head of Business Development Marine GF Piping systems
Robert Clifford - Chairman Incat
Mike Corrigan - CEO Interferry
Sebastian Ebbing - Technical Advisor Climate, Marine fuels, Innovation and Funding German Shipowners' Association
Nicklas Ebersson - Marketing Manager Cargo Ports of Stockholm
Anne-Marie Eklund Löwinder - Leading expert on information and IT security
Mia Elg - R&D Manager Deltamarin
Lars Endre Gimmestad - Deputy CEO Brødrene Aa
Keith Greenfield - CEO Wightlink
Emanuele Grimaldi - Managing Director Grimaldi Group
Ingemar Gustavsson - Business Unit Manager ACTEMIUM
Kevin Hobbs - CEO Caledonian Maritime Assets Limited
Mike Howie - Regional Sales Manager Trelleborg Marine and Infrastructure
Tuomas Häkkinen - Account Director of Ferry and RoPAX business NAPA
Marcus Högblom - Vice President of Global Sales ABB Marine & Ports
Kaushik Jadhao - Business Development Manager Shell Marine
Jaak Kaabel - CEO Kihnu Veeteed
Leanna Lakes - Operations Director Red Funnel Group
Kristian Carøe Lind - Chief Technical Officer OSK-ShipTech
Christophe Mathieu - CEO Brittany Ferries
Pierre Mattei - CEO and Owner of Corsica Ferries group
Bente Medelbye Hansen - Design Director and Head of Interior & Accommodation Steen Friis Design
Axel Meynköhn - CEO Wyker Dampfschiffs-Reederei Föhr-Amrum GmbH
Niclas Mårtensson - CEO Stena Line
John Roger Nesje - Sales Director SEAM
Judit Nyári - Doctoral Candidate at Aalto University School of Science and Technology
Are Paulsrud - Chief Technology Officer Color Line
Bruce Peter - Professor of Design History at the Glasgow School of Art
Alberto Portolano - Corporate Energy Saving and Innovation at Grimaldi Group
Roberto Prever - CEO NAOS Ship and Boat design
REGENT - Speaker to be announced
Johan Roos - Director of Regulatory Affairs, Interferry
Stefan Scheja - Marketing Manager Ferries and Cruises Ports of Stockholm
Massimo Soprano - Ships Program Director KiwiRail
Pino Spadafora - Senior Director Marine Commercial RINA
Alan Stewart - Director SMC Design
Peter Ståhlberg - Managing Director Wasaline
Roger Trinterud - Sales Director passenger segment Kongsberg Maritime
David Tyler - Commercial Director Artemis Technologies
Pierre-Antoine Villanova - CEO Corsica Linea
Roger Vimme - Sales Director & Head of Ferry Telenor Maritime
Mike Wake - International Representative Austal
Wärtsilä - Speaker to be announced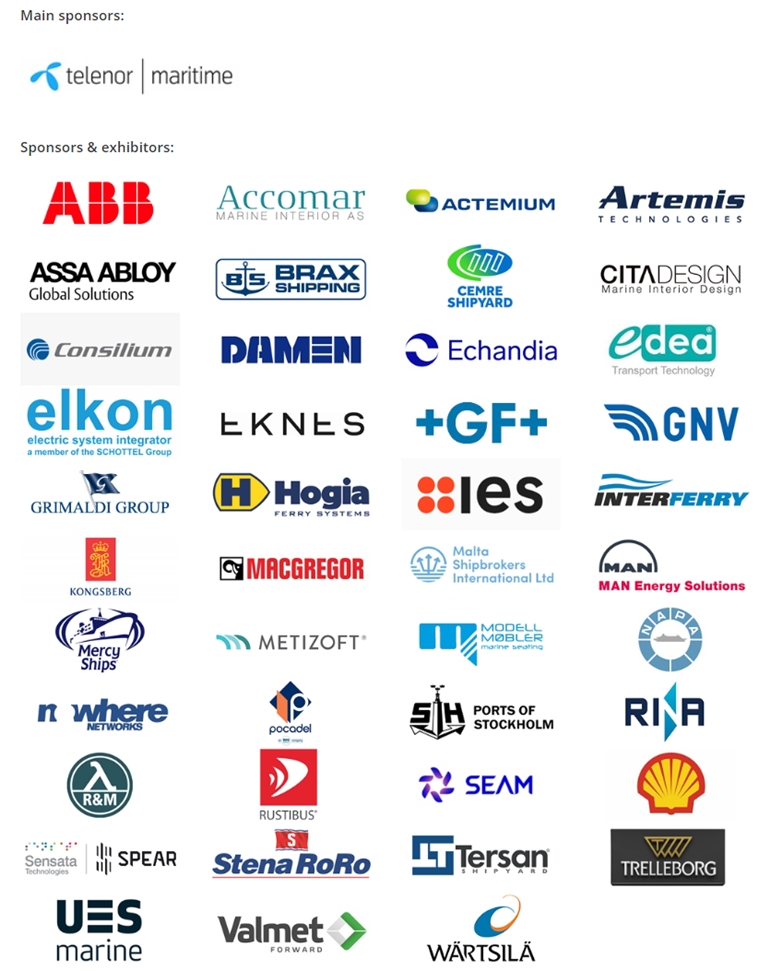 ---
Most read

The second of P&O Ferries two new double-ended giants for its Dover-Calais service has been delivered
Nov 29 2023
Seizure of the GALAXY LEADER PCTC chartered by NYK
Nov 21 2023
Products