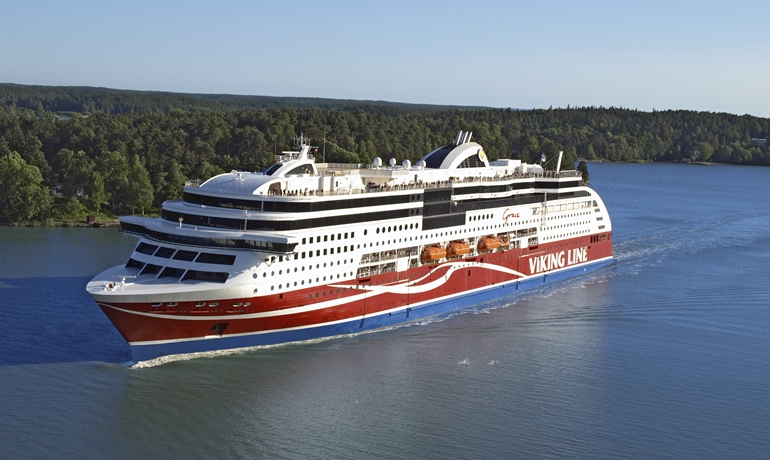 VIKING GRACE © Viking Line
VIKING GRACE celebrates 10 years of service
FerryThe popular vessel VIKING GRACE, which has served more than 10 million passengers, celebrates 10 years of service on 13 January. GRACE, built at the Perno shipyard in Turku, was one of the world's first passenger ships to use liquefied natural gas as fuel.
VIKING GRACE was built at STX Finland's Perno shipyard in Turku specifically for the Turku–Mariehamn–Stockholm route. Viking Line's order for the vessel in October 2010 was extremely important for the Turku shipyard, which today goes by the name Meyer Turku, since the shipyard had no orders on its books when the agreement was signed.
The vessel, which replaced ISABELLA, cost about EUR 240 million, and its construction entailed 2,600 person-years of employment for the shipyard and a number of subcontractors. 
VIKING GRACE made its maiden voyage on 13 January 2013. In a departure from tradition, the voyage was open to passengers, and tickets sold out within a few hours, even though the cheapest tickets cost EUR 350. The new vessel had generated great advance interest, in part through a naming competition, which generated 23,000 entries. The name GRACE describes the vessel's unique style, design and atmosphere.
"VIKING GRACE was a big investment for us both in the passenger experience and in sustainability. The vessel still lives up really well to passengers' growing expectations – which also confirms its status as a pioneer. Much of the thanks for VIKING GRACE's success over time goes to its nearly 300 crew members. The vessel has its own, strong GRACE spirit, which has inspired many people to enjoy themselves on board since the very beginning. Convinced by its popularity, we invested in planning and building a sister ship, our latest addition, VIKING GLORY, where we used many good solutions from GRACE," says Viking Line's Senior Vice President of Corporate Communications, Johanna Boijer-Svahnström.
When VIKING GRACE started service, it was the first passenger ship in the world to run on liquefied natural gas (LNG). The hull of this climate-smart ship was designed to minimize fuel use and wave formation, which reduces the environmental impact of traffic in the archipelago. The vessel runs quietly thanks to advanced noise reduction technology.
In late January, VIKING GRACE will be dry-docked for a few weeks.
"Along with technical service measures, cabins and public spaces will be updated, carpets will be changed and auditory production technology in the nightclub will be overhauled. The refurbished vessel will be back in service on 6 February," says VIKING GRACE's intendant, Sari Launonen.
As it nears its 10-year anniversary, VIKING GRACE has already served more than 10 million passengers. Today, VIKING GRACE and its sister ship VIKING GLORY are the only vessels to offer maritime transport from the former capital of Finland to the heart of Stockholm.
---