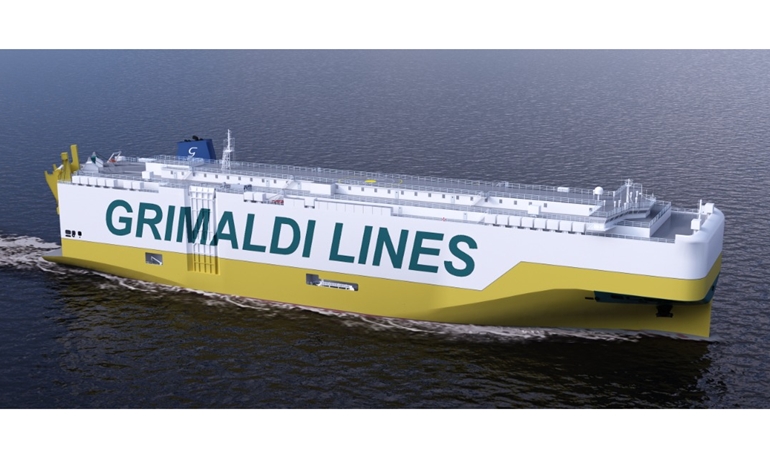 Two more ammonia-ready PCTC's for Grimaldi
Ro-roThe Grimaldi Group has further grown its order book with two more new PCTC's, bringing the total to 17 under construction for the group. Last January, the company signed an agreement with Shanghai Waigaoqiao Shipbuilding Company Limited (SWS) and China Shipbuilding Trading Company Limited (CSTC) – two companies part of China State Shipbuilding Corporation Limited (CSSC) – for the construction of five PCTC ships. The option for another two sister vessels was finally exercised few days ago.
With a length of 200 meters, a width of 38 meters and loading capacity of 9,000 CEU, the newbuildings have been designed to transport electric and fossil fuel vehicles (cars, SUVs, vans, etc.) as well as other types of heavy rolling freight (weighing up to 250 tonnes). They will be among the first ships equipped with a new type of electronic engine whose specific consumption is one of the lowest in its category. Thanks to their emission abatement systems, the new units will comply with the most stringent limits established at international level for CO2, NOx and SOx emissions.
Thanks to design innovations and state-of-the-art engines and systems, their CO2 emissions index per cargo unit transported more is significantly reduced – up to over 50% lower than that of other PCTC ships currently operated by the Grimaldi Group.
In addition, the new ships received the Ammonia Ready class notation from RINA, which certifies that they may be converted for the use of ammonia as an alternative. They are designed for cold ironing with shoreside supply of electricity (where available), which constitutes a green alternative to the consumption of fossil fuels during port stays.
The deal with the Chinese shipyard for the construction of the seven PCTCs is valued in excess of USD 630 million. This investment is part of the Grimaldi Group's massive fleet renewal plan, which includes 26 ships currently under construction: 17 ammonia-ready car carriers, five "G5"-class multipurpose ro-ro units, two "GG5G"-class hybrid ro-ro vessels and two "Superstar"-class ro-pax ships (for the subsidiary Finnlines).
"Investing in the design and construction of such large, eco-friendly vessels as these new ammonia-ready PCTC units means making a concrete contribution both to the development of international trade and to the ecological transition in the shipping sector", stated Group Managing Director Emanuele Grimaldi. "Our fleet modernization project is extremely ambitious, but this is the kind of initiatives that our sector needs to tackle decarbonisation, one of the most urgent and demanding challenges of our time".
The delivery of the two newly ordered PCTCs is scheduled for 2026. Like their five sister vessels, they will be deployed on voyages between Europe, North Africa, the Near and Far East, to meet the transport demands of operators in the automotive industry.
© Shippax
---