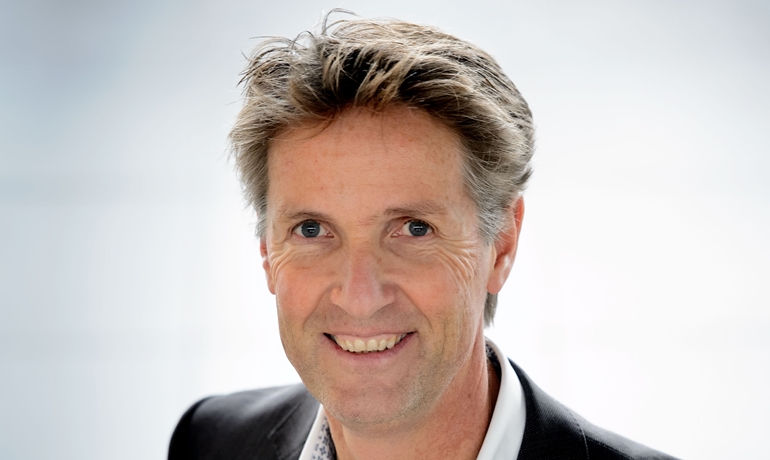 Paul J M Melles © Shippax
REDERIJ DOEKSEN PREPARES FOR THE FUTURE AS IT EMERGES SCATHED FROM COVID-19
InterviewRederij Doeksen is in the midst of a fleet rejuvenation programme aimed at reducing its environmental footprint. The medium-speed all-aluminium ro-pax catamaran WILLEM BARENTSZ was introduced last summer, with sister ship WILLEM DE VLAMINGH to follow next month. Yet, on account of COVID-19 it hasn't been plain sailing for the Dutch Frisian Isles ferry operator this year, as the company's managing director told Shippax.
As COVID-19 started to spread across Europe and countries went into lockdown or implemented other measures to flatten the curve last spring, passenger movements by international ferries came close to a standstill. Domestic lifeline services were less affected, but Rederij Doeksen, the family-owned ferry operator that connects the Dutch mainland port of Harlingen with the Frisian Isles of Terschelling and Vlieland, suffered too, explained the company's managing director Paul Melles. "The winter season is always extremely challenging for us and we rely on the summer season to compensate for the losses we suffer in winter," Melles told us. "The problem with COVID-19 was that the winter season was extended in the spring as the Netherlands went into semi-lockdown from late March until 1 June. Needless to say, this immediately impacted us as the islands we served are typical tourist destinations. Travelling was still allowed during the lockdown days, yet capacity was drastically reduced to respect a physical distancing of 1.5m between passengers. This resulted in a reduction of seating capacity by about 60 per cent, but then we didn't even reach a 40 per cent occupancy rate."
According to Melles, revenues plummeted by 85 to 90 per cent almost overnight. "We soon suffered from liquidity problems," he explained. "The Dutch government threw a lifeline in the form of a EUR 3 million loan which we have to pay back before the end of this year."
A good summer
As the spring progressed and the number of COVID-19 cases dwindled, passengers – notably Dutch nationals – started to travel again. To cope with the soaring demand and comply with the 1.5m social distancing, three passenger-only ships were chartered during peak periods – FRIESLAND (a former Doeksen passenger-only ferry), HOLLAND and REGINA ANDREA. "Following a disastrous start of the spring season, the entrepreneurs on the islands expected a normal service level from us," Melles elaborated. "But then we were not allowed to carry more than 40 per cent of our passenger capacity, so we found a solution in the form of chartering these three ships. All three normally operated excursions and tours which had stopped due to the pandemic. As these ships otherwise would have remained idled, we managed to negotiate rather competitive charter rates. Thanks to these charters we could serve the islands properly and in a COVID-friendly manner."
Coinciding with the start of the summer holiday season, Rederij Doeksen introduced its brand-new 700-passenger and 66-car capacity WILLEM BARENTSZ. Prior to the introduction of WILLEM BARENTSZ, the Dutch government reviewed the 1.5m physical distancing measure that applied for public transport. "Although we are officially not part of the public transport network, on 1 July we were placed under the public transport regime as far as the COVID-19 measures were concerned," Paul Melles said. "It was too complicated to make specific Coronavirus rules for the Wadden Sea ferries and we were therefore allowed to follow the rules that applied to the different modes of public transport. This meant that face covering became mandatory both inside and on the outer decks of our ships, but the 1.5m physical distancing measure was abolished and we could use 100% of our capacity. Even so, we voluntarily reduced our passenger capacity, for instance we reduced the capacity of MIDSLAND from 750 to 600 passengers. We also kept FRIESLAND on charter until early August."
Melles didn't complain about the summer season as Rederij Doeksen, like many other domestic operators in Europe, benefited from the 'staycation effect' in the wake of the first wave of COVID-19. "We were extremely lucky that we were allowed to use the full seat capacity, which meant that we had more or less a normal summer season as hotels and summer houses on the islands were fully booked throughout the summer," he explained. "But it was not business as usual as there was no group travel, neither were there any public events on the islands. Advance bookings for the last quarter of this year are promising but as the COVID-19 situation deteriorates, we keep our fingers crossed. Providing Q4 meets our expectations, which is doubtful, we expect a 15 to 18 per cent drop in revenue this year. As our profit margin is capped by the government, this is quite significant and means we will break even at best."
Fleet rejuvenation
Offering a totally new travel experience, the new LNG hybrid-lite vessels, which were presented in-depth in the October issue of Shippax Info, are primarily aimed at reducing Rederij Doeksen's ecological footprint in the vulnerable Wadden Sea region, a UNESCO World Heritage Site. WILLEM BARENTSZ has settled down well and sister ship WILLEM DE VLAMINGH will follow next month. Both ships will form the backbone of the conventional ferry operations, supplemented by two high-speed passenger-only catamarans, the 1992-built, 312-passenger KOEGELWIECK and the 2002-built, 414-passenger TIGER. Additionally, Rederij Doeksen operates the dedicated freight catamaran NOORD NEDERLAND, serving both Terschelling and Vlieland. Built in 2002, NOORD NEDERLAND was lengthened by 20 metres in 2017, increasing the ship's length to 65m and its deadweight by 199t.
Rederij Doeksen has the exclusive rights to provide the lifeline services to both Terschelling and Vlieland for passengers and their vehicles, yet free competition applies for freight movements with this coming from Rederij Wadden Transport which operates the 150-lanemetre double-ender TERSCHELLINGER BANK. It specializes in project and out-of-gauge cargos, including construction materials, with Rederij Doeksen primarily carrying foodstuffs and everyday supplies to the islands, and also shipping garbage to the mainland.
Most sailings are direct between Harlingen and the respective islands, but there is an occasional triangular service calling at both Terschelling and Vlieland, offering an inter-island service. Vlieland is the smallest of the islands with a population of just under 1,200 inhabitants. Only island residents are allowed to take their car from and to the island with the 2005-built medium-speed catamaran VLIELAND being the route's mainstay.
Following the recent fleet rejuvenation, the 1974-built MIDSLAND has been laid up as reserve vessel. It has been put on the sales list and is expected to leave the fleet in mid-2021. The compact conventional ferry FRIESLAND, the company's flagship completed by Van der Giessen-de Noord in 1989, remains in service but no longer year-round. "FRIESLAND remains part of our growth strategy," Melles pointed out. "It will be a reserve ship and will play an active part during peak periods. As the number of beds on the islands is capped, it is impossible to grow in the summer season, but there is great potential to extend the summer season and grow our business in spring and autumn. This is our main objective now, and FRIESLAND will be the catalyst for our growth."
Next concession in 2029
Founded in 1908 and first active in salvage and dredging along the Dutch coast, Doeksen diversified into passenger shipping when taking over Frisian Island operator Terschellinger Stoomboot Maatschappij (TSM) in 1923. It has operated to the islands of Terschelling and Vlieland ever since.
None of the Dutch Frisian Isles services are subsidized, though the land and linkspans in the ports are owned by the Dutch government. Rederij Doeksen leases the land on which their terminals are located, yet own the terminal buildings themselves.
To comply with EU regulations, Rederij Doeksen was awarded a 15-year concession contract from the Dutch government in April 2014. "Unlike other lifeline services in Northern Europe, it is not a public service contract," Melles clarified. "It's a concession to operate the lifeline services. We have to offer a daily service. The maximum tariffs are set by the government and indexed on a yearly basis. As explained, our profit is capped, yet there are stimuli from the government to invest in new tonnage."
Rederij Doeksen's current concession terminates in 2029 and to guarantee continuity, all assets, including ships and terminal buildings, will be transferred to the next concessionary. "Although we will definitely bid and, obviously, hope to win the next concession, the transfer of assets creates a level playing field as the shallow and meandering waters of the Wadden Sea and length restrictions in the ports requires conventional tonnage purpose-built for Wadden Sea service," Melles explained, adding that the next major project on the agenda will be the replacement of the high-speed craft KOEGELWIECK.
© Shippax / Philippe Holthof
---
Most read
Press Releases
May 13 2022
Carnival Cruise Line breaks ground on new cruise ...
---
May 13 2022
MacGregor has received an order to supply RoRo eq...
---
May 11 2022
DFDS: April volume report: Freight Up 5%, Continu...
---
See all press releases
Products