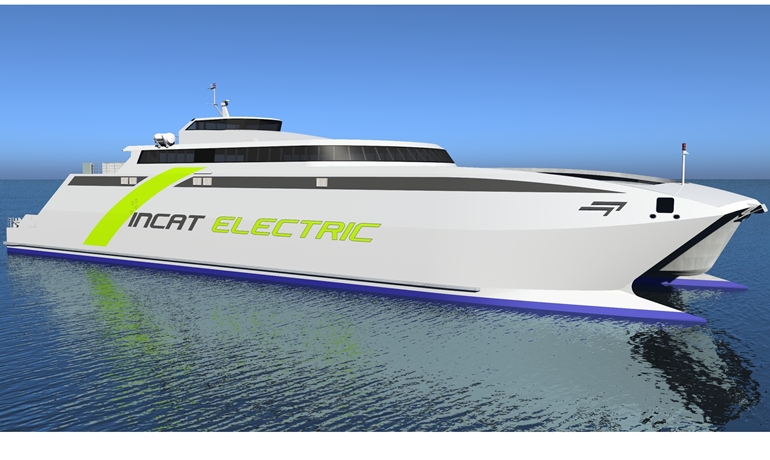 Incat electric 70m
Updated: Incat release 70 metre fully electric concept for series production
Incat Tasmania has unveiled new plans to do for short sea ferry services what Boeing did for the aviation industry, but with series produced zero (direct) emissions vessels. For this purpose, Incat has developed a new 70-metre fully electric concept.
Led by its founder and world-renowned ferry builder Robert Clifford, Incat has been at the forefront in the passenger and vehicle fast ferry market for four decades.
Incat led the development of large vehicle carrying catamarans in the 1990's and is once again showing what's possible by constructing the world's largest lightweight battery electric ferry with a capacity to carry more than 2,000 passengers and 225 vehicles.
Robert Clifford says he has ambitions for Incat to make zero (direct) emission battery electric vessels more readily available for the world.
"Boeing was able to do it with aircraft over the last 100 years, and we are working on an expansion plan to enable the Incat Shipyard to produce multiple battery electric vessels each year," Mr Clifford said.
"We are offering the global ferry market options for series produced vessels both small and large just like Boeing did with the mass produced 737 and Airbus did with the larger Airbus 380.
Our shipyard is ideally placed to produce multiple smaller 70 metre vessels as well as a larger vessel over 140 metres every year.
The first design of a series produced 70 metre ship will ensure costs for these new battery electric vessels are minimised, whilst producing them to the highest standards.
Incat will build these ships to its trademark high-quality design and every customer will have the ability to create their own statement with each vessel through internal fixtures, fittings and design. And if they want a bespoke option, we can design that too.
Our plan to double the workforce is underway and I anticipate that over the next couple of years we will have more than 1,000 workers on site.
To reduce emissions in line with ambitions around the world, and to meet customer expectations over the next decade, hundreds if not thousands of zero (direct) emission ships need to be built.
Battery electric propulsion coupled with lightweight aluminium constructed ships on shorter sea routes will be the ideal choice to cut emissions.
Our plan is to revolutionise the world shipping industry once again by delivering more zero (direct) emission ships more efficiently than anyone else. This will benefit ferry owners, their customers, and importantly, our environment."
General particulars:
Builder: Incat Tasmania
Designer: Revolution Design
Length overall: 70.0m
Beam moulded: 19.1m
Speed: 25 knots @ 150 DWT
Voyage Length: 20NM @ 25 knots*
                          90NM @ 12 knots*
Charge time: Approx. 30-45 mins (depending on shore charging capacity)*
*Approximate range based on ESS size of 5.9 MWh, six voyages per day and charging at both ends
Capacities:
Max deadweight: 250 tonnes
Complement: 450 plus crew
Vehicle capacity: 70 cars + 105 truck lane metres or132 cars @ 4.5m x 2.3m
© Shippax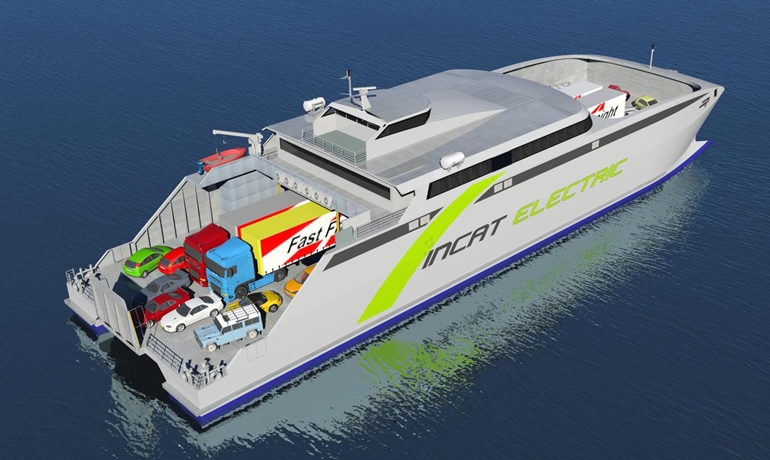 ---
Most read

The second of P&O Ferries two new double-ended giants for its Dover-Calais service has been delivered
Nov 29 2023
Seizure of the GALAXY LEADER PCTC chartered by NYK
Nov 21 2023
Products