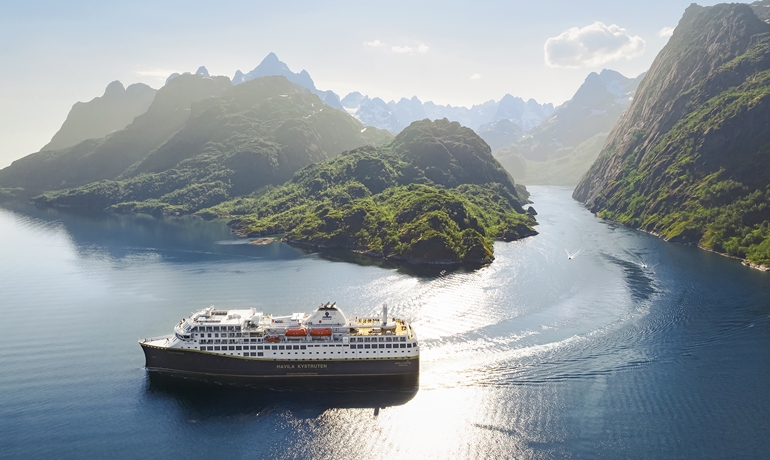 HAVILA CASTOR in Trollfjorden © Marius Beck Dahle / Werksted
Havila Kystruten to only accept fossil fuel vehicles on board
CruiseAfter a risk analysis carried out by Proactima AS, Havila Kystruten has decided that only cars and motor vehicles that use fossil fuel can be transported on board the company's ships, in selected ports along the coastal route. This means that electric, hybrid and hydrogen cars cannot be transported on board.
- This is a pure safety assessment, and the conclusion of the risk analysis shows that a possible fire in fossil vehicles will be able to be handled by the systems and the crew we have on board, explains managing director Bent Martini.
- A possible fire in electric, hybrid or hydrogen cars will require external rescue efforts and could put people on board and the ships at risk. We take security seriously, and this is naturally a risk we are not willing to take under any circumstances.
Martini also explains that Havila Kystruten will continue to work on finding good solutions that can minimize the risk of transporting this type of vehicle in the future.
Havila Kystruten's ships themselves are equipped with large battery packs, and are the most environmentally friendly ships that sail the coastal route. Martini understands that questions can be asked as to why more environmentally friendly vehicles cannot be transported on board.
- The most important thing for us is to ensure safety. Our ships are built with their own battery packs, and they are installed in accordance with current requirements for fire safety on ships. This means that our batteries are separated into isolated and fireproof rooms, with specific fire protection systems, he says.
Furthermore, the company have decided that boarding and disembarking of private vehicles will only be carried out in Bergen and Kirkenes, with the exception of service vehicles for personnel who do necessary work on board the company's ships and emergency vehicles. This also assumes that these are pure fossil cars.
- There is limited capacity for vehicles on board, based on the need for space in the hold for the contractual carriage of other cargo. Testing during the past year also shows that we are experiencing challenges in some ports based on variations in the tide. We do not want to risk damage to either vehicles or ships when handling private vehicles, explains Martini.
- We are fully aware that there is a certain expectation, especially from the coastal community, that ships along the coastal route should assist with the transport of private motor vehicles between ports. At the same time, it is not a requirement in the agreement with the Ministry of Transport that ships on the coastal route must transport private cars, he concludes.
© Shippax
---