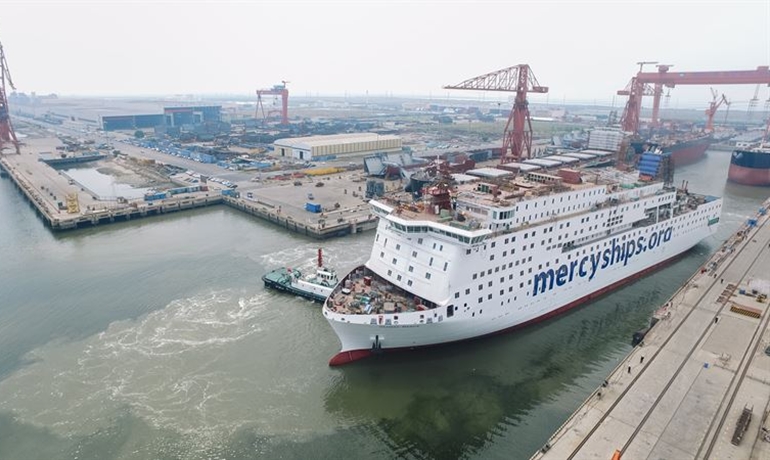 GLOBAL MERCY will undertake its official trials in December and is expected to be delivered by its Chinese builders during Q1 2021. © Stena RoRo
GLOBAL MERCY nears completion
Mercy Ships' 174.1-metre long and 28.6-metre beam hospital ship GLOBAL MERCY, the world's largest civilian hospital ship, recently successfully underwent its inclining test and is expected to leave the Tianjin Xingang shipyard for its preliminary sea trials in November, with the official sea trials being planned for December.
Delivery of GLOBAL MERCY is scheduled for Q1 2021 and although all heavy (hospital) equipment has already been installed, GLOBAL MERCY will head for the Philippines for the final equipping phase following completion by the ship's Chinese builders. Mercy Ships, the international charity that ordered the vessel, expects that GLOBAL MERCY will enter service in African waters by the end of 2021.
As Mercy Ships had never built a ship before, they called on the expertise of Stena RoRo, the Stena AB subsidiary that has been responsible for the design, the contracting and the construction oversight of the complex vessel. In addition to the Chinese shipyard, the project includes several European, American and Asian subcontractors, including Finnish Deltamarin, the ship's naval architects and  interior architects Steen Friis Design.
GOLBAL MERCY is an evolution of the never-built Stena Seabird Class of ro-pax vessel which Stena RoRo developed in-house in cooperation with Deltamarin. A shortened version of the Stena Seabird platform was adapted to Mercy Ships' requirements with vehicle decks being replaced by hospital accommodation, including operating rooms and hospital wards.
The floating civilian hospital ship will boast six surgery rooms for both medical care and education as GLOBAL MERCY will also double as an education centre for local health professionals. GLOBAL MERCY will accommodate 199 patients and 600 volunteer crew and medical staff (500 persons on board when sailing).
Hospital operations place large and specific requirements, which have affected both the hull design and the layout of the interior. In addition, the ventilation system has been especially adapted and focus has been placed on minimizing vibration and noise. The ship is equipped with large cranes in order to be able to take on containers with provisions, vehicles and other equipment as the ship is to be used for long periods in port.
© Shippax / PHO / PR
---
Most read
Press Releases
May 12 2021
Deltamarin is proud to be part of Höegh Autoliner...
---
May 12 2021
Quiet Milestone
---
May 12 2021
Grimaldi fleet: RINA certifies the improvement of...
---
See all press releases
Products