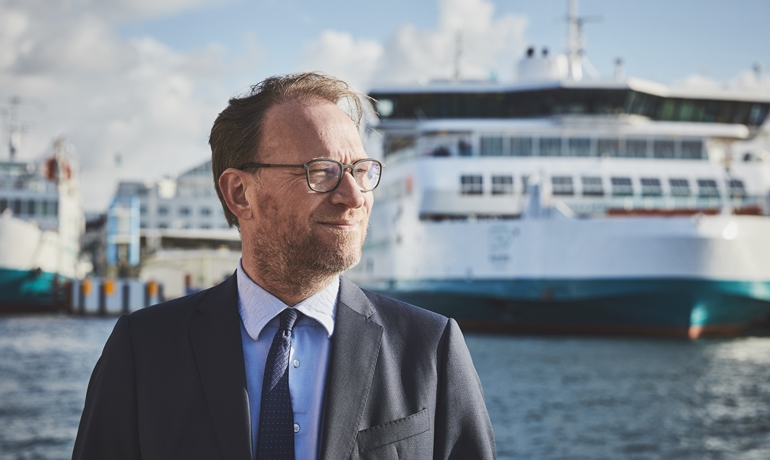 Kristian Durhuus, CEO Molslinjen
ForSea becomes Öresundslinjen
FerryThe name change to Öresundslinjen is a step towards integration with Molslinjen. The investment that ForSea began with investments in customer experience, service offering and sustainability is what Öresundslinjen continues to build on.
First in the fleet will be the electric ferry TYCHO BRAHE, which on 4 October will be back on the crossing, after a planned yard visit, with Öresundslinjen's new logo, colors and fresh interior. Shops, cafes and bars have been given new life and give everyone who visits a new experience. The self-service concept is more developed for all car travellers who need a break on the road between Sweden and Denmark.
ForSea was named in 2018, when the then HH Ferries aspired to become the region's most sustainable transport company. To underline that ambition, the shipping company was named ForSea.
"ForSea has been a strong brand with a focus on sustainability and it has been tempting to keep it, but after some consideration we believe that we should be incorporated into Molslinjen's structure and ForSea will become Öresundslinjen ", explains Molslinjen's CEO, Kristian Durhuus.
He adds that the name change also signals a more geographical connection to the entire Öresund region.
Name changes bring with them some new things. The experience of a nice break in the middle of Öresund does not change. Here, the ferries with restaurants, shops and bars continue to create a unique meeting place, while also forming a floating bridge between Sweden and Denmark.
"We are starting the transformation calmly and collected, so it will take some time before we can say that the name change and the entire redesign of the crossing is complete. We do it at a pace that our nearly seven million annual guests can follow," says Kristian Durhuus.
In addition to the ferry crossing Öresundslinjen, Molslinjen, Bornholmslinjen, Samsølinjen, Alslinjen, Langelandslinjen and Fanølinjen are also part of the same company.
© Shippax
---
Most read

The second of P&O Ferries two new double-ended giants for its Dover-Calais service has been delivered
Nov 29 2023
Seizure of the GALAXY LEADER PCTC chartered by NYK
Nov 21 2023
Products