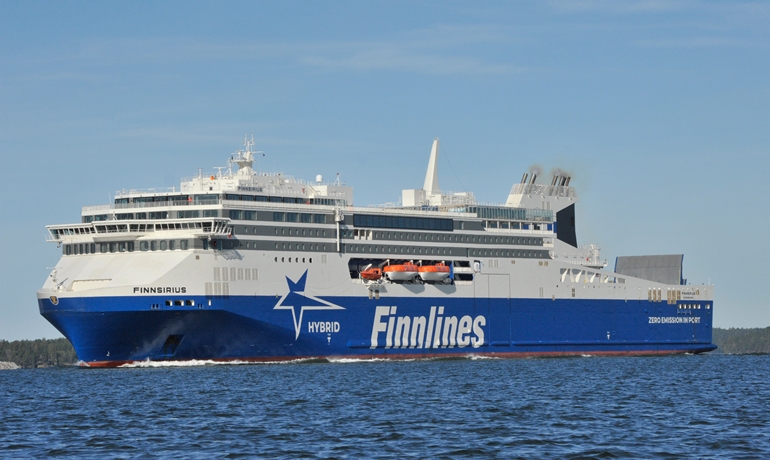 FINNSIRIUS © Jukka Huotari
FINNSIRIUS exceeds expectations its first two months in service
FerryFinnlines reports strong growth of passengers travelling on its Naantali–Långnäs–Kapellskär route during the two months that have passed since the operator's new Superstar ro-pax vessel FINNSIRIUS was introduced on the route. The new Superstar service concept offers upgraded services on the route for both cargo customers and passengers.
FINNSIRIUS, Finnlines' new Superstar freight-passenger vessel has exceeded all expectations. The number of passengers on the Naantali–Långnäs–Kapellskär route connecting Finland, the Åland Islands, and Sweden has increased by over 60 per cent during the first two months of its operation compared to the same period 2022. FINNSIRIUS was introduced on the route on 15 September. With the new vessel, Ålanders have also discovered Finnlines' connections, and the number of passengers from Åland to both mainland Finland and Sweden has increased considerably.
The new freight-passenger vessels are integral part of Finnlines' strategy to provide upgraded services on the route, focusing on both cargo customers and passengers. The execution of the company's strategy will continue as the second Superstar vessel, FINNCANOPUS, will join FINNSIRIUS on the same route early 2024.
"I am very pleased to see the passenger development on our route connecting Finland, Åland and Sweden, not the least the figures for Åland, where we are aiming to deliver reliable and comfortable transport solutions. We also want to be a strong partner for the Ålandic hospitality industry", says Marco Palmu, Head of Passenger Services, Finnlines.  
Passengers can enjoy the sea voyage with all their senses as the FINNSIRIUS offer multiple dining venues, as many as seven bars and restaurants. Enjoy delicious food and drinks in front of panoramic windows with stunning views of the Archipelago. Additionally, a stylish spa and duty-free shop enhance the cruising experience, inspiring both relaxation and travel.
"With our Superstar vessels, Finnlines has set a new standard for passenger service on this route between Finland and Sweden. At the same time, Finnlines' fundamentals remain: we provide peace of mind with our reliable timetable, flexible car deck with room for all kinds of vehicles, and focus on relaxation during the journey", says Marco Palmu.
© Shippax
---
Most read

The second of P&O Ferries two new double-ended giants for its Dover-Calais service has been delivered
Nov 29 2023
Seizure of the GALAXY LEADER PCTC chartered by NYK
Nov 21 2023
Products