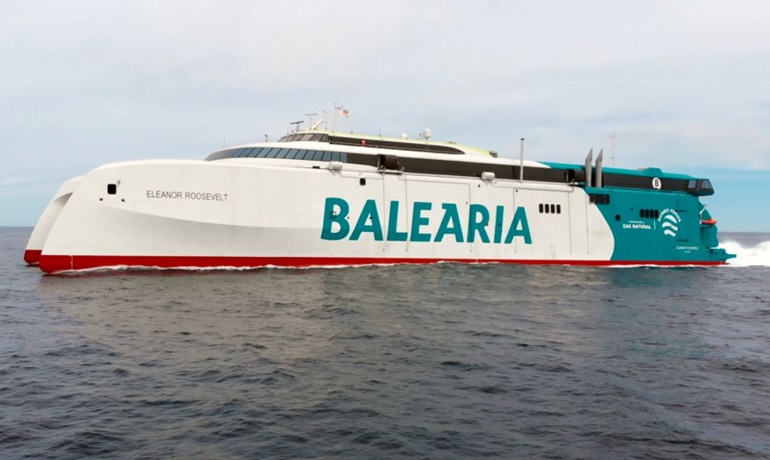 ELEANOR ROOSEVELT will be introduced on the Dénia-Balearic Islands route on 1 May. © Baleària
ELEANOR ROOSEVELT delivered and ready to take up service
High-speedBuilders Astilleros Armon in Gijón, Spain, have handed over the 123m long and 28m beam high-speed ro-pax catamaran ELEANOR ROOSEVELT to Baleària. The LNG-powered fast craft left Gijón for Dénia (via Huelva) yesterday, 27 April and is set to debut on Saturday 1 May, connecting the mainland port of Dénia with Ibiza and Palma.
The seventh vessel in the Baleària fleet to be LNG-powered, ELEANOR ROOSEVELT follows an Incat Crowther 125m design and has a capacity of 1,200 passengers and 450 cars or a combination of 500 truck lanemetres and 250 cars.
The EUR 90 million ELEANOR ROOSEVELT is powered by four dual fuel LNG/MDO Wärtsilä 16V31 DF engines with an output of 8,800 kW each, driving four Wärtsilä LJX 1500 waterjets, providing a 35-knot service speed. The two LNG tanks give the vessel an autonomy of 400 nautical miles in gas navigation and 1,900 nautical miles in the case of combined gas-diesel propulsion.
The vessel's innovative passenger spaces are designed by Oliver Design and are divided into dedicated zones, offering facilities such as multiple bars, a market and food court, kindergarten and outdoor terrace. Like other members in the Baleària fleet, it is promoted as 'smart ship' with passengers able to access by means of a QR code that is received via WhatsApp, with the indication of the assigned seat number. During the entire journey, there is Internet connection and WhatsApp coverage for text messages. A free digital entertainment platform is available on mobile devices and passengers can see their pets through webcams installed in the cages.
© Shippax / PHO / PR
---
Most read
Press Releases
Jun 14 2021
Commuters travelling between Finland and Estonia ...
---
Jun 14 2021
Stena Line eases mouth mask requirements for pass...
---
Jun 14 2021
More orders in Norway for Cavotec's next generati...
---
See all press releases
Products