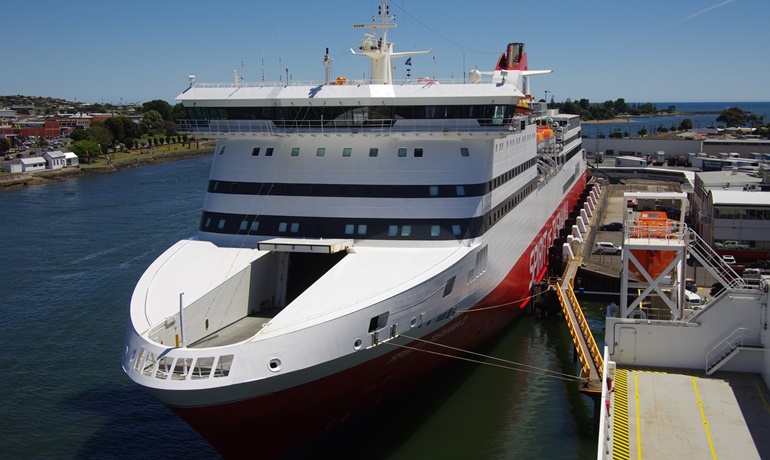 Spirit of Tasmania continues operating between Melbourne and Devonport until and unless advised otherwise by health authorities. © Dale Crisp
COVID-19 ferry and cruise update – Australia
FerryCruiseShippax's Australian correspondent sent us the following update of the impact COVID-19 has on cruise and ferry shipping 'Down Under'.
14 March:
• The New Zealand government has announced a ban on all cruise ships entering NZ waters until "at least" 30 June; NOORDAM idle at Tauranga for five days without passengers pending deployment decision.
• Spirit of Tasmania ro-paxes will continue operating between Melbourne and Devonport until and unless advised otherwise by health authorities.
• The master of MSC MAGNIFICA banned disembarkation of passengers and crew in Hobart in case they became infected (notwithstanding that Tasmania had only five confirmed COVID-19 cases at the time). It was reported that a number of people 'jumped ship' rather than be "trapped" on board the world cruise.
• Carnival Cruise Line suspends all ANZ cruises by CARNIVAL SPIRIT and CARNIVAL SPLENDOR, effective their arrival back in Sydney from current voyages.
• Cunard announces QUEEN MARY 2, at Fremantle, will embark no further passengers on its RTW cruise (with substantially modified itinerary).
15 March:
• The Tasmanian government has banned all cruise ships from state ports for the rest of the season.
• The Australian government has banned all cruise ships entering from any overseas port for 30 days, excluding ships on current cruises that originated in local ports.
• P&O Cruises Australia and Royal Caribbean International announce the suspension of all Australian and NZ cruises from today, for one month.
• GOLDEN PRINCESS quarantined at anchor at Akaroa (Dunedin), NZ after suspected cases on board but ship later cleared, itinerary abandoned and returning to Melbourne.
• Hundreds of passengers desert CELEBRITY SOLSTICE in Dunedin and fly home to beat 14-day self-isolation regulations (though no infections reported on board).
16 March:
• LE LAPEROUSE cruise terminated early in Wellington although start/end was scheduled in NZ.
• Rest of QM2 RTW cruise abandoned but those who cannot fly will stay on board.
• International travellers and Tasmanians returning from overseas will be subject to mandatory health declarations/screening at TT-Line's Spirit of Tasmania terminal in Devonport.
Ships currently homeported in Australia seasonally and/or year-round: PACIFIC DAWN, PACIFIC ARIA, PACIFIC EXPLORER, RUBY PRINCESS, GOLDEN PRINCESS, SUN PRINCESS, SEA PRINCESS, CARNIVAL SPIRIT, CARNIVAL SPLENDOR, MAASDAM, NOORDAM, QUEEN ELIZABETH, RADIANCE OF THE SEAS, OVATION OF THE SEAS, VOYAGER OF THE SEAS, CELEBRITY SOLSTICE, SEABOURN SOJOURN, SEABOURN ENCORE, VIKING ORION, VASCO DA GAMA.
Ships currently in Australasian waters during round-the-world or regional voyages, or re-located from elsewhere: QUEEN MARY 2, THE WORLD, SEVEN SEAS MARINER, SEVEN SEAS VOYAGER, COSTA DELIZIOSA, SPECTRUM OF THE SEAS, MSC MAGNIFICA, ARCADIA, AMSTERDAM, LE LAPEROUSE, BREMEN.
© Shippax / Dale Crisp
---
Most read
Press Releases
Jul 03 2020
Costa extends pause for its cruises until August ...
---
Jul 02 2020
Condor Ferries to resume sailings to the Channel ...
---
Jul 02 2020
AIDA Cruises extends pause of its operation until...
---
See all press releases
Products