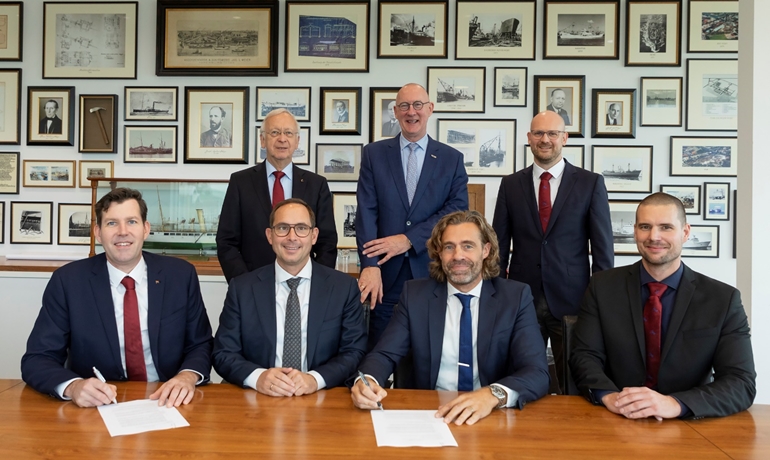 C-Job Naval Architects becomes strategic partner of MEYER Group
C-Job Naval Architects and MEYER Group today announce the two companies have entered into a strategic partnership. The agreement between the companies includes MEYER Group to acquire a 50 percent stake in C-Job Naval Architects. The move solidifies MEYER's focus on sustainable solutions and allows them to diversify their portfolio.
C-Job is an independent ship design and engineering company that operates worldwide with offices across five countries and has its headquarters in the Netherlands. MEYER Group is an international consortium including MEYER Werft with three shipyards in Papenburg, Rostock, and the Finnish city of Turku.
Meyer Werft is one of the most modern shipyards in the world. The MEYER Group recently expanded its operations with MEYER RE and offers shipping companies solutions to maximize their vessel's sustainability, ideally throughout their lifecycle from development and build to supporting them through their operating lives and finally end-of-life recycling.
C-Job Naval Architects is considered a thought leader when it comes to sustainability in the maritime industry, having been at the forefront of alternative fuels research. It was the first company to prove ammonia can be applied safely as a marine fuel, continued with other renewable fuels such as methanol and last year shared a brand-new class of liquid hydrogen tanker powered by hydrogen fuel cells. Moreover, the company has a strong track record in dredging, offshore wind, mega yachts, and passenger vessels.
The strategic alliance will allow MEYER Group to utilize C-Job's knowledge of and experience in applying renewable fuels to its portfolio focusing on cruise vessels in particular – which in turn diversifies C-Job's own portfolio.
Job Volwater, CEO and co-founder of C-Job Naval Architects, says: "We started C-Job in 2007 and we have been making waves ever since. We haven't been afraid to do things a bit differently which has led to our successes. In MEYER Group, we have found a partner who aligns with our values and culture, making our partnership a natural fit. I'm proud MEYER and C-Job have combined forces and I am certain this union will fortify our position in both the Netherlands and internationally even more."
Basjan Faber, CFO and co-founder of C-Job Naval Architects, adds: "In 2020 we vocalized our vision for a sustainable maritime industry within one generation. In MEYER, we have found a like-minded organization that shares this vision and wants to achieve this together. I have no doubt we will do great things together that complement and continue to build on what C-Job has achieved so far."
Malte Poelmann, CTO at MEYER Group, says: "C-Job and MEYER share the common vision to make shipping sustainable in the near future! We always want to offer the best and tailor-made engineering solutions, both for newbuilds and for the transformation of the existing fleet, together with MEYER RE. As strategic partners we will be able to push the boundaries for sustainable solutions in the maritime industry."
---
Most read

The second of P&O Ferries two new double-ended giants for its Dover-Calais service has been delivered
Nov 29 2023
Seizure of the GALAXY LEADER PCTC chartered by NYK
Nov 21 2023
Products