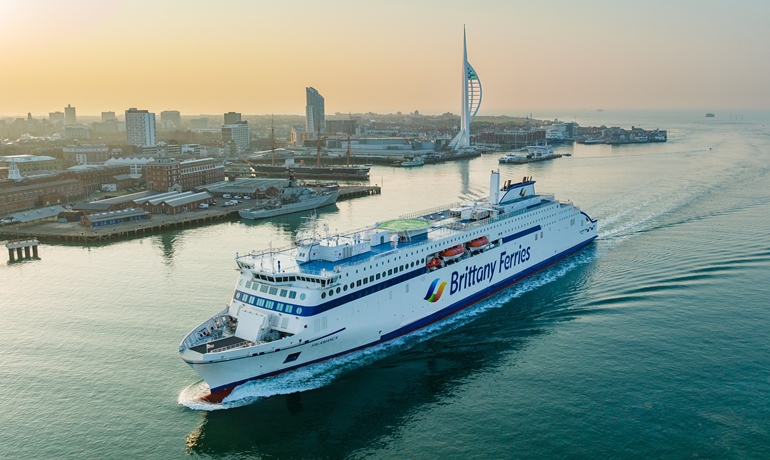 SALAMANCA © Brittany Ferries
Brittany Ferries reports passenger recovery, but worsened freight numbers
FerryAs the summer season approaches, Brittany Ferries says passenger numbers are rising slowly towards pre-Covid levels. However, the slump in freight volumes that came post Brexit has continued and has even started to worsen this year. Brittany Ferries also report return of the fast ferry CONDOR LIBERATION on the Channel.
Freight slump:
Since Brexit, Brittany Ferries has seen a decline of around a fifth in total freight volumes carried on the Channel. However, this year the drop has worsened worryingly.
From the start of April, the company has averaged around 2,000 fewer freight units per month than expected. This equates to a drop of around 8% compared with last year. If this weaker pattern continues, estimates for year-end suggest 15% worse freight performance than originally projected.
"Our freight business has become the collateral damage of over-capacity and a price war taking place on short sea routes like Dover-Calais," said Christophe Mathieu, Brittany Ferries CEO. "Some operators have chosen a business model where loyal seafarers have been replaced by cheap labour, meaning wage bills of between 30 and 60 percent less than for reputable ferry operators. This gives them an unfair competitive advantage. We won't take part in a race to the bottom in the ferry sector, but there's no doubt the situation is damaging our freight business today."
Passenger boost:
Brittany Ferries sails from Portsmouth, Poole and Plymouth to five destinations in France and two in northern Spain. Passenger volumes for 2023 are encouraging. Volumes are significantly up on 2022, but still lag behind 2019 which was the last pre-Covid comparison year.
So far this year, Brittany Ferries has booked 1,504,274 passengers (those who have already travelled and those holding a forward reservation). That's a 17.6% increase on the same period in 2022. However, volumes are still down by nearly 15% compared with 2019, a deficit of around 270,000 passengers.
Looking at forward reservations for the high season (covering April – October), reservations have reached 1,224,120 passengers, compared with 1,097,724 for the same period in 2022. This is an increase of 126,396 passengers, or 12%. For year-end the company is forecasting an 18% boost in total passenger numbers compared with 2022.
In total 1.95 million passengers are forecast to have travelled with Brittany Ferries by the end of the year. This would be a positive result, but still around 100,000 fewer travellers than expected.
The French return
Last year Brittany Ferries reported a crash in the number of inbound tourists coming from France.
In 2019, travellers from Brittany (Roscoff and St Malo) visiting the UK reached 137,500. However, this plummeted to just 42,200 in 2022, partly because Brexit border controls had been implemented requiring passports for travel, an expensive and time-consuming application process for those used to travelling on ID cards.
The company is therefore relieved to report a strong re-bound this year. Around 90,300 reservations have been made so far and Brittany Ferries says a joint marketing campaign completed with Visit Britain at the end of May has helped inspire holiday makers and boost numbers.
UK France routes in focus:
Routes to France suffered in 2022, partly as a consequence of border restrictions in France, which extended into the busiest post-Christmas booking period impacting demand. However, this year, growth has been reported for all UK-France routes.
Summer reservations on Brittany Ferries' Portsmouth to St Malo route for example are up 6% to 165,700. On Plymouth to Roscoff, reservations are up 8% to 154,200.
The company's most popular line Portsmouth to Caen, which carries nearly 60% of all Brittany Ferries' passenger traffic, has seen forward reservations rise 12% on 2022 data, to 389,150. Once again however this needs to be viewed in the context of 2019 figures which were around 8% better.
Poole to Cherbourg is alone in reporting growth compared with both 2022 and 2019 data. Figures show an improvement of 23% to 104,375 on the same period in 2022 (85,000 passengers), and 14% on the 91,370 travellers carried in 2019.
Spain down slightly
Spain shone as the bright star in Brittany Ferries' performance last year. After strong growth in 2022, this year has seen a small decline in passenger numbers for services connecting Portsmouth with Bilbao and Santander, and Plymouth with Santander.
In total, Brittany Ferries has taken 198,850 in forward reservations for the period covering April to October 2023. Compared with 2019 this equates to a rise of 14%, but it is down 7% on 2022.
"Overall we are encouraged by our passenger performance this year, particularly on Channel routes," added Christophe Mathieu, Brittany Ferries CEO. "While we are not quite where we want to be on volumes, careful management of our business means we are still in a healthy position. We will continue to do all we can, working with partners, to encourage holiday makers to see the benefits of a sail-and-stay vacation and to visit the beautiful destinations we serve in every market."
Brittany Ferries Key figures:
Turnover: EUR 444.7m last year compared with EUR 469m in 2018-19.
Passengers: 1.84 million compared with 2.5 million in 2018-19
Freight: 167,711 units last year versus 201,554 in 2018-19
The fastest ferry on the Channel is back
On 26 May, fast cross-Channel ferry sailings returned to the Western Channel. The weekend summer service operated by the CONDOR LIBERATION fast ferry departs Portsmouth at 07:00 in the morning, arriving at Cherbourg (Normandy) at 11:00. The return sailing departs Cherbourg at 11:50 and arrives at Poole at 13:35.
The service which welcomes passengers travelling on car and on foot will operate on Fridays, Saturdays, and Sundays during school holiday periods from 26 May – 4 June and from 14 July – 3 September 2023.
The fast service will complement Brittany Ferries' conventional cruise-ferry routes to Cherbourg from Poole and Portsmouth, and passengers can mix and match routes, sailing out to France by fast ferry and returning by cruise-ferry or vice-versa.
Christophe Mathieu, CEO Brittany Ferries said:
"We're delighted to bring even more choice and flexibility for our customers crossing the western Channel this summer.
"These fast sailings will complement our conventional cruise-ferry services operated by BARFLEUR on the Poole-Cherbourg route, and our overnight sailings from Portsmouth to Cherbourg with our latest ships GALICIA and SALAMANCA. Across our route network this summer customers will now be able to choose from up to 130 departures a week."
CONDOR LIBERATION carries 850 passengers and 235 cars, crossing the English Channel at speeds of up to 42 knots making it the fastest ferry currently sailing the English Channel.
On board a wide range of onboard facilities comes as standard. The craft offers several spacious open seating lounges, meanwhile for an extra fee, a Club Lounge offers luxurious reclining seats, free Wi-Fi and complimentary hot drinks. The craft also offers an extensive duty-free shop, bistro café and bars.
© Shippax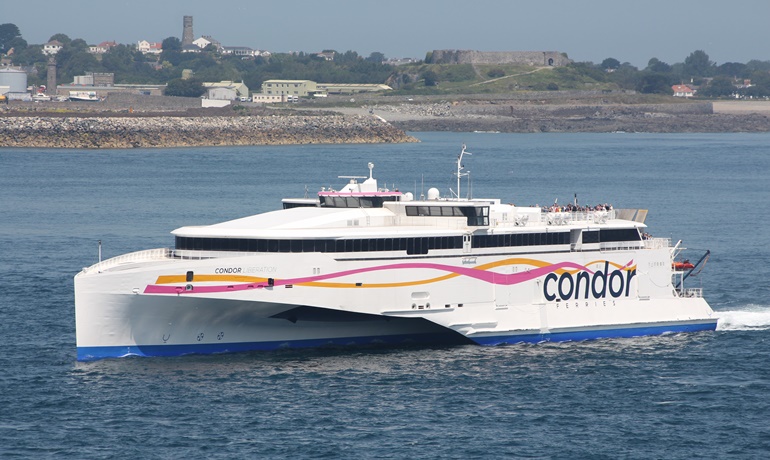 CONDOR LIBERATION © Kai Ortel
---