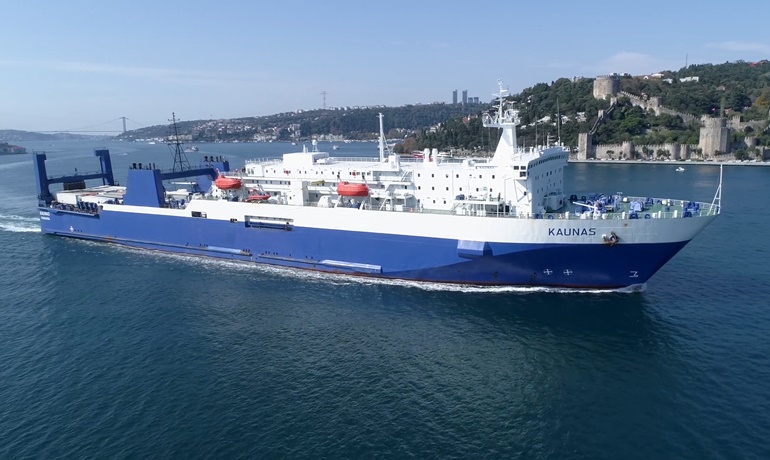 UkrFerry's KAUNAS © UkrFerry
[GUEST ARTICLE] Black Sea ro-ro shipping - Challenges create opportunities
Informall BG cargo analytical bureau studied the Black Sea ro-ro & ro-pax market identifying the influence of the Russian invasion of Ukraine on the regional transport industry.
A considerable part of regional Black Sea trade between Ukraine, Turkey, Romania, Bulgaria, Georgia was carried out via ro-ro vessels that were shipping trucks, various vehicles and rail wagons shore-to-shore, year around, however, the Black Sea has seen its ferry services coming to a virtual standstill since the end of February 2022.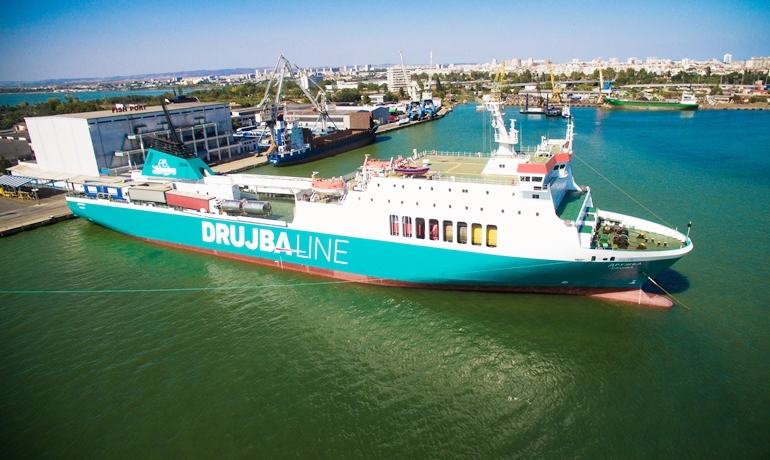 Drujba Lines' DRUJBA © PB Management
Impact on the niche carriers:
Before February 2022, ro-ro & ro-pax shipping was a convenient and time-saving service for traders moving their freights within the Black Sea and beyond its boundaries to the Middle East, Central Asia and Europe.
Daniil Melnychenko data analyst of Informall BG: "In order to shed some light on the current state of niche carriers in the Black Sea region we shall look into pre-war numbers. According to our research, around 38,000 trucks & trailers, over 3,200 rail wagons and at least 45,000 of commercial- and personal use vehicles have been moved to-and-from Ukraine during 2021 only".
Prior the war, two ro-ro transport companies Cenk RoRo Group, based in Turkey, and UkrFerry, based in Ukraine, were major cargo ro-ro service providers in the region.
UkrFerry carrier owns a fleet of four vessels which were designed to transport rolling stock and trucks at the same time. This feature allowed UkrFerry to gain momentum owing to efforts for sustainable transportation and development of the Euro-Asian block train projects known as 'The Middle Corridor' or 'Trans-Caspian Route' which Chornomorsk [Ukraine] - Batumi/Poti [Georgia] rail ferry line has become a part of. UkrFerry vessels provided the service line connecting Georgia and Ukraine for consecutive years. Georgia being one of key regional trade partners of Ukraine established long-lasting business relationships with Ukrainian traders and manufacturers. Moreover, the railroads of Georgia are similar to Ukraine which allowed to develop an effective ro-ro rolling stock transportation between the two states. However, once the service was suspended due to the war, the Georgia-Ukraine trade in rail wagons was fully stopped.
Currently, Georgia is connected with Europe and Ukraine via the port of Burgas, Bulgaria where a Bulgarian-owned ro-pax ship DRUJBA, operated by Drujba Lines,provides weekly service to Batumi. Another rail/vehicle carrier GEROITE NA SEVASTOPOL, operated by a Bulgarian firm called Navibulgar regularly sails from Varna to port of Poti.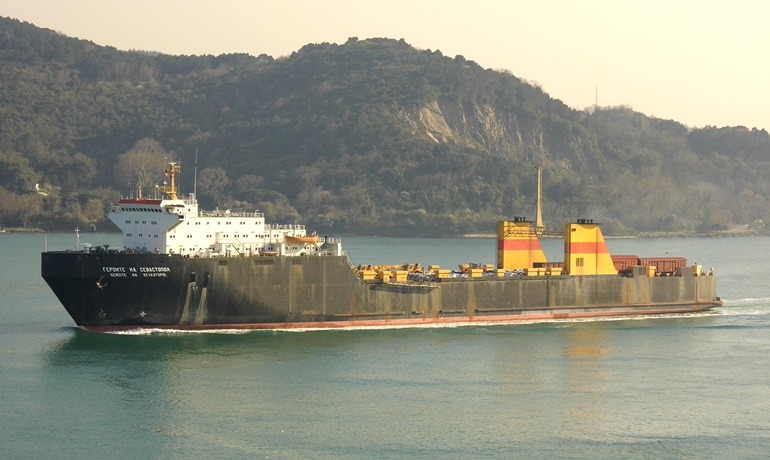 GEROITE NA SEVASTOPOL, operated by Navibulgar © Marc Ottini
While export grain shipments have recently resumed in the bay of Odessa, Ukrainian ro-ro terminals remain closed since 24 Feb 2022, with ferries stuck in the waters of Chernomorsk port. As per Informall findings, two out of four UkrFerry vessels have been stuck in the port, however VILNIUS was at the port of Batumi at the moment of invasion which helped the company to escape the blockade.
UkrFerry attempted to employ its unoccupied ro-pax VILNIUS-ferry on new services after the war began.  At first, UkrFerry attempted to set up a joint service with a Bulgarian ro-ro operator connecting the port of Burgas [Bulgaria] with Poti [Georgia], but with no success. Another effort to set up a line connecting Georgia, Poti and Romania, Constanta allowed the firm to perform one round trip, however, certain pitfalls emerged which led to a decision to terminate the service after the first round-voyage and return VILNIUS to the anchorage area off Batumi port.  
While VILNIUS was not in service, UkrFerry was seeking chartered employment opportunities for the period during which it is impossible to operate on their traditional lines, one of which has been for the UN World Food Program, and most recently to Inter Shipping for Morocco-Spain service. UkrFerry also managed to find a charterer for its recently acquired NAPOLI (ex-Grimaldi Lines' EUROCARGO NAPOLI) in Baleària.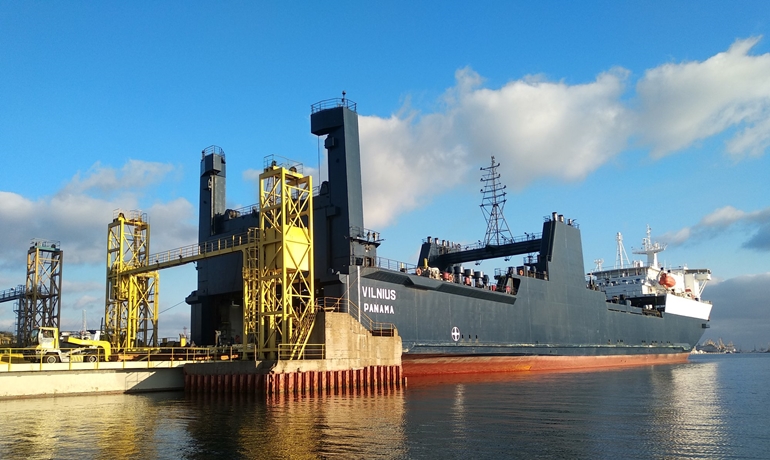 UkrFerry's VILNIUS © UkrFerry
Turkish-owned Cenk RoRo also suffered from the Russian invasion of Ukraine and the following ro-ro terminal closure in the port of Chernomorks and has two of their vessels CENK CAR and CENK M stuck in the port since then.
Cenk RoRo was a major ro-ro service provider transporting freight trucks, vehicles, and project cargoes between Turkey and Ukraine on a daily basis non-stop throughout the year.
Cenk RoRo features a fleet of five vessels which provides almost 500 trucks & 600 passengers capacity in total.  While two Cenk RoRo ships are currently stuck in Ukraine, the remaining fleet is circulating within the Mediterranean and Black seas.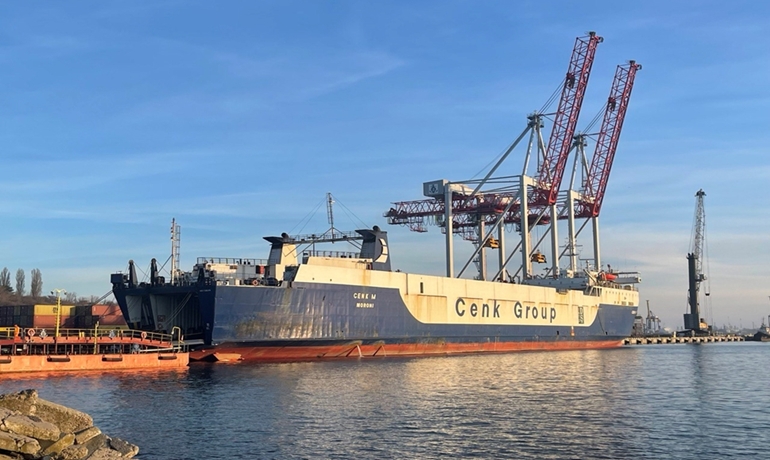 Cenk's CENK M © Alexander Khromov
Ro-ro terminal development in the region:
Emerging opportunities and growing demand among regional shippers motivate ro-ro 'outsiders' to explore the Black Sea region in detail. Constanta, which is located at the crossroads of the trade routes linking markets of the landlocked countries of Eastern Europe with the Caucasus, Middle East and Central Asia, became a cargo-transit hub for all kinds of transport including ro-ro.  
The port location appears to be an attractive solution for ro-ro operators willing to set up new services in the region, however, existing ro-ro terminal capacity and infrastructure would not meet the needs of the operators in full. It is unlikely that Constanta, which core business is container and grain handling, will make a ro-ro terminal development a priority amid high but rather short-term demand for ro-ro services in the Black Sea. Moreover, Constanta port being historically landlocked by the city zone is quite limited in the available area for further ro-ro terminal expansion.
Due to the blocked ro-ro terminal in Chornomorsk, Ukraine forced regional shippers trading with Ukraine to divert their ro-ro truck traffic to Constanta, Romania as it is the nearest sea-entry point before Ukrainian borders. A major freight forwarder in Ukraine shared with Informall BG - "the current Romania-Ukraine cross border waiting time for import trucks is two weeks, while drivers carrying export cargo towards Constanta have to wait up to one week". Indeed, port of Constanta witnesses unprecedented times when demand for cargo handling services exceeds the port capacity, especially on the ro-ro terminal. Around 70% of ro-ro traffic arriving in Constanta might be directed to Ukrainian destinations, providing operational and transit clearance difficulties will be facilitated in the port. However, factors such as the absence of a breakthrough in transit-cargo clearance, cross-border congestions and rather low profitability of the ro-ro terminal services holds back the Constanta ro-ro operator from independent sole-investment into the terminal development. 
The nature of the ro-ro terminal industry often requires a considerable involvement of other stakeholders in the terminal front- and back- infrastructure development – first of all liner-ferry operators. Often, ferry operators are being motivated to invest into the terminal development in exchange for certain compensation mechanisms meant to benefit the transport operator. Also, ferry liner operators may retrieve the investments through legal and fiscal benefits commonly used in the long-term business projects. Since ro-ro service is not a core operation of the port of Constanta, a substantial contribution to ro-ro terminal development is expected from those operators who want to establish long-lasting ro-ro services in the region via Romania.
Vassiliy Vesselovski CEO of Informall says: "Although, clear opportunities of successful ro-ro service set up from Turkey/Georgia to Romania/Bulgaria exist, they become less attractive for ro-ro operators once they are introduced to the service' terms & conditions of the ro-ro terminal operator. Ro-ro terminals in Bulgaria and Romania are seeking opportunities for co-investment into terminal back-infrastructure and berthing facility engineering design modifications in order to improve their terminal financial model. In other words, development of a berthing pontoon [if required], arrangement of the parking area and FPR (first rest point) require significant CAPEX/OPEX investments from the terminal while the income remains at rather modest level, especially for ro-pax services".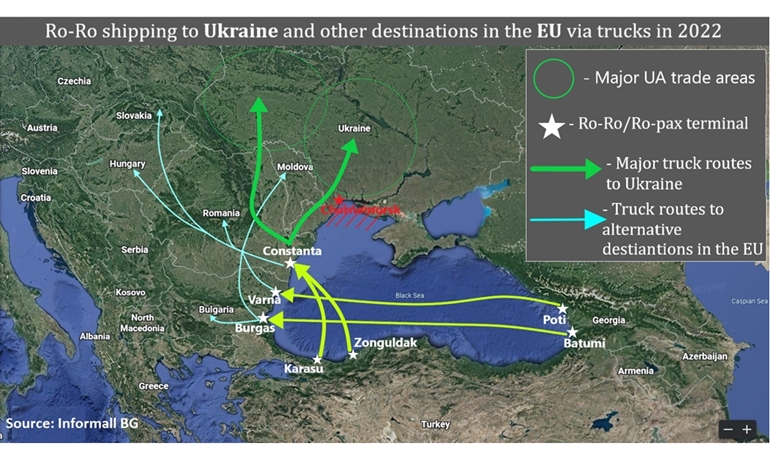 Clear opportunities do not assume their sustainability:
Today, as war further unfolds in Ukraine, Constanta terminals witness significant cargo surplus mainly owing to Ukrainian and Moldavian shippers moving their freight in transit. Importantly, neither Romania nor neighboring Bulgaria has ever witnessed any considerable volume of transit cargoes in their ports before the war in Ukraine began. Since Ukraine and Moldova are not members of the EU Customs Union system, the transit cargoes arriving at the ports of Romania and Bulgaria need to be handled accordingly. As a result, not well-established customs operational and paperwork procedures contribute to delays and terminal congestion, particularly in the port of Constanta and later at the Ukrainian borders. While both carriers Cenk RoRo and UkrFerry are struggling with a part of their fleet stuck in Ukraine, another ro-ro carrier is entering the market. Åland Islands-based operator Sea Lines, are about to set up a service connecting Turkey and Romania with its newly converted SEA ANATOLIA (ex- P&O Ferries' EUROPEAN SEAWAY). Despite the disruptive war and the following risks currently surrounding the Black Sea region, the carrier is investing in the ro-ro terminal infrastructure and is committed to launching the line at the end of 2022 – early 2023.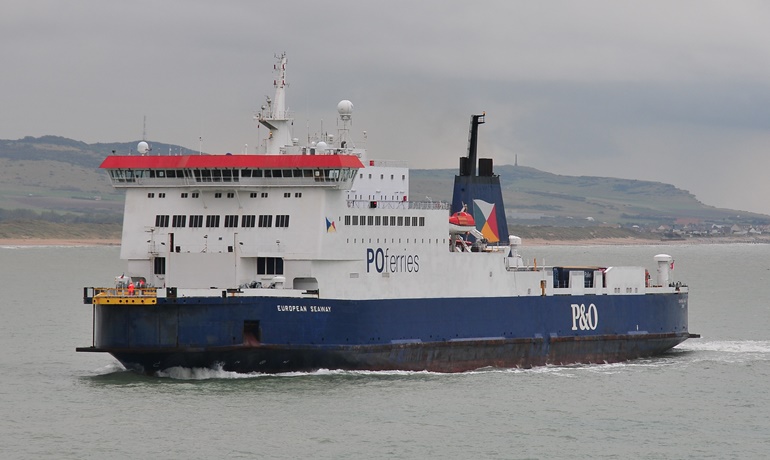 Sea Lines' SEA ANATOLIA is the former EUROPEAN SEAWAY © Marc Ottini
Economic impact on the region:               
Apart from Ukraine, which naturally bears the most financial losses from the Russian invasion, certain industries of Turkey and Georgia that depend on timely ro-ro services have suffered too. 
Turkey and Ukraine are major trade partners in many industries, with food being one in particular. A free trade agreement between Turkey and Ukraine that was signed on 3 Feb 2022, not a long time before the invasion, was supposed to provide a further boost to the economy of both sides.
Informall BG findings show that agri-food products such as fruits and vegetables made up to 50% of the total ro-ro trade between Turkey and Ukraine in 2021. Around 230,000 tonnes of various food products were moved from Turkey to Ukraine in 2021 alone, and almost all the volume has been carried via the Cenk RoRo.
Alexander Khromov project manager of Informall BG says: "Ukrainian retailers used to actively purchase farm products from Turkey every winter-spring season. Turkey farm products were affordable solution for Ukrainian customers during the cold weather season for many years. Unfortunately, since Ukraine was disconnected from ro-ro service due to the Russian-navy blockade, these goods had to be transported via land-routes at a very high freight rate. Most Turkey origin items increased in price in Ukraine, while many others simply disappeared from the shelves".
The same thing happened with Georgia-origin products which were transported via truck- and rail cars on ro-ro vessels even at a much further distance. While Turkey is located at a reasonable land distance from Ukraine, Georgian exporters, on the contrary, were left with limited options once UkrFerry had to suspend its service line.
Informall BG experts say: clear demand in ro-ro traffic to Ukraine does exist, although primarily via Constanta due to the port's proximity to Ukrainian borders. Yet, the existing demand will disappear once the Ukrainian ro-ro terminal reopens and ferry services to Ukraine resume after the war is over.  
Meanwhile, experts believe a foreseen gap in volumes might be overcompensated on account of increasing 'Middle Corridor' traffic from Caucasus and Central Asia markets transported to the EU via Georgia. In the case of continued growing demand for the ro-ro cargo transportation and continued efforts for development of the 'Middle Corridor' logistics, the service sustainability via ro-ro terminals of Bulgaria and Romania might be achieved even if the direct ro-ro service to Ukraine is restored.
© Shippax / Daniil Melnychenko
---
Most read
Press Releases
Oct 07 2022
Höegh Autoliners offers customers carbon neutral ...
---
Oct 07 2022
Höegh Autoliners joins First Movers Coalition and...
---
Oct 07 2022
A new generation of ferries for Hong Kong passeng...
---
See all press releases
Products