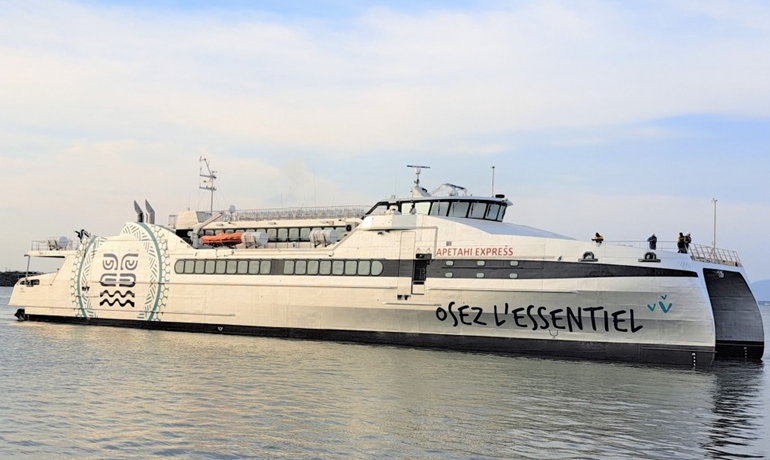 APETAHI EXPRESS © Austal
Austal Vietnam delivered 66 metre high-speed catamaran to French Polynesia
High-speedAustal Limited announced that Austal Vietnam delivered a new high-speed catamaran to the Degage Group of French Polynesia. The 66 metre APETAHI EXPRESS completed a series of sea trials off the coast of Vung Tau in May 2023 and is now preparing for her maiden (delivery) voyage to French Polynesia.
The new Austal 'Passenger Express 66' catamaran features a length overall (LOA) of 66.4 metres, beam of 15.2 metres and draft of 1.8 metres. Over two passenger decks, the vessel can accommodate 574 passengers, with an additional 80 seats available on an external sun deck. Crew accommodation includes seven two-berth cabins and two single-berth cabins. The vessel has four passenger access ramps and can carry up to 16 tonnes of cargo loaded via two cranes.
Fitted with four diesel engines and four waterjets, as well as Austal's Motion Control System (including active interceptors and T-foils) and the latest MARINELINK-Essentials program, the new ferry achieved a speed of 38 knots during sea trials.
During the design of APETAHI EXPRESS, The Degage Group placed an emphasis on reducing CO2 emissions and improving fuel efficiency. By optimising the aluminium hull design, Austal has achieved a significant reduction in resistance that not only lowers fuel consumption but also improves seakeeping and delivers a more comfortable ride for passengers.
Austal has previously designed and built five vessels for The Degage Group, comprising two 69 metre monohull cruise ships (Austal Hulls 172 and 173), a 56 metre vehicle passenger catamaran ferry (Austal Hull 266), an 80 metre vehicle passenger catamaran ferry (Austal Hull 201) and a 49 metre vehicle passenger ferry (Hull 421).
Following the delivery voyage, the new ferry is anticipated to commence operations between Pape'ete (Tahiti) and Vaitape (Bora Bora) in French Polynesia in July 2023. 
© Shippax
---