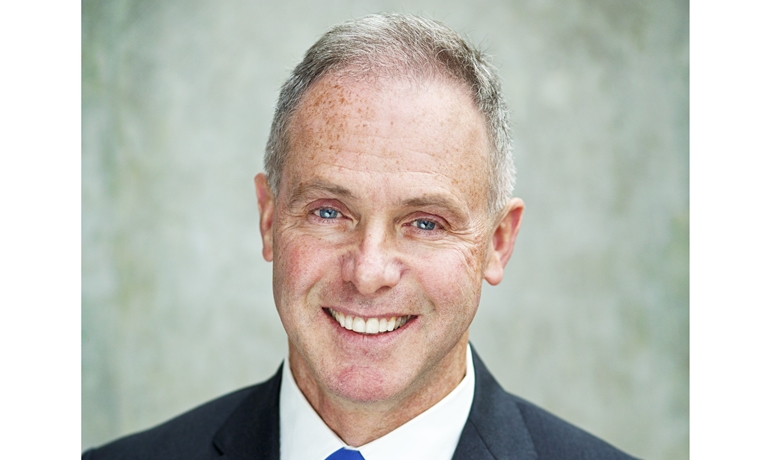 Mark Collins © BC Ferries
A YEAR OF CHALLENGE AND OPPORTUNITY AT BC FERRIES
InterviewWhen the COVID-19 pandemic became a global reality in the first half of 2020, things happened quickly. By mid-March, travel operators around the world had begun voluntarily suspending operations. Cruise ships discharged passengers. International flights ground to a halt. Airports, hotels, restaurants and bars shut their doors. For Canadian West Coast ferry operator BC Ferries, the global health pandemic presented a number of challenges, but also some unexpected opportunities. Shippax had the opportunity to talk with ferry corporation president and CEO Mark Collins in late 2020 on the ups and downs of a year unlike any other.
"The start of the pandemic was stunning," said Collins. "Frankly, to see 85 per cent of your business evaporate over the space of about two weeks was just incredible. The word 'unprecedented' is overused but it's absolutely accurate. There was nothing in our history, in our business modelling, in our contingency plans, that would have prepared us for such a drop."
On 4 April 2020, BC Ferries introduced a number of new restrictions on its 25 individual routes that span from Vancouver and Vancouver Island to the Sunshine Coast, Haida Gwaii and BC's northern coastal regions. These changes involved service suspensions on smaller routes, like the Mill Bay-Brentwood Bay connector on Vancouver Island, for which a highway alternative exists; to restrictions on larger runs like Tsawwassen-Duke Point, which temporarily became a cargo-only run. Passenger services were temporarily suspended on both day and overnight routes. Transport Canada even overturned regulations that had previously prohibited passengers from remaining in their cars on the vehicle decks to allow for more physical distancing on board key routes.
"I was very proud of the people of BC Ferries," Collins told Shippax. "Everybody recognised that it was extraordinary times and put in the extra effort. Some of our operations staff were out there in the terminals all the time, continuously."
Collins said that despite the fact the ferry corporations' ridership had largely disappeared, the workload for ferry employees only increased as staff adapted to new rules and regulations, both on-shore and on-vessel. "We were rewiring so many things in our operations," said Collins. "New barriers getting installed [on ships], new cleaning procedures, you name it."
Maintaining a vast and complex route network
BC Ferries operates the largest ferry route network in Canada and is one of the largest ferry operators in the world. In its 2020 fiscal year, which ended on 31 March 2020, the corporation carried 21.7 million passengers and 8.8 million vehicles across 25 routes and a fleet of 35 vessels. BC Ferries also operates 47 individual terminals and a series of remote routes through contracts with independent operators.
BC Ferries' route network is complex at the best of times, with a wide array of vessel classes and operational constraints that have been tailor-made for each locale served. Crossing times can be as little as 15 minutes on inter-island runs or, in the case of the Northern Routes between Port Hardy, Bella Bella and Prince Rupert, several days in duration.
The company distinguishes between its routes using three categories: the Major Routes are the high-traffic sailings between the mainland and Vancouver Island, sailing primarily between Tsawwassen and Swartz Bay (just east of Victoria); and from Vancouver's Horseshoe Bay terminal and Nanaimo. Minor Routes are inter-island connector routes. Northern Routes are sailings between Port Hardy, Prince Rupert and Haida Gwaii in northern British Columbia.
Coming up with best practices in the COVID-19 era that would suit each route required a team effort across the board. "In the Northern Routes, the lower frequency of sailings made it easier to bring in changes," said Collins. "On the other hand, it's a 16-hour voyage. There were challenges on that: how do you keep people separated for 16 hours? What do you do about pets and animals? How do you feed people? Restaurants are very important on a 16-hour voyage."
Collins notes that the Northern Routes, served by the 9,844gt NORTHERN ADVENTURE and the purpose-built, 17,729gt NORTHERN EXPEDITION, are among the few routes in the network to offer overnight passenger cabins. That, too, posed several unique challenges for the corporation, particularly at a time when cruise vessels were becoming the most visible sign of COVID-19 infections as a result of highly-publicised incidents aboard the DIAMOND PRINCESS in Japan; and the GRAND PRINCESS off the coast of San Francisco.
"Another challenge [on the Northern Routes] that's not readily visible to the public are crew changes," said Collins. "Our crew do two weeks on, two weeks off. But with the decrease in the availability of flights [from Vancouver to Prince Rupert] and the reduced frequencies, the question became, 'How do we do crew changes?'"
Normal occurrences across the fleet network suddenly became an issue. "What do you do if a crew member gets sick," said Collins. "Not COVID-19, but just sick in general. If someone needs to get off a ship, how do you get a replacement in in a hurry? If you don't have the correct crew profile and complement on board, the ship doesn't move."
Collins notes that, further complicating the crew change issue, were crew members and staff who were rightly concerned about long-term exposure to passengers and to each other. The company managed to develop plans and procedures for each class of vessel in its vast network that would allow for continued safe operation of essential cargo and passenger services for the Province of British Columbia.
A summer rebound, a winter slowdown
While traffic across all routes was cut dramatically during the spring as the pandemic took hold, there was a significant uptick in ridership during the summer of 2020 when COVID-19 cases went down, and travel restrictions were relaxed. "We saw July and August and even September come back quite strongly," said Collins. "At one point, we were only 10 per cent off 2019 levels, and 2019 was an extraordinarily good year. Given the current circumstances, it was fantastic."
"In years past, if I was talking about [a 10 per cent drop], it would be all doom and gloom," Collins continued. "To be down only 10 per cent in the summer of 2020 is an amazingly strong performance."
Collins notes ridership figures dropped off in the third week of September, around the same time COVID-19 case counts were rising across British Columbia and Canada. By mid-November, ridership was further affected by orders from the provincial government of British Columbia that curtailed all non-essential travel once again, as the province went into a pre-Christmas lockdown that was still in effect as this article went to print.
"Most definitely we are performing below seasonal norms," said Collins in late November. "Traffic always drops off in the shoulder seasons, but we are well below seasonal norms right now due to the travel orders."
Collins was quick to point out that he and BC Ferries fully supported the decisions made by the provincial and federal authorities in the interest of public safety.
New ships on order: a bright light on the horizon
When the pandemic struck in March, BC Ferries was just days away from inking contracts for the replacement of its double-ended C Class ro-pax ferries that first debuted in the second half of the 1970s. It is also looking to eventually replace its 1964-built QUEEN OF NEW WESTMINSTER, which exists as the last of the original V Class ferries in service.  
"We have five ships under construction right now," commented Collins. "Four Island [Class] and one Salish [Class]. They will be completed, so we're maintaining course on those."
On 22 December 2020, the fourth Salish Class vessel was launched at the Remontawa Shipbuilding shipyard in Gdansk, Poland. It will undergo final outfitting and sea trials in late 2021 before making the 10,440-nautical-mile journey to British Columbia in 2022.
The Salish Class vessels have revolutionised the BC Ferries fleet, thanks to their ability to run either on LNG or ultra-low sulphur diesel. The corporation's Island Class ferries offer hybrid-electric propulsion and are being built by Damen Shipyards Group in Romania. At 81.2 metres in length, they are smaller than the Salish Class vessels and are intended to serve on the inter-island runs on Quadra and Gabriola Island when they enter service in 2022.
While the Island and Salish Class vessels will be delivered largely as scheduled, BC Ferries has made the decision to pause the replacement programme for the C Class vessels for the time being. Collins indicated the ferry corporation would revisit that programme in 2025 but outlined a silver lining in not having inked those contracts.
"It was a big programme for us; around CAD 800 million," Collins told Shippax. "With the current uncertainty and the current hit to the balance sheet, we just don't see that as being affordable right now. We're going to pause it for five years; we're going to see what the aftermath of this pandemic looks like, and then we'll proceed with that in due course."
Beyond the balance sheet relief, Collins said that postponing the C Class replacement programme offered a number of other benefits, chiefly the potential opportunity to take advantage of improvements in hybrid-electric battery technology on larger vessels.
"The next step [in eco-friendly propulsion] is clearly electrification," said Collins. "The problem is, on the big ships like the Spirit Class and our new vessels, electric technology, while there for propulsion itself, is not yet there for energy storage. A Spirit-sized vessel would need a 200MWh battery. That's enormous."
Collins noted that LNG was still a part of BC Ferries' long-term strategy, particularly during this transition period between reliance on more traditional fuel oil and the bridge to electrification. "LNG has been a huge boon for us," said Collins. "Take the Spirit Class vessels [SPIRIT OF BRITISH COLUMBIA and SPIRIT OF VANCOUVER ISLAND, built 1992-1993]. LNG conversion has made those ships relevant for another 20 years."
Meanwhile, the ferry corporation has committed to performing a life-extension programme for the remaining C Class vessels, beginning with QUEEN OF ALBERNI, QUEEN OF COQUITLAM AND QUEEN OF COWICHAN. All three will undergo an extended major drydock to ensure reliability for five additional years.
"If we had launched our New Major Vessel programme on schedule, these vessels would be retiring somewhere around 2025-2026," said Collins of the C Class. "Instead, we're going to retire them in 2030 to 2031."
Looking beyond COVID-19
With the development of vaccines for COVID-19 and the authorisation for their use in Canada as this article went to print, there is reason to be hopeful for a return to something approaching normal ridership as the year goes on. That ridership will be key to improving the situation at BC Ferries across the board, particularly in the summer months, when travel and tourism dramatically increase passengers and vehicles on all 25 routes in the BC Ferries' system.
"The last time our traffic was this low was somewhere around 2008," concluded Collins. "We're operating with a 2008-level revenue with a 2020 cost structure. That's a problem. If traffic remains low, it's going to be a long-term financial sustainability issue for the ferry system."
"We've either got to get costs down to that 2008 level, or we've got to get traffic back up. The answer is probably a combination of the two."
---