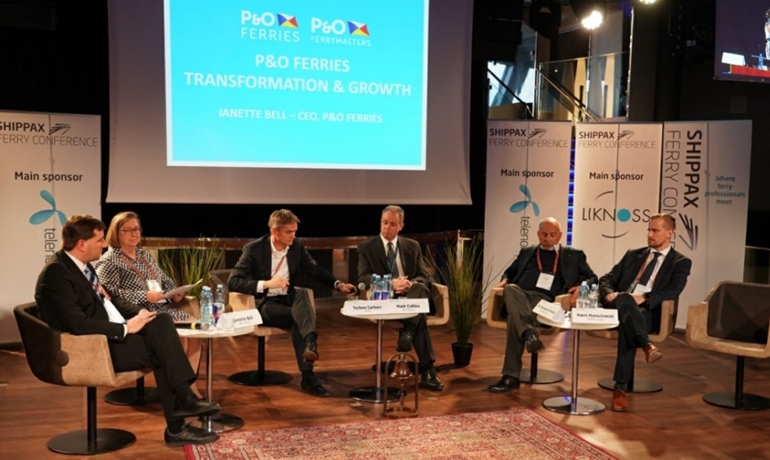 © George Gianakis
Torben Carlsen at annual Shippax conference with a DFDS team
The annual Shippax Ferry conference, which takes place on board a ferry, is a two-day global gathering of ferry companies, executives, experts, authorities and media for sharing views and experiences on current trends, future challenges and developments in the industry.
This year's conference took place from 12-14 March on SILJA SERENADE on the Stockholm – Helsinki route and attracted about 500 delegates from all over the world, including the industry's heavyweights.
Among those were DFDS' CFO Torben Carlsen, and, as soon-to-be CEO he had found the right networking forum in the ferry executive debate where he shared the panel with Janette Bell (CEO P&O Ferries), Mark Collins (President and CEO of BC Ferries in Canada), Emanuele Grimaldi (MD of the Grimaldi Group) and Tallink Grupp board member Harri Hanschmidt.
Following moderator Philippe Holthof's presentation about the performance of the ferry industry, each panellist gave a short presentation. This was then followed by the interactive panel debate, moderated by Philippe and his colleague Frederik Erdmann. Torben talked about DFDS' developments and about the consolidation perspectives in the ferry industry. He also commented on the tonnage market, which he anticipated will be tougher for tonnage providers in the future due to the current shipbuilding volumes.
In a newbuildings session, DFDS Jesper Aagesen and Finn Wollesen, MD of ship design company Knud E. Hansen, introduced the EPHESYS SEAWAYS project. When this year's conference closed, Jesper invited the delegates to next year's conference, in which DFDS will be deeply involved as it will take place on PEARL SEAWAYS.
Jesper Hartvig Nielsen and Maria Anagnostou from DFDS' fleet management department were also among the delegates.
Photos © George Gianakis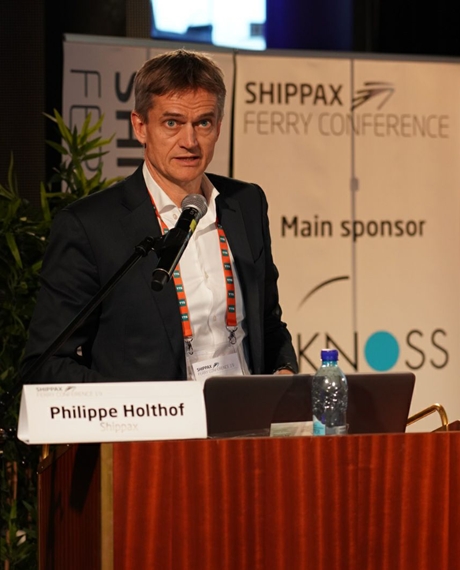 Torben Carlsen gave a presentation about DFDS and his view on the market in his address prior to a panel debate at the Shippax Ferry conference on Silja Serenade © George Gianakis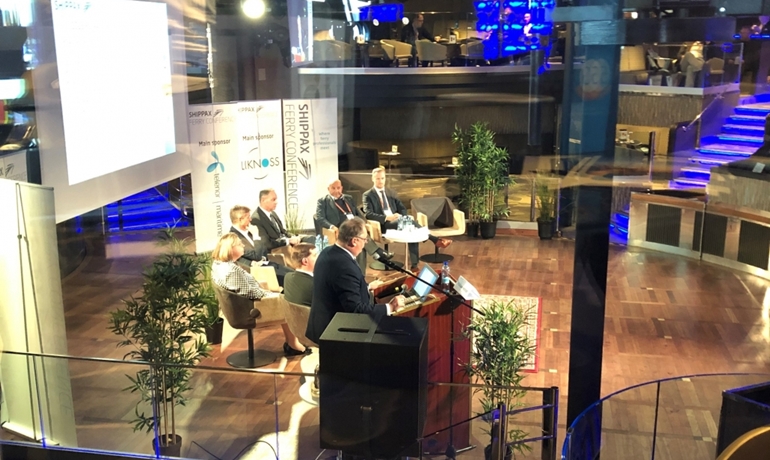 The executive panel and moderator Philippe Holthof in the midst of a panel debate about the ferry industry © George Gianakis
---
Most read
Press Releases
May 27 2019
BC Ferries board members resign due to new term l...
---
May 24 2019
DFDS, management change in logistics division
---
May 23 2019
Hurtigruten partners with Biokraft in record-brea...
---
See all press releases
Products