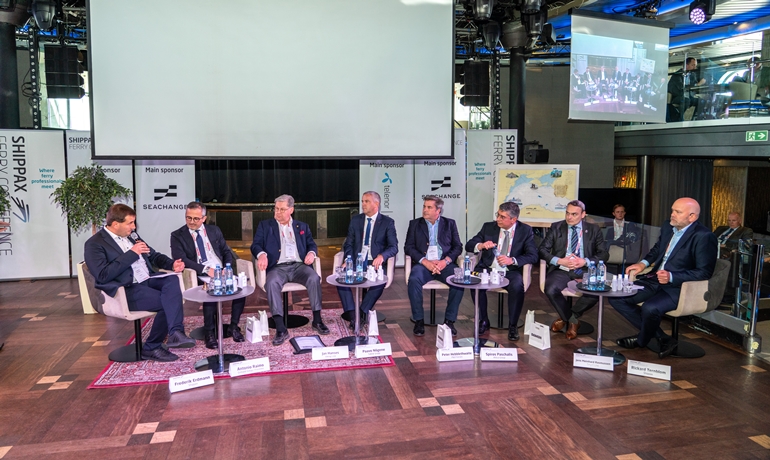 Frederik Erdmann, Antonio Raimo, Jan Hanses, Paavo Nõgene, Peter Hebblethwaite, Spiros Paschalis, Jens Meinhard Rasmussen and Rickard Ternblom © George Giannakis
The Ferry Operators panel debate at the 2022 Shippax Ferry Conference
On day one of this year's Shippax Ferry Conference we held the traditional Ferry Operators panel debate. This 1h15m long debate is one of the true highlights at the conference and provides many interesting and useful insights into the operation of some of the major ferry operators. The session, which was moderated by Frederik Erdmann and Rickard Ternblom, was this year attended by Antonio Raimo (Grimaldi Group), Jan Hanses (Viking Line), Paavo Nõgene (Tallink Grupp), Peter Hebblethwaite (P&O Ferries), Spiros Paschalis (Attica Group) and Jens Meinhard Rasmussen (Smyril Line).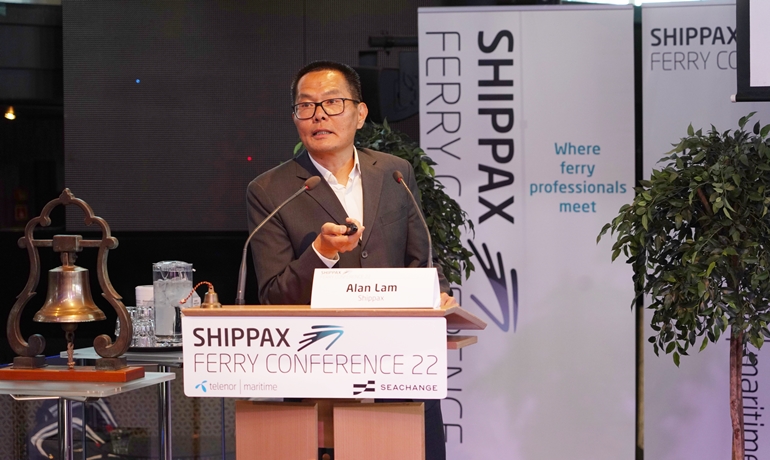 Alan Lam, Shippax Analyst, started by setting the scene with a deep-sea ro-pax industry performance and trends analysis © George Giannakis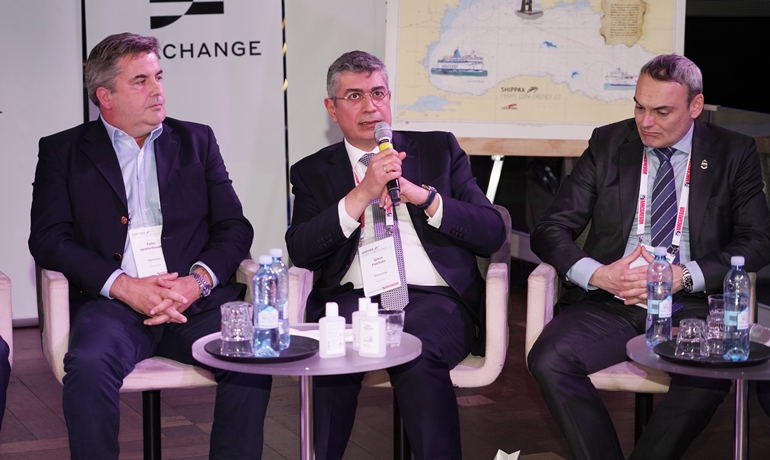 Peter Hebblethwaite, Spiros Paschalis and Jens Meinhard Rasmussen © George Giannakis
The head of Tallink Grupp Paavo Nõgene explained that during the Covid period, it was important for the morale of society in the countries served by the company that Tallink and Silja ships were kept sailing and that their ships were seen to be operating. After poor loadings in 2020 and 2021 the company is now building back – but the war in Ukraine came as a most unpleasant shock. Paavo also revealed that MYSTAR is expected to be delivered to them in September. Jens Meinhard Rasmussen of Smyril Line noted that in the wake of covid, passengers no longer want to share cabins. Fortunately, therefore, the company's flagship ferry NORRÖNA was recently fitted with 50 additional luxury cabins.
Peter Hebblethwaite, P&O Ferries CEO, spoke about the "difficult political, public and personal challenges" faced by his company and sought to provide thoughts and contexts. He emphasised that it was a very difficult decision to make redundant 800 seafarers. P&O Ferries knew this would be controversial but didn't anticipate the consequences being quite so public. He regretted that what he felt was a great deal of misinformation had been in the press and stressed that P&O didn't conduct itself any way like portrayed. The decision was made not to have a slightly different version of before, but was part of a much bigger plan to take the 185-year-old legacy business and change its route and branch to make a dynamic and profitable company. Ideally, there would have been 15 years to modernise practices. He noted that "Thomas Cook, Kodak and Woolworths were all legacy businesses that didn't change fast enough". Hebblethwaite concluded that "a very different P&O will come out of this", and he is looking forward to the new hybrid ships. Having a background in retail and hospitality, he sees "huge opportunities in consumer market. The market changed in around 2008. Roles of values and quality changed but P&O Ferries benchmarked against competitors rather than consumers."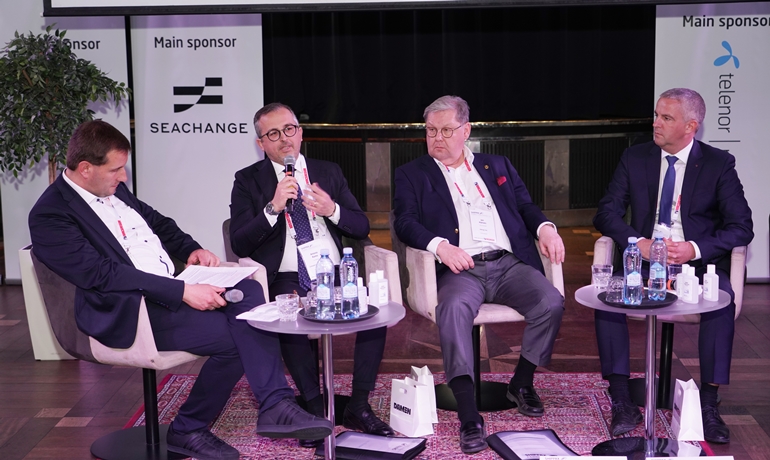 Frederik Erdmann, Antonio Raimo, Jan Hanses and Paavo Nõgene © George Giannakis
Nõgene and Hanses both emphasised the importance of employing crews from the countries bordering the Baltic region. Nõgene additionally emphasised the need to build ships in Europe, not China, stating that "we are part of society". With regard to shipbuilding Jan Hanses of Viking Line and Antonio Raimo of Grimaldi Group found the prices quoted by European shipyards "ridiculous" and "unsustainable". Spiros Paschalis pointed out that subventions would be needed to make it affordable to build ferries in Europe.
Spiros Paschalis of Attica Group explained that the Mediterranean business is improving and that private car traffic is growing as passengers are not wanting to rent cars when visiting islands. Freight traffic is even better than in 2019 but the big challenge is how to manage hugely increased oil prices. Freight customers understand why they need to pay two-and-a-half times due to fuel costs, but passengers are less easy to convince to pay 30-40 per cent greater costs. Attica "fortunately" has no LNG fuelled vessels but has some plans for dual fuel ones in the future. Jan Hanses observed that LNG prices are too high, and the company takes a month to month perspective on fuel.
Antonio Raimo was asked about Grimaldi Group's responses to the Ukraine war. He explained that routes in the Baltic to St Petersburg have been closed and the vessels moved to the Mediterranean or returned to their owners. The Grimaldi family foundation meanwhile has donated large sums to support displaced Ukrainians and Grimaldi Lines has provided free transport for escaping Ukrainian refugees.
© Shippax / BP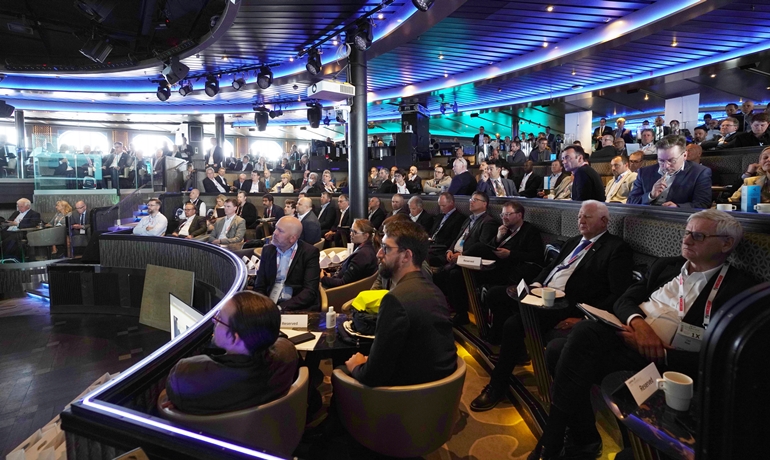 The conference was attended by 407 delegates, representing more than 220 companies and organizations © George Giannakis
---