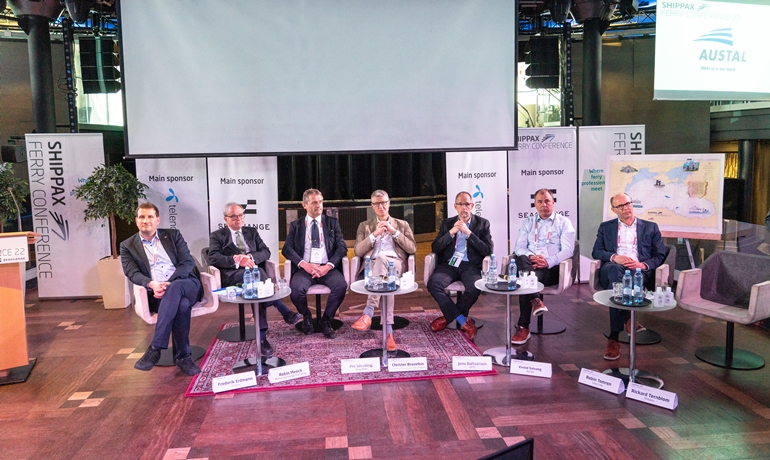 Frederik Erdmann, Robin Meech, Per Westling, Christer Bruzelius, Jens Peter Baltsersen, Eivind Solvang and Robin Tomren © George Giannakis
The alternative Fuels & Propulsions session at the 2022 Shippax Ferry Conference
On day two of this year's Shippax Ferry Conference we held the session "alternative Fuels & Propulsions, operators experience". We invited operators to share both their real-life experiences with different fuels & propulsion methods, projects they are involved in and what visions they have for the future. The following speakers participated: Per Westling (Stena RoRo), Christer Bruzelius (Gotland Tech Development), Jens Peter Baltsersen (DFDS), Eivind Solvang (Norled) and Robin Tomren (Color Line).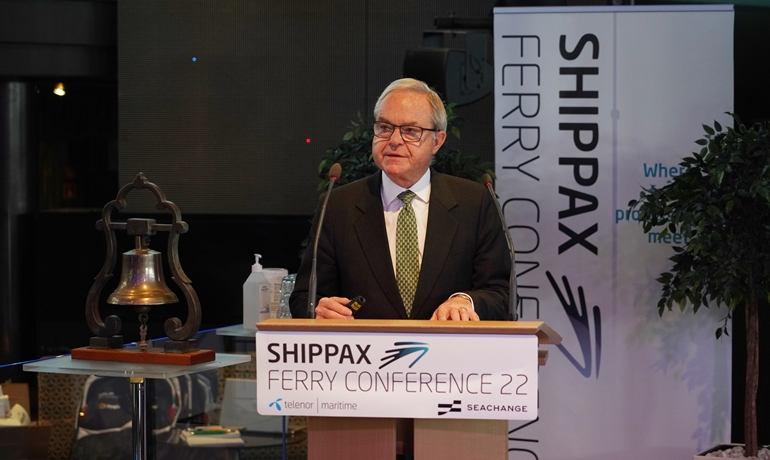 Robin Meech © George Giannakis
Robin Meech from Marine & Energy Consulting was setting the scene with his speech "The Bunker Market & Developments & Trends" presentation.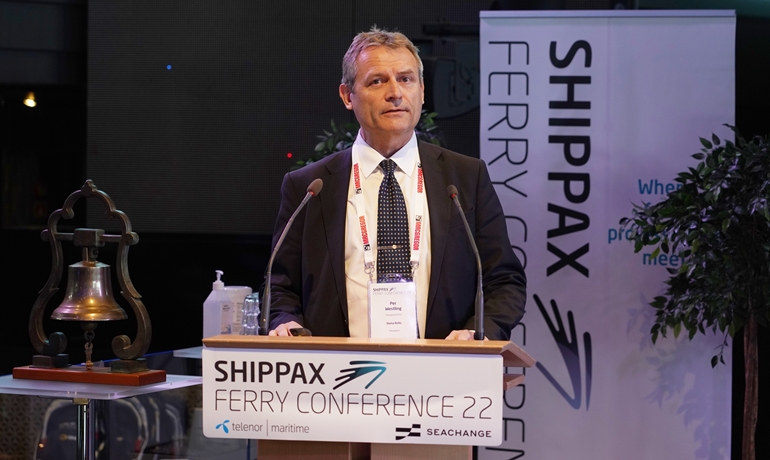 Per Westling © George Giannakis
Per Westling of Stena RoRo explained about the different types of methanol which might be alternative fuels for ferries, which he termed "black", "blue" and "green". The latter, created from biomass, is the ideal, but blue methanol currently looks most cost-effective. Already the STENA GERMANICA was converted to burn methanol in 2014-2015, but at that time there was little interest from the wider shipping industry. That situation has changed radically and there is now very great interest in what Stena did. Stena used a ballast water tank for fuel and added a pump room. The engine cylinder heads were changed. With regard to fuelling there are three different possibilities – blending methanol into conventional fuel to reduce CO2 by around ten per cent. Another is to inject methanol into the engine scavenging air, giving reductions in 40-60 per cent. But high-pressure conversion of the engines would enable an 80-100 per cent reduction.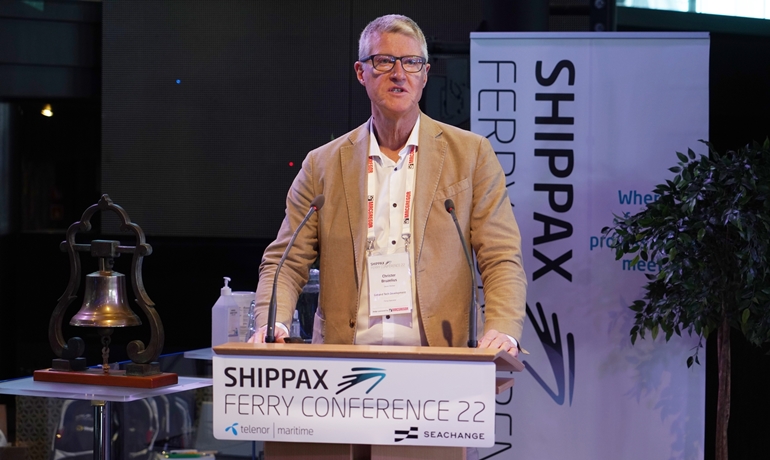 Christer Bruzelius © George Giannakis
Christer Bruzelius of Gotland Tech Development / Rederi AB Gotland spoke about the Gotland Horizon Project for a new generation of multi-fuel, but predominantly hydrogen-powered gas turbine vessels for Gotland services. This is a major Swedish research project, involving Uppsala University. Bruzelius emphasised the importance of having high speed to enable short and frequent crossings. Large wind farms will be needed to generate energy to create the fuel. The vessel will help fulfil the Swedish target of being climate-neutral by 2045.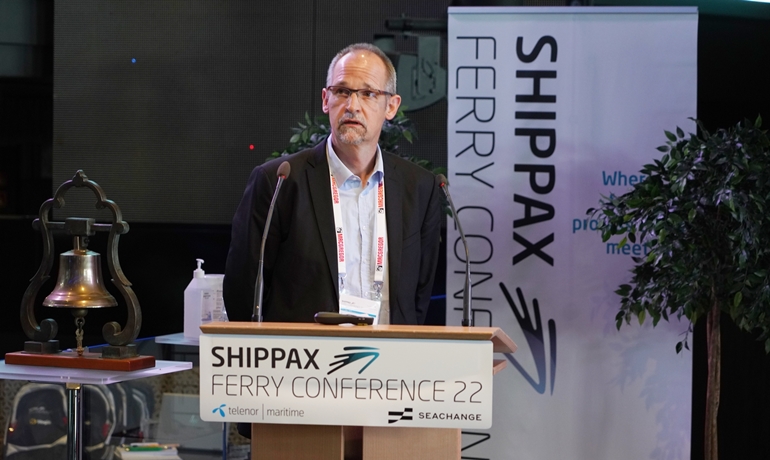 Jens Peter Baltsersen © George Giannakis
Jens Peter Baltsersen of DFDS spoke about his company's decarbonisation plan to reduce CO2 by 45 per cent by 2030 and to be climate neutral by 2050. DFDS created a new department, Sustainable Fleet Projects, mainly involving existing staff. DFDS has engaged with various partners on the fuel supply side, rather than just buying it as a commodity. DFDS hopes that engines on the newer vessels can be converted to use methanol by 2025.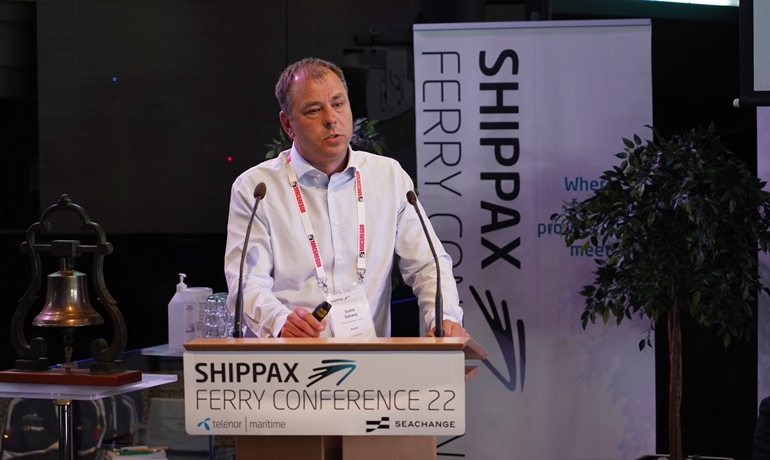 Eivind Solvang © George Giannakis
Eivind Solvang of Norled described the development of the hydrogen-driven ferry HYDRA. He explained that in many respects the project is similar to building an LNG vessel. The fuel needs to be transported from Germany to Norway, however, but there may be hydrogen available in Norway in around 2025.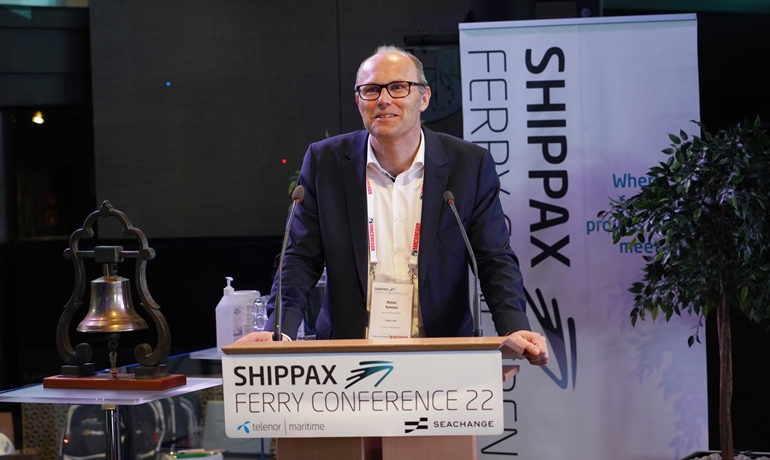 Robin Tomren © George Giannakis
Finally, Robin Tomren of Color Line talked about the success of the battery-diesel hybrid ferry COLOR HYBRID, which entered service in 2019 and also discussed the pros and cons of the various alternative fuels already available and on the horizon.
© Shippax / BP
---
Most read

The second of P&O Ferries two new double-ended giants for its Dover-Calais service has been delivered
Nov 29 2023
Seizure of the GALAXY LEADER PCTC chartered by NYK
Nov 21 2023
Products