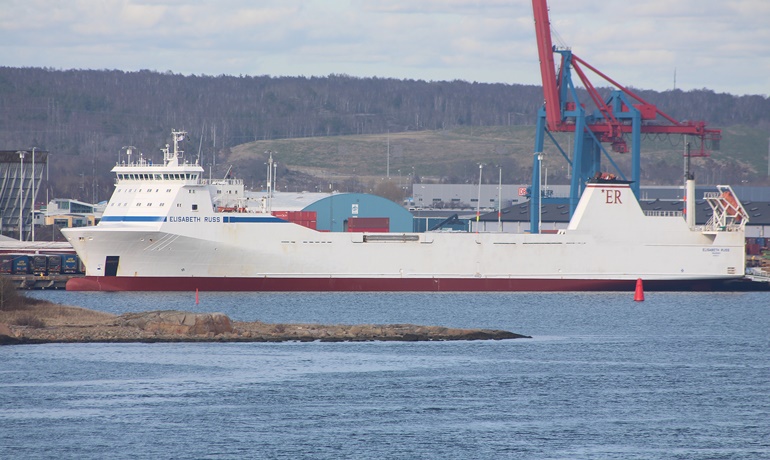 Stena Line will charter ELISABETH RUSS for a new thrice weekly Gdynia-Nynäshamn freight service © Kai Ortel
Stena Line to open a new freight route in its Baltic network
Ro-roLess than six weeks after adding a fourth ship on the Karlskrona-Gdynia route, Stena Line announced that they will open a new route connecting Gdynia with Nynäshamn thrice a week in each direction.
Stena Line has chartered the 1,625-lanemetre, 1999-built ELISABETH RUSS for a period of six months with an option to extend the charter. With a crossing time of 18 hours, Stena Line is primarily targeting the non-accompanied trailer market. "Probably due to a shortage of drivers we see that the number of unaccompanied trailers on our existing Polish route is steadily increasing," Niclas Mårtensson, Stena Line's CEO, told Shippax.
Mr Mårtensson added that the opening of the route, due to start on 16 October, is customer- and market-driven. "Many of our existing customers have Stockholm and places north of Stockholm as their final destination," Mr Mårtensson said, "customers were asking for this service which will connect our Gdynia hub with our Nynäshamn hub which already serves Ventspils."
"We have been exploring the possibility over a period of time of improving our offering for our customers with an additional freight connection," Marek Kiersnowski, Stena Line's Trade Director Baltic Sea South, commented. "Demand for freight capacity both from Poland and Sweden is showing continued growth and the routes over the Baltic Sea are an important part of the infrastructure connecting Central Europe with Scandinavia and have immense potential for development."
© Shippax / Philippe Holthof
---
Most popular
Press Releases
Sep 24 2018
Helm Operations Joins Volaris Group
---
Sep 19 2018
Chevron Marine Lubricants Launches 2020 Ready Lub...
---
Sep 19 2018
Red Goes Green
---
See all press releases
Products