STAVANGERFJORD and BERGENSFJORD return to service and ownership change announced in Fjord Line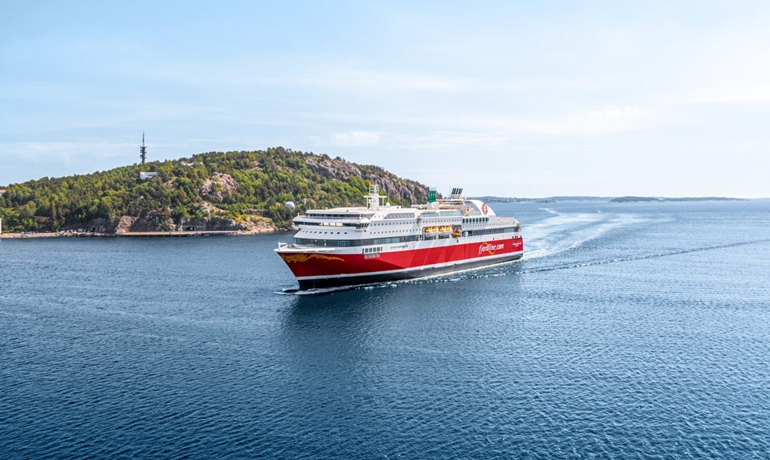 STAVANGERFJORD © Fjord Line
STAVANGERFJORD and BERGENSFJORD return to service and ownership change announced in Fjord Line
FerryFjord Line's STAVANGERFJORD and BERGENSFJORD have been docked for a longer period due to the replacement of the vessels LNG fuel engines to dual fuel capable engines but will soon be back in traffic on their route between Bergen, Stavanger, Hirtshals and Kristiansand. STAVANGERFJORD is already in service since 26 May, and BERGENSFJORD will be back in operation from 16 June.
"We are very much looking forward to returning and welcoming the guests on board again. Especially, we are pleased that it will now be possible to travel on a cruise with us to or from Kristiansand," says Brian Thorsted Hansen, CEO of Fjord Line.
Both ships now have new dual-fuel engines, which can be powered by both liquefied natural gas (LNG) and marine gas oil (MGO).
"The new engines ensure greater flexibility in operation, which benefits our customers," says Thorsted Hansen.
In addition to the change of engines, several other changes have been made on board. There is a brand-new lounge suitable for domestic travellers between Bergen and Stavanger. Passengers will have access to comfortable seats, simple dining, Wi-Fi, and power outlets. The outdoor lounge has been upgraded and there is now also a children's playground.
With the upgraded ships back in traffic, travellers will again have a year-round service between Bergen, Stavanger, Hirtshals and Kristiansand. In the high season, Fjord Line will have four daily departures between Kristiansand and Hirsthals.
"Fjord Line is already the fastest alternative between Norway and Denmark, with the catamaran FJORD FSTR, which only takes 2 hours and 25 minutes to cross between Kristiansand and Hirtshals. Now that FSTR is joined by our cruise ships, our travellers get more opportunities and more flexibility," Thorsted Hansen concludes.
Ownership change
Frode Teigen's ownership in Fjord Line has been reduced after the Bergen-based company West Coast Invest AS has bought 50 percent of the shares in his Kontrari Fjord Line Holding AS. West Coast Invest has a long and solid experience from shipping, retail and commercial and hotel property. In recent times, they have also gained experience in tourism.
© Shippax
---