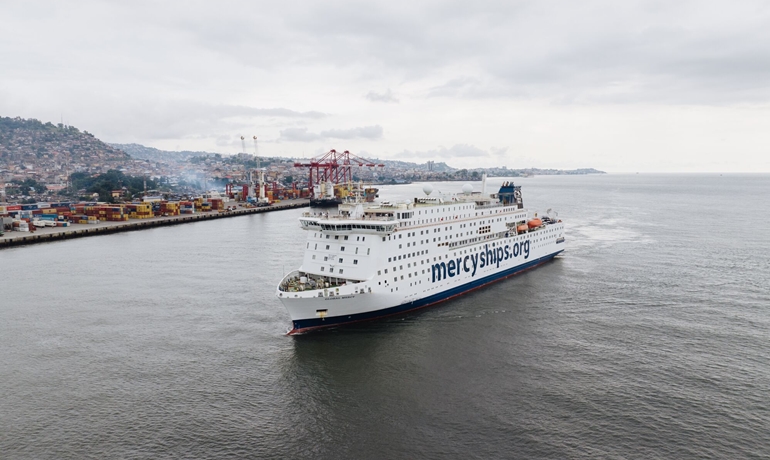 Sierra Leoneans welcome the GLOBAL MERCY into Port of Freetown
In response to an invitation from H.E. President Julius Maada Bio, Freetown has welcomed a Mercy Ships' hospital ship, marking the sixth instance of the collaboration between Mercy Ships and the government of Sierra Leone. This time it is the GLOBAL MERCY the world's largest non-governmental hospital ship, which has docked at the Queen Elizabeth II Quay.
For the next ten months, Mercy Ships' newest state-of-the-art hospital ship will partner with the Ministry of Health to provide free specialized surgeries to Sierra Leoneans and targeted training for healthcare professionals until June 2024. Mercy Ships' programmatic strategy has been carefully aligned with the country's current strategic healthcare plan.
His Excellency, President Julius Maada Bio eloquently affirmed this synergy by stating, "Today, as we welcome the GLOBAL MERCY hospital ship to our shores, we celebrate a convergence of purpose. This collaboration with Mercy Ships reflects our vision for a resilient healthcare system in Sierra Leone. Their healing touch aligns seamlessly with our commitment to improve healthcare access and echoes our dedication to the Big 5 agenda on human capital development, particularly in healthcare. With this partnership, we strengthen our stride towards a healthier nation and a brighter future for all."
Gert van de Weerdhof, CEO of Mercy Ships said, "It's very exciting to mark the beginning of our sixth field service in Sierra Leone. We've had a long-standing partnership, beginning with our first field service here in 1992 on the hospital ship, the ANASTASIS. Since then, we returned from 2001 to 2004, and again in 2011. Now, in 2023, hope and healing will come anew as some 2,350 safe, free surgeries will be performed on board the GLOBAL MERCY."
The life-changing surgeries delivered will include tumor removal, cleft lip and palate correction, cataract removal, orthopedics and reconstructive plastics. Patients have been encouraged to attend screening days to receive appointments for their specific surgical needs. Patient selection teams have already registered and assessed patients in eight locations, both upcountry and in the greater Freetown area, in preparation for the ship's arrival.
In collaboration with national and international partners, Mercy Ships will provide education and training across the surgical ecosystem for more than 200 local healthcare professionals who will add capacity long after the ship leaves. The emphasis of these programs will focus on surgery, nursing, biomedical, sterile processing, and anesthesia. This multi-year partnership will focus on strengthening the surgical care system by investing in Sierra Leonean healthcare professionals who will impact this nation for years to come.
---