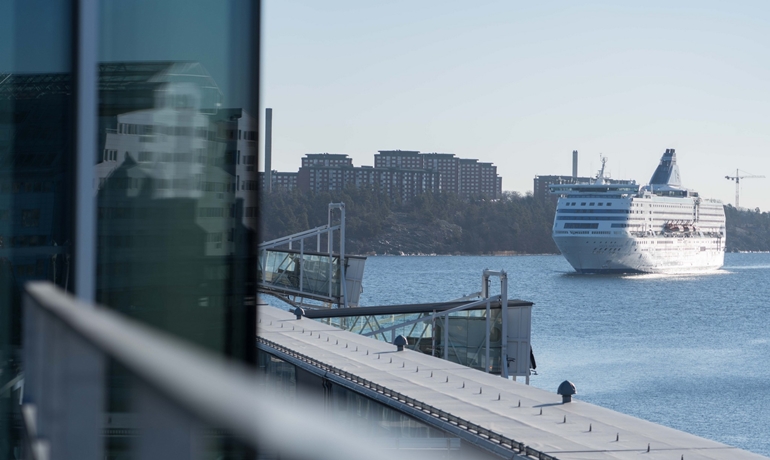 SILJA SERENADE © George Giannakis
Profitable June leads to near break-even Q2 for Tallink Grupp
FinanceStrong recovery of passenger numbers after end of COVID related travel restrictions and a profit in the last month of the quarter, but recovery and results impacted by continuing geopolitical and economic turbulence.
In Q2, the group carried a total of 1,552,174 passengers, which is 262.9% more than in the second quarter of last year (427,767 in Q2 2021). The number of cargo units transported by the group increased by 18.9% in the same comparison, totalling 109,380 units in Q2 2022 (91,990 units in Q2 2021). The Group's unaudited consolidated revenue increased by 139.4% or EUR 120.0 million in Q2 2022 to a total of EUR 206.0 million (EUR 86.1 million in Q2 2021). The group's unaudited EBITDA in Q2 2022 was EUR 28.7 million (EUR 4.4 million in Q2 2021) and although the group reached a net profit in June this year, the unaudited net loss for the quarter as a whole was EUR 0.7 million (net loss of EUR 24.3 million in Q2 2021). The group's pre-fuel cost EBITDA in Q2 2022 was almost comparable to 2019 Q2 levels, being only EUR 2.0 million lower than in 2019 and thus clearly demonstrating the group's increased operational efficiencies. The company has taken a number of steps to mitigate the risks related to the rising fuel costs, e.g. the introduction of a temporary fuel surcharge across its routes and the temporary suspension of the use of LNG due to significantly higher costs and supply issues.
Overall, in H1 (1 January – 30 June) 2022, the Group carried a total of 2.3 million passengers, which is 227.0% more compared to the same period last year (694,991 passengers in H1 2021). The Group's unaudited revenue for the period increased by 123.3% and amounted to EUR 312.2 million. Unaudited EBITDA for H1 2022 was EUR 17.7 million (EUR -1.9 million in H1 2021) and unaudited net loss was EUR 40.7 million (EUR 58.8 million in H1 2021).
At the end of Q2 2022, the group's net debt had decreased by EUR 32.6 million compared to the end of Q1 2022 and amounted to EUR 655.9 million. The company's liquidity remained strong at the end of Q2 2022 with the group's cash and cash equivalents amounting to EUR 90.6 million as at 30 June (EUR 37.8 million on 30 June 2021) and the group had EUR 116.7 million in unused credit lines (EUR 78.9 million on 30 June 2021). The total liquidity buffer (cash, cash equivalents and unused credit facilities) at the end of Q2 2022 amounted to EUR 207.3 million (EUR 116.7 million on 30 June 2021).
Commenting on the Q2 financial results, Tallink Grupp's CEO Paavo Nõgene said:
"Despite the challenges we are all facing globally in 2022, the results for the second quarter of this year for our business are showing some of the signs of recovery that we were very much hoping to see this year. The small profit we managed to make in June and the near break-even result for the full quarter in conditions of extreme political and economic turbulence following an unprecedented global health crisis, is the result of genuine hard work from every single employee, our extreme resilience and sheer determination to come out fighting.
"The results of the second quarter show that, as a result of the increased efficiencies and the decisions made in the last few years, we are able to achieve a near break-even result even in a situation where our passenger numbers are significantly lower than pre-Covid. We continue to adjust our business to the new challenges of significantly higher fuel prices and prices in several areas overall, supply issues, global travel confidence fluctuations and much more. Right now, our focus is on delivering a strong Q3, which has historically always been our best quarter of the financial year due to the travel high season, and on making the right decisions from a risk management point of view and preparing our company for the autumn-winter season ahead."
The following operational factors impacted results in the second quarter:
• 2 shuttle vessels, 2 cargo vessels, 6 cruise ferries and 3 hotels were operating;
• short-term charter of ISABELLE from April;
• long-term charter of 2 vessels;
• dockings of 3 vessels, totalling 29 days;
• significant and rapid increase in the global fuel prices;
• cost savings from previously implemented measures.
Full report https://view.news.eu.nasdaq.com/view?id=bbdd19da94d961a947d95a084b791ccd0&lang=en
---