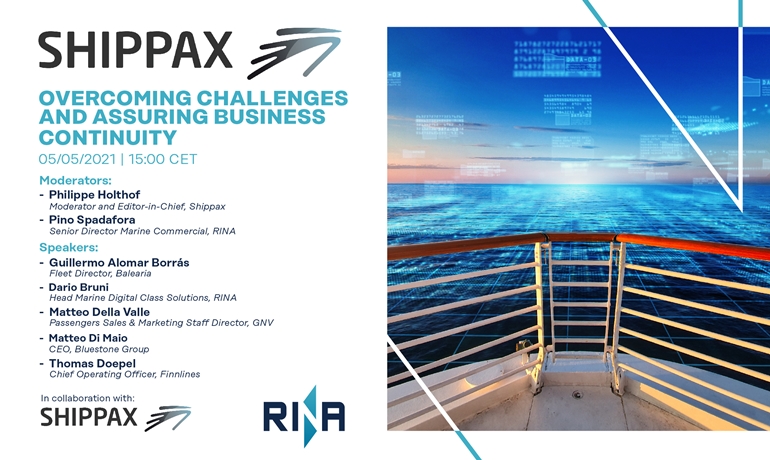 Now on YouTube - Overcoming challenges and assuring business continuity
Our webinar held in cooperation with RINA, 5 May 2021, is now available to watch on youtube.
The recent emergency has had a profound impact on the ferry industry, which has suffered heavy setbacks in volumes of passengers transported. As we head into the summer session in the northern half of the globe, what can we expect from the sea passenger transport? Ferry operators showed a strong resilience in adapting to new challenges and they are ready to put in practice the lessons learned in the last months.
Shippax, in cooperation with RINA, hosted a webinar on 5 May to discuss these highly topical issues. Shippax's Philippe Holthof discussed the green agenda with RINA's experts, joined by Guillermo Alomar (Balearia), Matteo Della Valle (GNV), Thomas Doepel (Finnlines) and Matteo Di Maio (Bluestone Group).
MODERATORS:
- Philippe Holthof | Moderator and Editor-in-Chief, Shippax
- Pino Spadafora | Senior Director Marine Commercial, RINA
SPEAKERS:
- Guillermo Alomar Borrás | Fleet Director, Balearia
- Dario Bruni | Head Marine Digital Class Solutions, RINA
- Matteo Della Valle | Passengers Sales & Marketing Staff Director, GNV
- Thomas Doepel | Chief Operating Officer, Finnlines
- Matteo Di Maio | CEO, Bluestone Group
---
Most read
Press Releases
Jun 14 2021
Commuters travelling between Finland and Estonia ...
---
Jun 14 2021
Stena Line eases mouth mask requirements for pass...
---
Jun 14 2021
More orders in Norway for Cavotec's next generati...
---
See all press releases
Products