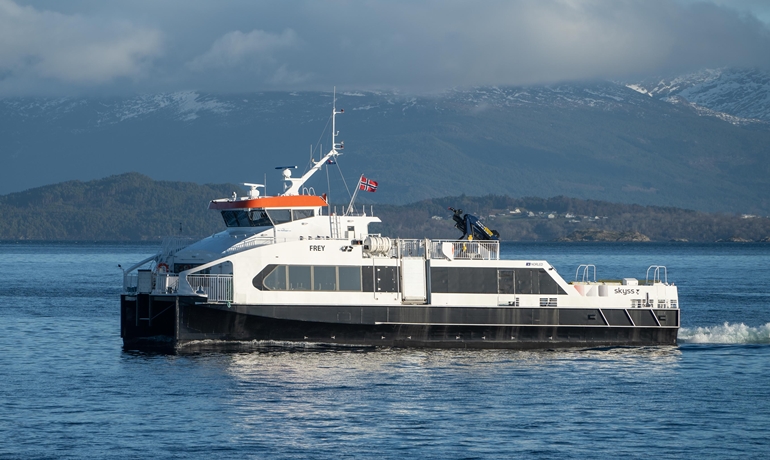 FREY © Norled
Oma Baatbyggeri delivered FREY to Norled and announced order for another vessel
FerryNorled has been handed over the 72-passenger hybrid battery-electric ferry FREY from Oma Baatbyggeri. The vessel will mainly run on batteries when it comes into service in Sogn next year. A contract has also been signed with Norled for another vessel, this time with a 140-passenger capacity.
- It is a great ship which, together with the sister vessels to be built, will help to reduce emissions considerably. We have had good cooperation with Oma Baatbyggeri and have been able to deliver the vessel according to plan, says technical director of Norled, Erlend Hovland.
FREY is one of three new low-emission vessels that will operate in the Florø basin from 1 May 2024. The vessel has a modern and universal design with a large saloon and large window surfaces. It has room for 72 passengers, as well as seven passenger cars or a train wagon. The 30-metre-long vessel also has a hold and a crane.
The vessel is based on Oma's combi-catamaran concept, but unlike previous vessels, FREY is supplied with a hybrid battery-electric propulsion system. This means that the ship can run with zero emissions of CO2 and 100% electric operation in most of the routes that they will operate in Sogn. Vestland County Council and Skyss have taken the lead when it comes to environmental requirements for ferries, with the aim of both cutting greenhouse gas emissions and stimulating innovation.
The vessel is built in recyclable aluminium. Due to its light weight, they are equipped with ballast tanks to balance the weights when loading and unloading heavy lorries.
In May, the sister vessel to FREY will be delivered from Oma Baatbyggeri to Norled. This is also to be included in the route in Sogn. These are two of three vessels being built for Sogn route package 2 that Norled won in 2021. The tender from Skyss applies to fast ferry operation in Sogn og Fjordane from 2024-2036.
Facts FREY
Length: 30 metres
Capacity: 72 passengers. seven passenger cars or one train wagon.
Propulsion: hybrid: battery electric or diesel electric
Service speed: 22 knots
And order for another one
In parallel with the delivery of FREY, Oma Baatbyggeri signed a contract with Norled for another hybrid battery-electric ferry. This ferry will operate between Trondheim and Vanvikan in Trøndelag and will have a capacity for 140 passengers.
The aluminium-built ferry is supplied with hybrid battery-electric propulsion systems and will be equipped with a battery exchange system.
Service speed is 23 knots and the length of the vessel is 28 metres.
With this order, Oma Baatbyggeri ensures good employment until spring 2024.
© Shippax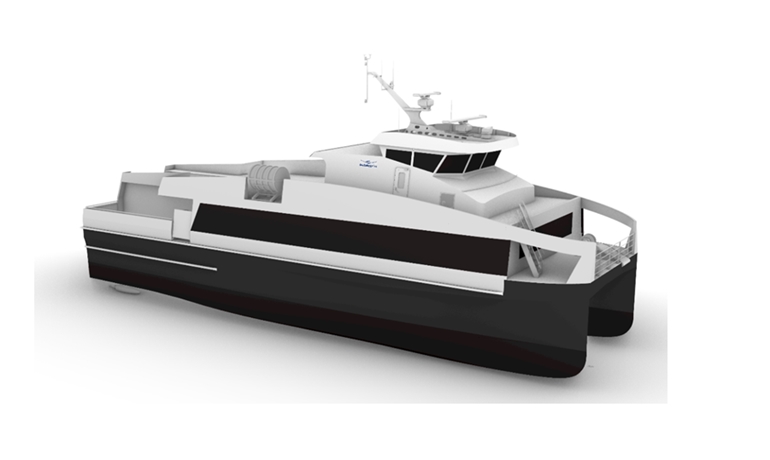 Illustration of the ordered vessel © Norled
---