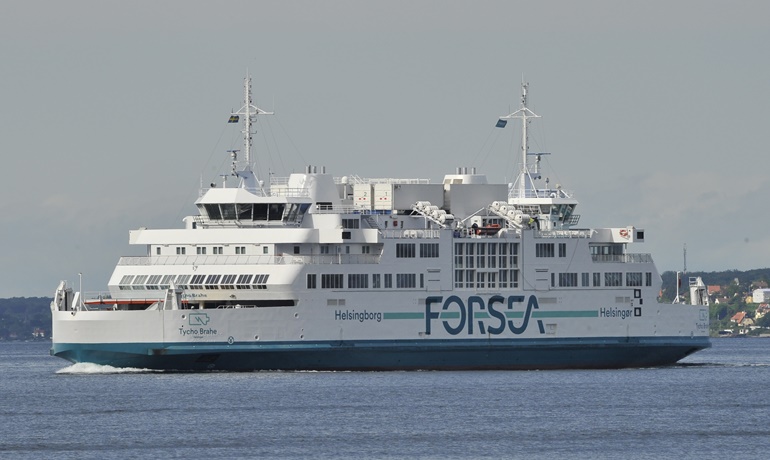 ForSea's TYCHO BRAHE is now upgraded with the world's largest battery pack © Jukka Huotari
Molslinjen acquires ForSea
FerryAs the only ferry operator between Helsingør and Helsingborg, ForSea provides a ferry connection via a ferry line strategically located at the point with the shortest distance between the two countries (approx. 4 km). ForSea will continue its long-term growth and sustainability journey in the Nordics under new ownership and in collaboration with Molslinjen.
With the support of EQT Infrastructure, Molslinjen A/S has entered into a definitive agreement to acquire ForSea from Igneo Infrastructure Partners. ForSea constitute a "floating bridge" and are an integral part of the transport infrastructure in the Nordics. Every year, ForSea transports over six million passengers, one million cars and 450,000 trucks across the strait. The company's fleet consists of five ferries, of which two are electric and a third is planned for electric operation - which means that ForSea is well on its way to making the fleet CO2 neutral within this decade.
"ForSea is a leader in its industry and shows that it is possible to run a sustainable ferry line that at the same time creates great results. Sustainable transport is the model of the future and ForSea will continue the work of leading the way for the green journey," says Kristian Durhuus CEO of ForSea.
"We are incredibly proud of ForSea's development and what we have achieved during our 8-year ownership. A global industry leader in CO2 neutrality, a strong and resilient business that can withstand pandemics, and a modern and reliable infrastructure operator. ForSea has a bright future ahead of it," says Hamish Lea-Wilson, partner at Igneo Infrastructure Partners.
Molslinjen was bought by EQT Infrastructure in 2021 and the company has approximately 1,200 employees. Every year, Molslinjen transports approx. 8 million passengers via its nine ferry lines from Denmark. EQT has extensive experience in developing companies in transport and logistics with a focus on sustainability and long-term ownership.
"ForSea is an attractive and well-run ferry company. In the same way, ForSea and Molslinjen are both important transport links in the Nordics with a very complementary range of services and expertise within their respective organizations. We look forward to close cooperation between Molslinjen and ForSea where we can exchange lessons learned and continue the growth journey towards a sustainable leading player in the region", says Carsten Jensen, CEO of Molslinjen.
"ForSea is a strong player in the Nordic ferry segment where the company's route forms an important part of the region's critical infrastructure. The floating bridge connects people and businesses in Europe, and unites Sweden with the continent. ForSea's investments in sustainability and experience from operating electric ferries are fully in line with EQT's investment mandate. We look forward to continuing to invest in ForSea and support the company on its sustainability journey, says Carl Sjölund, responsible partner at EQT.
The deal is subject to the approval of the Swedish and Danish competition authorities and is expected to close in early 2023. The parties have agreed not to disclose the sale price.
---