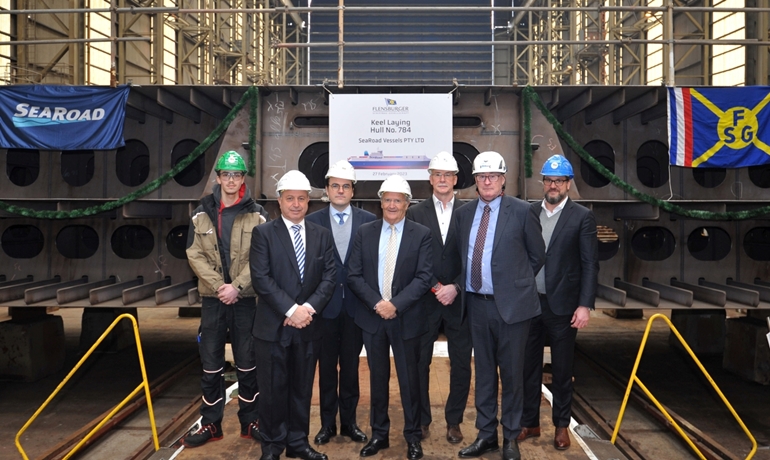 Dustin Lind, youngest apprentice at FSG, Patrick Guarino, COO SeaRoad, Philipp Maracke, CEO FSG-Nobiskrug Holding, Chas Kelly, CEO SeaRoad, Wolfgang Schüler, Head of Product D © FSG / Marianne Lins
Keel laying for SeaRoad newbuilding at Flensburg
Ro-roWith a traditional keel-laying ceremony at Flensburger Schiffbau-Gesellschaft (FSG), the first module of the newbuilding number 784, weighing more than 154 tons, was lowered by crane onto the blocks. In accordance with maritime custom, a coin was placed under the keel for good fortune. SEAROAD I will be the largest vessel in SeaRoad's history. The new 210-metre-long vessel will join SEAROAD MERSEY II and replace SeaRoad's charter vessel, LIEKUT, to operate between Melbourne and Devonport from the second quarter of 2024.
"This LNG-powered vessel once again underlines FSG's capabilities. Building such a technologically sophisticated vessel requires extensive technological know-how, which we possess. The trust that SeaRoad has placed in FSG with this renewed order for a ship is further proof of this," emphasised Philipp Maracke, CEO of FSG-Nobiskrug Holding.
"SeaRoad looks forward to progressing the building process in partnership with FSG and seeing our newest vessel take shape on the slipway," SeaRoad Executive Chairman Chas Kelly said.
The contracted ro-ro vessel has a length of 210 metres and a width of 29.30 metres It will have 3,722 lane metres available for the carriage of trailers / freight units, plus capacity for 101 cars (= 4,227 lane metres in total). A special requirement for the vessel is the capability to transport heavy cargo with a unit weight of up to 100 tonnes. The order is worth more than EUR 100 million. The funding partner for the project is the Commonwealth Bank of Australia.
Technical data of SEAROAD I, newbuilding 784 for SeaRoad:
Length: 210 metres
Width: 29.30 metres
Gross registered tonnage: 43,100
Power main engines: 2 x 10,300 kilowatts
Deadweight: 11,970 tonnes
Speed: 22.50 knots
Cabins: 25 (27 berths)
Cargo capacity: 3,722 lane metres plus capacity for 101 cars (= 4,227 lane metres in total)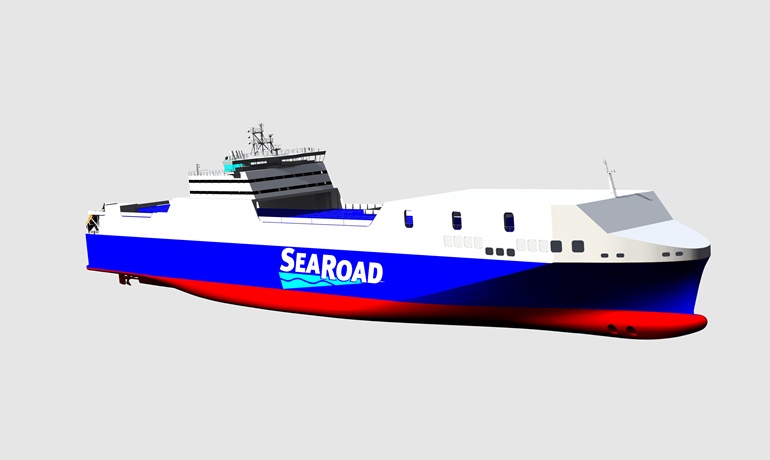 Illustration of SEAROAD I
---
Most read

CLdN to start new Teesport service from Zeebrugge / Rotterdam and significantly expand capacity to Purfleet
Mar 14 2023
DFDS to launch new Izmir - Sète ro-ro route on 2 April 2023
Mar 14 2023
Products