Keel-laying and steel-cutting ceremonies for first two CalMac Islay ferries
FerryThe construction of two new CalMac Islay ferries at Cemre shipyard reached key construction milestones this week with the first unit having its keel laid, while the second started its construction with a steel-cut ceremony, three weeks earlier than planned.
Designed by Flensburg-based naValue GmbH, the new, 94.8-metre ferries will each have capacity for up to 450 passengers and 107 cars or 14 commercial vehicles, providing a combined 40% increase in vehicle and freight capacity on the Islay routes and improving the overall resilience of the wider fleet.
The first vessel is expected to be delivered by October 2024 and will enter service following sea trials and crew familiarisation. The second will follow in early 2025.
Minister for Transport Jenny Gilruth said: "This is a very welcome milestone for this vital project, which brings us another step closer to adding new ferries to the fleet serving the Clyde and Hebrides.
"The Islay ferry routes are some of the busiest services for freight on the west coast and the new vessels will help to grow the island's economy, as well as bring added resilience to the wider network.
"The Scottish Government is committed to commissioning new ferries to support our island communities, and it's encouraging to see progress on bringing these vessels into service on time and budget."
Jim Anderson, director of vessels at CMAL, added:
"The Cemre yard is delivering what it said it would, reaching two important milestones within the agreed timeline.
"Keel laying is a significant milestone in the ship's life, marking the start of the construction of the vessel, fitting the first of many units to be fabricated and erected during construction. And the fact that we are getting underway with the second ferry means the shipyard's pipeline approach is working well, following many hours of intensive design and development."
The GBP 91 million contract to build the two ferries was awarded by CMAL to Cemre Marin Endustri in Turkey in March 2022 following a competitive tender.
The Islay vessels form part of a programme of investment by CMAL, funded through Scottish Government commitments to capital investment of around GBP 700 million in ferry infrastructure and related services over the five years from 2021 to 2026. Wider plans will deliver other new small and major vessels for the fleet and upgrades of harbour infrastructure with future options and being considered through the emerging Islands Connectivity Plan.
Carbon reduction has been a key factor in vessel design and the new ferries are expected to deliver a significant reduction in emissions.
On 11 January 2023, a contract was signed with the same yard for a further two vessels. https://www.shippax.com/en/news/contract-signed-with-cemre-shipyard-for-two-new-calmac-vessels-for-little-minch.aspx
© Shippax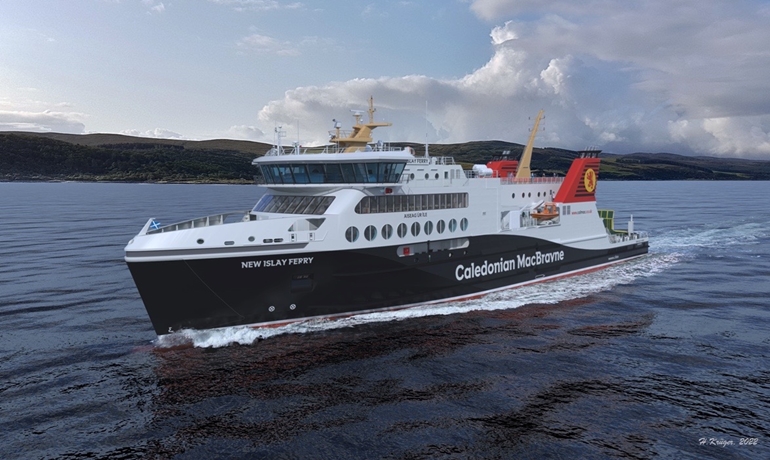 ---