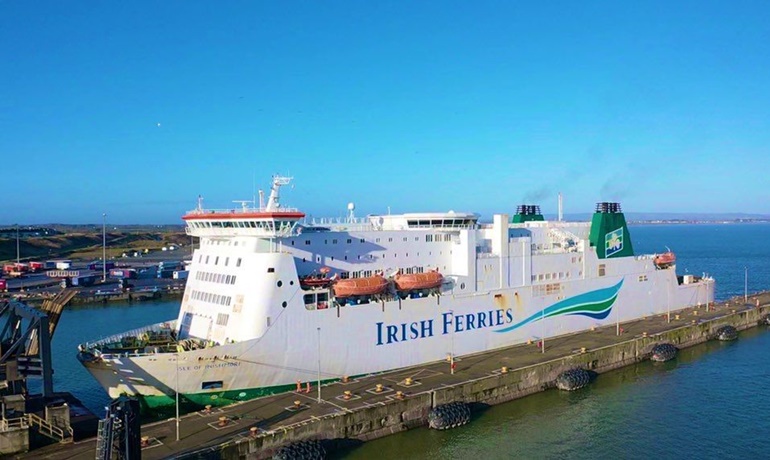 With its double-deck drive-through configuration, the 1997-built ISLE OF INISHMORE is suited for Dover-Calais service. © Rosslare Europort
Irish Ferries to enter the Dover-Calais arena in June
FerryIrish Continental Group's subsidiary Irish Ferries announced a bold expansion outside the Irish Sea with the opening of a new Dover-Calais service in June. Serving as a land bridge extension of its Dublin-Holyhead and Rosslare-Pembroke routes, Irish Ferries will compete head-to-head with established operators P&O Ferries and DFDS.
The 2,060-lanemetre and 2,200-passenger capacity Rosslare-Pembroke double-deck drive-through ro-pax ferry ISLE OF INISHMORE will be transferred to the Dover Strait, being replaced by the chartered BLUE STAR 1 of Blue Star Ferries, delivery of which is expected in early April.
Irish Ferries' new service is planned to commence in June with a single ship, yet the company announced that additional capacity would be added in the coming months. Irish Ferries becomes the third ferry operator on the Dover-Calais route and will start just a few weeks ahead of the opening of the new port in Calais.
In a press release, Irish Continental Group said: "We are very excited about launching our services on the best short sea ferry market in the world and we believe we can bring more choice for customers in the years ahead.
"As part of our commitment to the movement of freight on and off the Island of Ireland to both the UK and Europe, this additional capacity on the Dover-Calais route will significantly strengthen the capacity and reliability of the land bridge for exporters and importers. Hauliers will now have one operator providing an inclusive service on the Dublin-Holyhead, Rosslare-Pembroke and Dover-Calais routes. This will allow exporters and importers easier, cheaper, and quicker access to our European markets via the Common Transit Convention.
"It is intended to offer passenger services on the route. The initial level of passenger services offered will be dependent on the easing of COVID-19 travel restrictions."
Clearly, as an alternative to its direct Dublin-Cherbourg service, Irish Ferries will offer a one-stop shop for land bridge traffic in the aftermath of Brexit. Back in 2000, DFDS's predecessors on the English Channel, Norfolkline, also took the then incumbent operators on the Dover Strait by surprise when starting a Dover-Dunkerque service with a single ship, NORTHERN MERCHANT. Today DFDS are the market leaders in the Dover Strait, serving both Calais and Dunkerque from Dover.
© Shippax / Philippe Holthof / PR
---
Most read
Press Releases
Dec 03 2021
Construction begins of Silversea Cruises SILVER NOVA
---
Dec 03 2021
Contract awarded for piers upgrade for new Islay ...
---
Dec 03 2021
Zinus technology selected for two more norwegian ...
---
See all press releases
Products