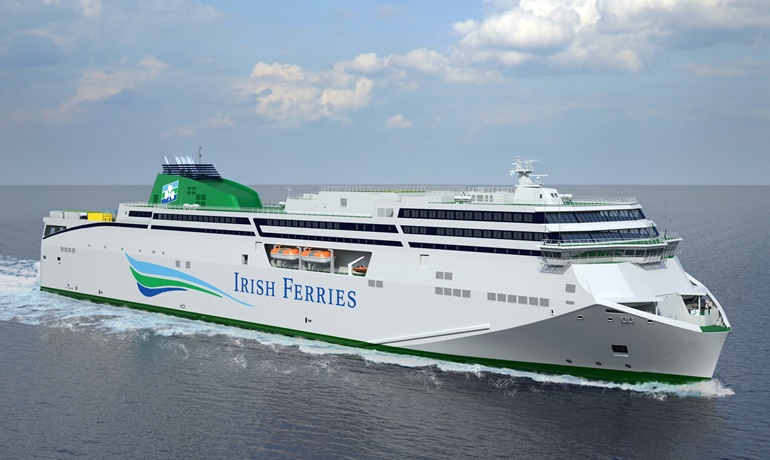 ICG has terminated the contract for FSG yard number 777, delivery of which was scheduled for mid-2020. © FSG
Irish Continental Group confirms cancellation of FSG's yard number 777
FerryWhat has been widely rumoured for several months has now been confirmed in a Trading Statement published by Irish Continental Group (ICG) today, 11 June: Ireland's leading ferry operator has terminated the contract with Flensburger Schiffbau-Gesellschaft (FSG) for the construction of a 5,610-lanemetre and 1,800-passenger capacity ro-pax ferry for its Dublin-Holyhead route.
The decision to cancel the EUR 165.2 million contract, first announced on 2 January 2018, is no surprise given the late delivery of ICG's W.B. YEATS from FSG and the fact that construction on the newbuild hadn't even officially started yet. It comes after the yard made an application through the German courts system to be placed in debtor in possession management under the oversight of an insolvency monitor. As part of the original contract with the yard, ICG paid a deposit on yard number 777 for 20% of the purchase price, equivalent to EUR 33 million, with the remaining 80% due on delivery of the ship, slated for mid-2020. According to ICG, this deposit was protected by third-party guarantees and has now been returned to ICG.
In its Trading Statement, ICG said that the current level of uncertainty and the introduction of travel restrictions across the EU because of the COVID-19 pandemic had led to a significant reduction in current passenger traffic and forward bookings for what was normally the peak summer passenger season for ICG's Irish Ferries services.
It also said it was very difficult to estimate the full-year financial impact on the Group, as the reduction in passenger revenue would be material. In the period from 1 January to 6 June this year, car volumes were down 62% with total passenger volumes down 60%. COVID-19 has less affected freight carryings with year-to-date up to 6 June ro-ro volumes down by just 4%.
In its Trading Statement, ICG was also critical to the Irish government, stating: "Retention of the Common Travel Area (CTA) between Britain and Ireland is of major benefit to the tourism and hospitality sectors in Ireland. The current Irish government position, of asking people from Britain who visit Ireland to self-isolate for two weeks, is not consistent with that of the British government who do not require people travelling to Britain from Ireland to self-isolate. In addition, there is nothing to stop people from Britain visiting Ireland by transiting via Northern Ireland without the requirement to self-isolate which is clearly anomalous. We have written to the Irish government on this issue."
© Shippax / PR / PHO
---
Most read
Press Releases
Oct 20 2021
Joint development agreement signed between I-Tech...
---
Oct 19 2021
European shipowners support the uptake of clean f...
---
Oct 19 2021
Kongsberg Maritime and China Merchants Industry s...
---
See all press releases
Products