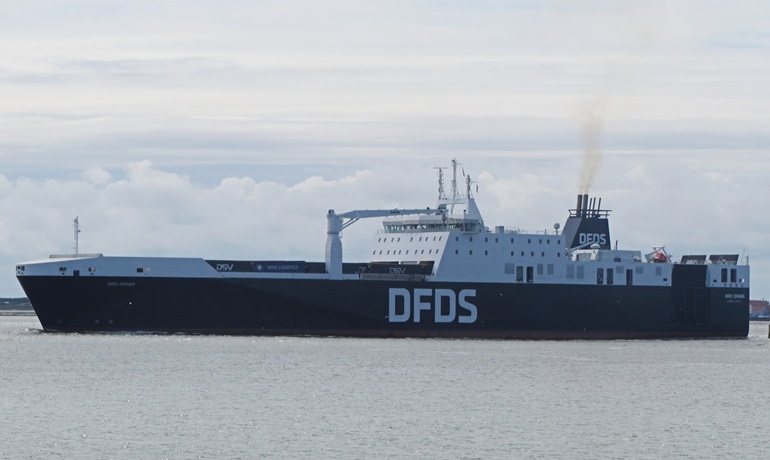 Starting on 1 April, ARK DANIA will be added as a fourth ship on DFDS's Dunkerque-Rosslare route. © Jens Vinderslev-DFDS
DFDS to increase capacity on Dunkerque-Rosslare route
Ro-roIn response to customer demand, DFDS is adding a fourth ship on its direct France-Ireland freight service on 1 April, leading to an increase in the number of weekly departures between either port from six to eight.
DFDS's 3,000-lanemetre capacity ARK DANIA will be withdrawn from the Esbjerg-Immingham route, joining three ro-pax ferries on the Dunkerque-Rosslare route. ARK DANIA will perform two rotations per week, allowing for daily departures in either direction with a second daily departure ex Rosslare on Saturdays. Once per week, a second daily departure will be offered from Dunkerque too and DFDS is looking at adjustments on the schedule but it looks like this will be on Sundays or Mondays.
DFDS's direct France-Ireland service is currently operated by ro-pax tonnage with cabin accommodation for commercial drivers varying between 76 for KERRY and 115 for VISBY and DROTTEN, based on COVID-19-proof single occupancy. ARK DANIA has a 12-driver capacity and the introduction of a dedicated freighter will free up capacity on the three ro-pax ferries for more driver-accompanied freight units.
In a short telephone interview with Shippax, Aidan Coffey, Route Director for the Rosslare-Dunkerque service, said that 65% of the trailers currently using the route were accompanied, the remainder 35% being unaccompanied. However, with the introduction of ARK DANIA, DFDS is also anticipating an increase in the number of unaccompanied trailers.
DFDS confirmed that the charter of Stena RoRo's Visentini Class KERRY had been extended by nine months until the end of this year. As regards replacement tonnage for the short-term chartered VISBY and DROTTEN, Coffey told Shippax that it was too early to comment on this as "this was in the hands of the fleet department in Copenhagen".
The recent introduction of the mega ro-ro SCANDIA SEAWAYS has created an internal fleet reshuffle, allowing for a replacement of ARK DANIA on the Esbjerg-Immingham route.
© Shippax / Philippe Holthof
---
Most read
Press Releases
May 13 2022
Carnival Cruise Line breaks ground on new cruise ...
---
May 13 2022
MacGregor has received an order to supply RoRo eq...
---
May 11 2022
DFDS: April volume report: Freight Up 5%, Continu...
---
See all press releases
Products