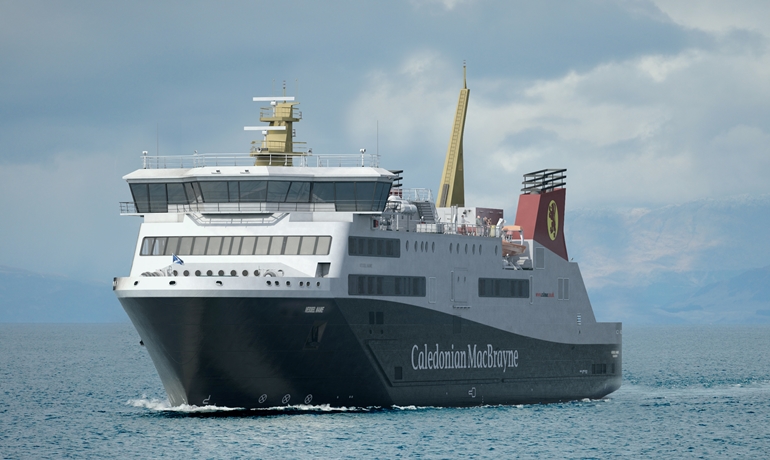 CMAL Hull 802 to be named GLEN ROSA
FerryCaledonian Maritime Assets Limited (CMAL) has announced that the vessel currently known as Hull 802 will be named GLEN ROSA, following a public vote with 4,844 participating in the competition on CMAL's website. GLEN ROSA, which will be known as Gleann Ruasaidh in Gaelic, was the most popular name, garnering 52% of the votes.
The vessel, along with GLEN SANNOX, is currently under construction at Ferguson Marine (Port Glasgow) and were planned to be delivered in 2018 and 2019. The initial GBP 97m budget for the two ferries has increased massively and now sits at more than three times that amount, totalling at GBP +300m!
Following the recent update to the NZET committee from Ferguson Marine, GLEN ROSA is due to launch in March 2024.
Kevin Hobbs, Chief Executive of CMAL said: "The public's response to the naming of Hull 802 has been fantastic to see, and I'd like to thank everyone for taking the time to vote.
"Though we are disappointed in the delay to launching the vessel reported by Fergusons last week, we understand that the priority is ensuring that the newly named GLEN ROSA achieves Maritime and Coastguard (MCA) approval. We continue to work closely with the team at Ferguson Marine and can see great progress being made towards the delivery of both GLEN SANNOX and GLEN ROSA."
Robbie Drummond, Chief Executive of CalMac, said: "We are very much looking forward to GLEN ROSA and GLEN SANNOX joining our fleet. These vessels will provide much-needed resilience to the Arran community, and to the network as a whole."
GLEN ROSA will be one of six new major vessels due to join the CMAL fleet before the end of 2025, following a commitment of GBP 695m from the Scottish Government for the years 2021- 2026.
The 102-metre dual fuel ferries will be able to operate on both LNG and marine diesel. The ships are designed to carry 127 cars or 16 HGVs, or a combination of both.
© Shippax
---