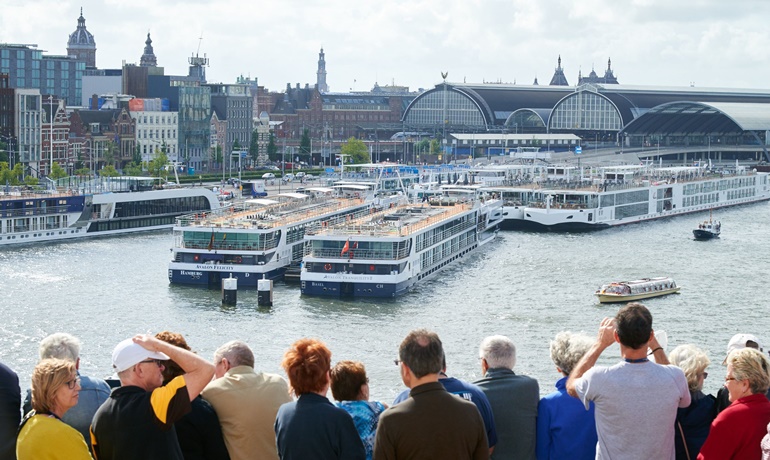 Amsterdam to become Venice of the North
PortAmsterdam's alderwoman of economic affairs has created a huge surprise during a port conference. Mrs Kajsa Ollongren (D66 political party) announced that the PTA cruise terminal has to leave the inner city.
The municipality will no longer tolerate cruise ships near the Central Station, which is within walking distance of the terminal.
The reason for the bold statement is the heavy burden on the traffic, "by people who often are only half a day in Amsterdam."
A new terminal will have to be built "in a westerly direction". Some media speak about Zaandam and the areas known as "Nieuwe Houthavens" and "Coenhaven" in Amsterdam West.
The City of Amsterdam can take a decision because she is the only shareholder of the PTA terminal.
Insiders believe the new terminal could be ready in 2020.
The actual PTA is a modern state-of-the art terminal, with more than 150 oceangoing ships calling yearly.
The USP of the terminal was its vicinity to the heart of Amsterdam.
It is not clear if this will affect the several hundreds of river cruise ships, which berth between the PTA and the Central Station.
Last year Amsterdam had 139 ocean ships calling at the PTA terminal in the city center, and there were 1,769 river cruise calls.
The announcement has created a lot of angriness and disbelief. Most heard comments were that suddenly tourists are not welcome anymore, after the same alderwoman said tourism was of huge importance, some years ago. Another remark is that the number of cruise tourist is not even one percent of the tourist population.
Venice has a similar discussion, however for other reasons.
© Shippax / Mike Louagie
---