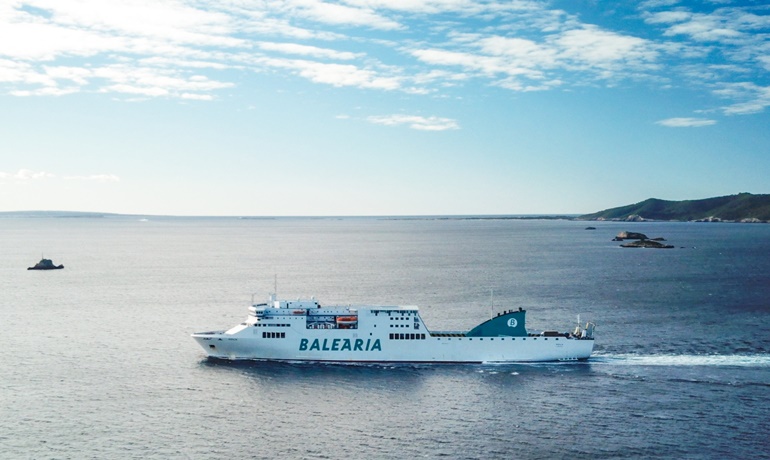 SICILIA © Baleària
Baleària 2022 review
FinanceBaleària recorded a turnover of EUR 563 million in 2022 (+42%) and an EBITDA of EUR 140 million (+36%). A 60% increase in passenger traffic was also recorded, totalling at 4.7 million, the highest in Baleària's 25-year history.
Baleària transported 4,770,000 passengers, 1,211,000 vehicles and 7,037,000 lanemetres of cargo.
Baleària operate a fleet of 34 ships operating 25 routes in six countries. In terms of passenger traffic, it transported 64% more passengers than in 2021. This business area now accounts for almost 60% of the company's turnover.
The routes with the Balearic Islands maintained high occupancy, while the opening of borders with Morocco and Algeria led to a high level of demand during the "Crossing the Strait" Operation, which in turn had a positive influence on traffic with Ceuta and Melilla.
In addition, 19% of Baleària's passengers came from the newly reactivated international routes. Utor pointed out that "It has been a record year for Baleària: the opening of borders in May was a boost to an already good year".
In terms of freight transport, Baleària grew by 6% across all its routes and reaffirmed its leadership in the Balearic Islands, which accounts for 67% of its freight traffic, where it continues to be the only shipping company to cover all inter-island routes with daily services.
To reinforce freight transport with North Africa, Baleària opened a new route between Motril and Tangier. On the other hand, it consolidated its growth in the Strait of Gibraltar and the Alboran Sea, as well as in the Canary Islands, where it increased its weekly services from two to three. Freight transport on international routes accounted for 24% of Baleària's total freight transport.
Fleet investments
The company invested EUR 61 million, mainly to build a more modern, eco-efficient fleet with better services for passengers. On the one hand, it launched the first electric ferry in Spain — CAP DE BARBARIA —, which will start operating this summer with zero emissions on port approaches and stays. On the other hand, construction began on the MARGARITA SALAS fast ferry, which has greater power and efficiency than its predecessor — ELEANOR ROOSEVELT —, and the retrofit of the HEDY LAMARR ferry was completed. These vessels are equipped with dual engines. In 2022, Baleària was more eco-efficient:  it sailed 14% more miles on all its routes, reducing the consumption ratio (MWh per nautical mile) by 4%.
 "Our values are responsibility, innovation, sustainability and solvency, and generating trust is one of the pillars of our success, which is why for yet another year we have strived to guarantee excellence in our services", said Utor. As a result, the loyalty index, both among passengers and freight customers, stood at around 95%, and the company achieved high levels of satisfaction, especially among Baleària Club members, who grew by 504%. Utor also highlighted the differentiating digital experience offered by Baleària on board and in customer service, with a continued focus on virtual assistants. 
 "We have worked hard to implement talent management policies that focus on developing the potential of our more than 1,850 employees and have invested almost half a million euros in their training", explained Utor, who also highlighted "the 36% increase in the number of women in the workforce". Finally, he stressed the fact that 90% of the workforce is permanent, adding that "job stability is a determining factor for competitiveness and team cohesion".
© Shippax
---