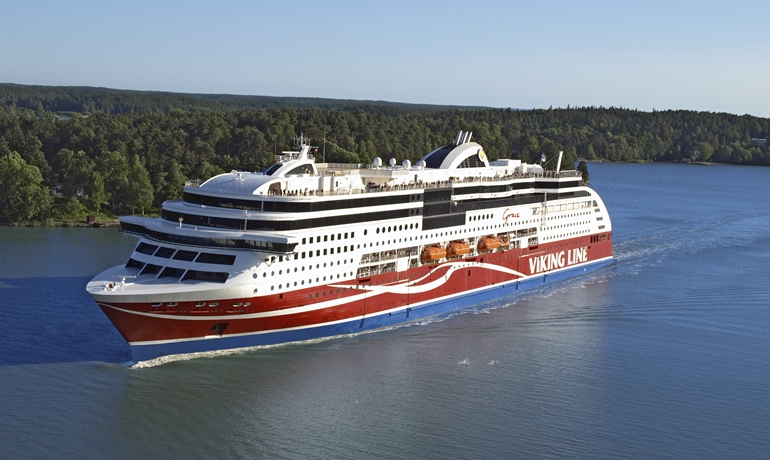 VIKING GRACE © Viking Line
Nearly 1.8 million passengers for Viking Line during summer
FerryBetween June and August, 1,786,499 passengers sailed on Viking Line's vessels, and many departures during the summer holiday season were sold out well in advance. Several reasons for the strong demand were local tourism, which was popular in both Finland and Sweden, and the recovery in international tourism in the Nordic region – as well as the company's vessels, which many people wanted to experience.
"Estonia, Sweden and Åland all drew Finnish visitors this summer. Local tourism is apparently more than a passing phenomenon seen during the Covid era – in fact, it has grown further. We also had a really strong offering on all of our routes – for many of our passengers, the sea journey itself is the highlight of their holidays and the most important reason to take a cruise," says Viking Line's Head of Marketing, Ninna Suominen.
Viking Line's passenger figures for the summer months increased most on the Tallinn route, which had an 8.7 per cent increase. The company had prepared for the summer holiday season by doubling capacity on its Tallinn departures during the peak of summer, and for six weeks three of the company's vessels sailed across the Gulf of Finland: VIKING XPRS, which switched to sailing under the Finnish flag this past spring, VIKING CINDERELLA and GABRIELLA.
"Hotel packages in Tallinn and our cruises had particularly good demand – the number of cruise passengers increased by more than a quarter. In all, we had 656,401 passengers on the route between Helsinki and Tallinn for June–August. Demand would have been greater, but in July our capacity was basically sold out."
The cheap Swedish krona drew visitors to Stockholm
"Finnish travellers were drawn to Sweden by the Swedish krona's exceptionally low exchange rate and by a wide array of events on offer in Stockholm. In turn, there was greater interest among Swedes in Helsinki and Finland than ever before, and many of our departures between Helsinki and Stockholm were also sold out well in advance. That was a big change for passengers used to booking their summer sea voyage at the last minute," notes Ninna Suominen.
"Another big draw was our legendary CINDERELLA, which took a break from its normal Stockholm–Mariehamn service to work for the summer in the Gulf of Finland. Next spring, CINDERELLA will return to Helsinki, which was really good news for many of our customers in Finland." 
Continued strong growth on the Turku route
Viking Line has connected Turku with Stockholm for 50 years now and is stronger than ever on this popular route. For June–August, 801,919 passengers sailed with VIKING GLORY and VIKING GRACE, which is 8.1 per cent more than last summer. The market share for the two vessels on this route is about 70 per cent. "The novelty of sailing on VIKING GLORY, which was placed in service last year, still hasn't worn off, but the vessel's bold, innovative concepts have also demonstrated their attractiveness. Our passengers have really taken to the vessel. GRACE, which is known for its attractive entertainment offering, together with GLORY make for an extremely strong combination to and from Turku," says Ninna Suominen.   
South Koreans a new passenger category
The Nordic countries, the Baltic countries and the Baltic Sea also drew large numbers of international tourists – for the first time since the Covid pandemic.
"Surprisingly enough, South Korea accounted for the largest increase among our international passengers this past summer. South Koreans take group trips and want to visit as many countries as possible on their trip – so cruises are a great solution for them," says Sales and Marketing Manager Lauri Orpana, who is responsible for Viking Line's international market. 
"During the summer, we also had many long-distance tourists from India and the US on board. The Germans are frequent customers with us, and this past summer we had even more German passengers than in the summer of 2019. We also see signs of interest in northern Europe starting to awaken among people from southern Europe – perhaps because of our favourable climate."
Viking Line June–August 2023
All routes combined: 1,786,499 passengers, 227,064 cars
Turku–Mariehamn–Stockholm 801,919 passengers
Helsinki–Mariehamn–Stockholm 218,752 passengers
Helsinki–Tallinn 656,401 passengers
Stockholm–Mariehamn (no service June 30–August 6, 2023) 109,427 passengers
© Shippax
---