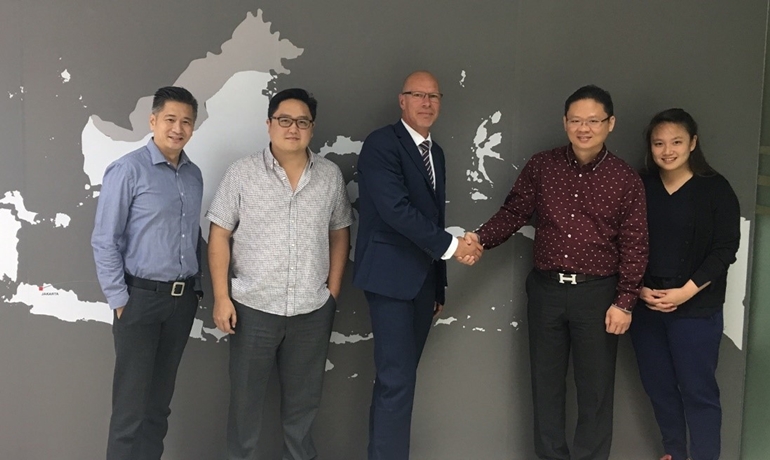 Niclas Blomström, MD of Hogia Ferry Systems, and JZK management.
Hogia in the glimmer of the eastern Emerald
TechHogia Ferry Systems have signed an agreement with Indonesian ro-ro operator PT Jagat Zamrud Khatulistiwa (JZK). This is Hogia's first client in Indonesia, the beautiful country often called the Emerald of the Equator ("jagat zamrud khatulistiwa" in Indonesian) due to the green and lush rainforests.
JZK is a start-up operation, connecting the major cities of Jakarta and Surabaya on the north coast of Java island. Cargo transported between the two cities is today transported by trucks along the North Coast Road, also known as Jalur Pantura. More than 12,000 trucks use this heavily congested and damaged road every day. The 800km journey takes three driving days, requiring two drivers per truck. JZK, with their two vessels operating at around 18 knots, can cover the same distance sailing along the coastline in around one day, and it requires no accompanying drivers.  
Niclas Blomstrom, Managing Director at Hogia Ferry Systems says: "It is clearly our ambition to expand our business in Asia, and we are really proud to form a business partnership with JZK. I hope that the many trucking companies and cargo owners recognise the benefits that JZK's service offers. This start-up deserves every success and we will do our utmost to support them."
The BOOKIT implementation project was smooth and JZK has already made close to 50 successful sailings. 
---
Most read
Press Releases
Dec 14 2018
Fincantieri sustainability plan 2018-2022 published
---
Dec 13 2018
Awakening connectivity
---
Dec 13 2018
Yara Marine responds to growth with move to new o...
---
See all press releases
Products