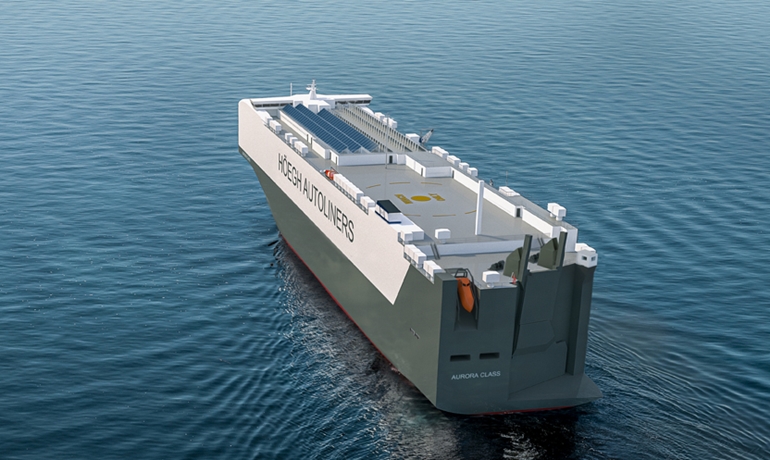 Höegh Autoliners forms partnership for ammonia supply to new Aurora class PCTC's
Ro-roHöegh Autoliners and Norwegian green energy provider North Ammonia announced a partnership for future supply, distribution, delivery, and consumption of green ammonia to the eight 9,100 CEU capacity Aurora class PCTC's that will be delivered starting from the second half of 2024.
The partnership will enable Höegh Autoliners to meet their commitment to powering at least 5% of their deep-sea operation with green ammonia by 2030 (part of their First Movers Coalition pledge) and their aim of consuming at least 100 000 metric tonnes of green ammonia within their fleet by that same year.
Securing the supply and delivery of green ammonia from North Ammonia's planned production facility in Arendal in southern Norway will help them source green ammonia safely, efficiently, and cost-competitively as a first mover and industry frontrunner sailing for sustainability in the maritime sector.
"We are proud to partner with an ambitious Norwegian green ammonia supplier to transition towards a more sustainable future. This collaboration will not only reduce our environmental impact and carbon footprint. It will also set a new standard for the industry as a whole and assist our partners and customers in decarbonizing their supply chain. We are receiving positive feedback and strong signals from major car manufacturers in Europe about enabling lower-emission transport of cars from the manufacturing site to the customers. We are excited to be at the forefront of the movement towards a greener, more sustainable future for all," says Höegh Autoliners' CEO, Andreas Enger.
Höegh Autoliners is investing heavily in future technology, low emission fuels and newbuilds to further strengthen our service offering and meet our ambitious environmental targets and those of our customers, says COO of Höegh Autoliners, Sebjørn Dahl:
"The fact that green ammonia is becoming a totally viable maritime fuel is a game-changer for our industry. We believe it will set the standard for others to follow. I thought this development would be achievable in 10 years' time. But technology is moving faster than expected and the future is here. This partnership will ensure that we and our Norwegian industry suppliers will be well-positioned for seizing that very future. With this partnership, we are adding yet another steppingstone in designing the infrastructure of the future – with a green and sustainable focus."
North Ammonia was established by Grieg Maritime Group and Arendals Fossekompani in 2021 to enable change in the maritime sector. The aim is to make green ammonia available at large scale and become Norway's number one green energy provider for the maritime sector.
"We are proud to support Höegh Autoliners' ambitious sustainability initiative. In the maritime energy transition, we are dependent on first movers such as Höegh and this partnership demonstrates the growing demand for green ammonia in deep-sea shipping. As an infrastructure developer, we hope that this collaboration will inspire other companies
in the industry to develop and order environmentally friendly vessels", says CEO of North Ammonia, Vidar Lundberg.
© Shippax
---