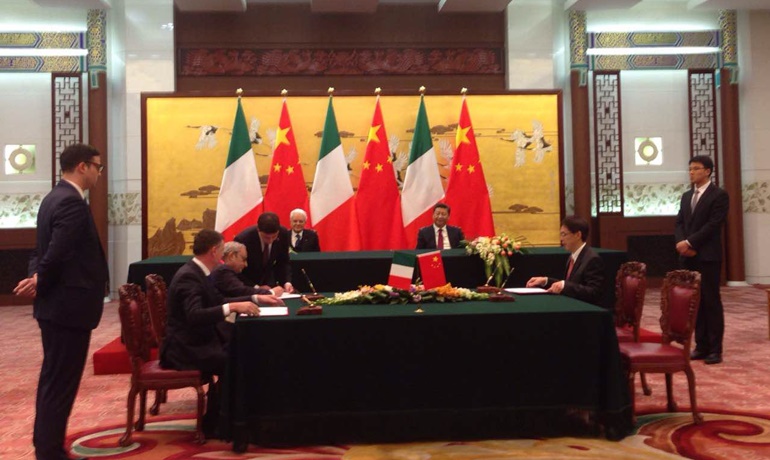 Fincantieri, CSSC and Carnival sign historic deal for two cruise ships
CruiseA binding Memorandum of Agreement (MoA) was signed today (February 22) between Fincantieri, CSSC and Carnival for the construction of two new cruise ships, with an option for an additional four. This is an industry first as this will be the first ships built in China aimed at the Chinese market.
The signing was made on behalf of the much publicized joint venture between Fincantieri and CSSC Cruise Technology Development Co., Ltd (CCTD), and the joint venture between Carnival Corporation and CSSC, and of the shipyard Shanghai Waigaoqiao Shipbuilding Co., Ltd (SWS).
Signing took place at the Great Hall of the People in Beijing by the CEO of Fincantieri, Giuseppe Bono, Michael Thamm, CEO of Carnival Asia and Costa Group, and Wu Qiang, President of CSSC, and was attended by the Italian President Sergio Mattarella and Chinese President Xi Jinping.
The agreement, subject to several conditions, has a value of USD 1.5 billion for the two first ships. The construction will take place at the SWS yard, part of CSSC Group, and the ships will incorporate specific tastes and design features for the Chinese clientele.
The first delivery is expected to take place in 2023.
Giuseppe Bono, CEO of Fincantieri, stated: "Looking at the global scenario means trying to widen one's boundaries, laying the foundations to further boost business prospects and access more complex markets. It is not possible to maintain a competitive presence in the medium and long term without such a commitment. We therefore believe that today's agreement is an example of industrial partnership that not only reaffirms our leadership in the cruise industry, but also creates a virtuous system among the two countries."
"We are proud to be able to order the first China-built cruise ships and play a leadership role in developing cruise shipbuilding capabilities for the first time in China, which represents another important milestone in building a sustainable and prosperous cruise industry, and demonstrates our commitment to helping China become a leading cruise market as part of its five-year economic development plan," Arnold Donald, CEO of Carnival Corporation, added.
© Shippax / Victor Mandersson
---
Most read
Press Releases
Apr 25 2019
Celebrity Cruises Announces Three Revolutionary P...
---
Apr 25 2019
DFDS invests in biofuel developer MASH Energy
---
Apr 25 2019
Heinen & Hopman awarded the contract to supply th...
---
See all press releases
Products