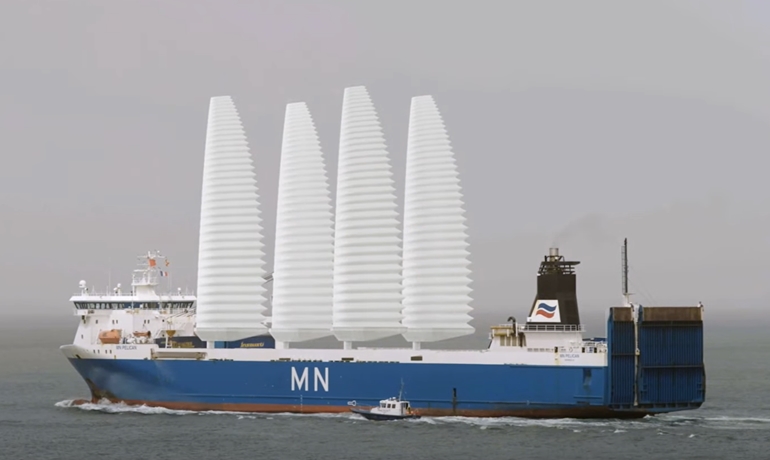 MN PELICAN © Michelin
Brittany Ferries announces the use of the Wisamo inflatable sail prototype on MN PELICAN
The crew of the MN PELICAN is preparing to use, starting this week, the Wisamo (Wing Sails Mobility) inflatable sail prototype from the Michelin group. The wing is expected to be used for 6 to 8 hours over a 30-hour crossing. The Wisamo inflatable sail is a wing measuring 100 m² which was installed on the ship in November 2022.
In April 2023, after a series of tests and adjustments, the Norwegian classification society DNV gave its approval to the Michelin group for its Wisamo sail system. 
The use of the inflatable sail will be carried out until the end of the current year in order to collect relevant data after several hours of operation.
This new automatable and retractable prototype could pave the way for tests with an even larger wing, allowing real progress in favour of the decarbonization of maritime transport. The system has three functions: automatic raising of the wing, automatic lowering and control in the event of difficulties.
The Michelin Group estimates that the wing will reduce the ship's fuel consumption by up to 20% on average. The trials in the Bay of Biscay will focus more on the efficiency and functioning of the prototype.
The vessel MN PELICAN is chartered by Brittany Ferries from Compagnie Maritime Nantaise and operates between Poole in Great Britain and Bilbao in Spain.
© Shippax
---
Most read

The second of P&O Ferries two new double-ended giants for its Dover-Calais service has been delivered
Nov 29 2023
Seizure of the GALAXY LEADER PCTC chartered by NYK
Nov 21 2023
Products